#25
SUMMER/FALL 2007
by Larry "Fuzz-O" Dolman (except where noted)
calendar excerpts fromYear by Angus MacLise (1962)
background by Kark (2007)
JUNE 1 2007 (DAY OF THE ROSE)

Wow, can you believe I once said I was gonna do daily posts? I wish I could tell you that this summer issue (#25) is going to be the "Reviews Issue" and that I might even increase updates to, I don't know, once a week. You never know -- right now I'm getting myself psyched by listening to the new Ex-Cocaine album on Siltbreeze. It's called Esta Guerra, and two tracks in I'd say it's a definite improvement on Keep America Mellow. That was a good debut for sure, it sat there and spread out nicely, but the sundazed Dead C-meets-Allmans Montana-raga style that was budding on that album is really blossoming here, adorned with strange weeds like the Milford Graves Percussion Ensemble and the thought of a completely twee-free Tyrannosaurus Rex. When they really get the songs moving it can be easy to forget they're just a duo of electric guitar and hand drums, and side two really nails it with the long album-closer "With The With The When The One."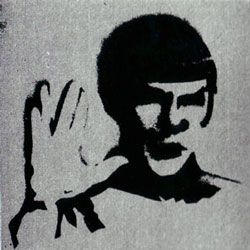 Holy shit, this Futurians CDR with Mr. Spock on the cover is fuckin' great. It's probably almost a year old too, but you know sometimes it takes me a while. The first two or three tracks are just totally tranced-out sci-fi garage garbage rock -- I think each time they just pushed the button marked 'retardo dunt loop', turned the knob marked 'tempo' down until the sound got nice and fuzzy, and then kinda wandered out of the room for awhile. Eventually they came back with some beers and started yelling from across the room so it would be a 'song'. And it definitely is. In fact, I've been walking around the city singing these songs all week. Strangers keep hearing me quietly yelp the phrase "pure green blood" over and over. You can imagine the looks I get, but it's well worth it. At least I'm not singing the nutso last track, which sounds like some boom-box outtake from the Flowers of Romance sessions, special guest Yoko Ono... Anyway, it's called Spock Ritual -- great black-on-silver silkscreen design on this thing too -- kudos to the Invisible Generation label for this edition-of-300 rock masterwork.

The Barge Recordings label put out an excellent compilation last year called Innature, and they've made a strong move with their second release too. It's a CD called Life-Sized Psychoses by a duo called The Fun Years. I knew nothing about 'em whatsoever but this thing had me within about 45 seconds, opening as it does with an exquisitely controlled aeons-wide endlessly-slowed-down sad soul music loop. I swear it just keeps going for a good 20 minutes, holding that same mood while all the oxygen slowly leaves the room and the world quietly dies. Not bad for a duo of turntable and baritone guitar. The whole piece/CD runs about 45 minutes, and even if 3/4th of the way through I'm starting to think these guys might still have a couple Tortoise albums in their collections, that first half is such a grabber that all is forgiven. (Hey, I still have one Tortoise LP in my collection, but I'm talkin' two or more here....)

I hardly ever listen to the Double Leopards and I think it's because they're too good and I'm actually a little afraid. I don't know if it's the fear that the sound will finally devour and dissolve my mind completely, or a fear that it will all come crashing down like a house of cards because after all aren't they mostly just groaning through pedals? Either way, I really didn't know what to expect when I warily put on this solo album by founding DL member Marcia Bassett, recording as Zaimph, but my first thought after the record started to sink in was, "Man, no wonder the Double Leopards are so good." These are four long soft hums of hymnal electricity, "live room recordings" from 2006, and for each track it's amazing to imagine any mere room, anywhere, ever sounding like this in real-time. It's just too mysterious and gorgeous, but yet here it is, in my room, somehow contained on 180 gram vinyl. It's called Mirage of the Other, and sure enough, I'm already a little afraid to listen to it again. Another new hymnal electric album from the same label (Gipsy Sphinx of Belgium) is Djid Hums by Bear Bones, Lay Low. It's not in the same league as the Zaimph, but not many are, and it's certainly still recommendable. It has a more 'computery' heaven-drone sound to it, not unlike Neil Campbell's recordings as Astral Social Club, with Burning Star Core/Carlos

Giffoni/No Fun Productions vibes as well, especially on Side 1. Side 2 is more of a guitar maelstrom kind of thing -- real good, and if it runs a little long, it's still worth it for the space-froggy voice coda. Great cover art too on another fine 180 gram Gipsy Sphinx vinyl pressing. Bear Bones, Lay Low is one to watch, an 18 year old kid from Venezuela who moved to Belgium with his family to avoid social unrest in the wake of Chavez! Read all about it, along with due props to Tool, in this interview at Foxy Digitalis.

And sounding pretty good on the stereo right now is some heavy way-out free-rock destructo-jam action, lots of blubbering and rampaging low end with attacking drums. A single 15-minute jam. Blue Humans vibe, but coming more from the free noise tradition than the free jazz tradition. If I was in a blindfold test I might even guess this was Eloe Omoe, but I know that's not right (because that's a duo and this seems to be a trio). It's just that I'm making dinner while wife and kids are at the library, which means stereo-cranketh time is NOWETH, and this is the first thing that came up on the old CD shuffler. It's really blowing out some cobwebs, perfect for 15 minutes of house-to-myself after a stupid day at work. Of course, I might never play this thing again, but who cares? I'm not writing about all these hundreds of records so you'll buy them all and play them all in your home and/or rip them to your iPods (although that might all be cool), I'm writing about 'em to let you know WHAT'S BEING DONE OUT THERE. And what's being done right here is some variation on the basic heavy Blue Humans template by some free-thinking weirdos out there somewhere. (I still don't know who this is.) (Turns out this thing is a 3" CDR by the Western Massachusets group Grey Skull, recorded live in Providence, RI waaaaay back in October 2004, as released by Breaking World Records. I've heard a couple weird stripped-down noise-type releases from Grey Skull, but I believe this is the only time I've heard 'em play in a stand-up rock-trio style.....maybe they were indeed directly influenced by some Eloe Omoe shows.....they both live in Massachusets....or maybe they were directly influenced by, um, the history and legacy of rock music? In the world today?)
---
JUNE 8 2007 (DAY OF GAMMADION)

Album of the month(s) right now is Those Are Pearls That Were His Eyes, by Charles Cohen and Ed Wilcox, an edition-of-500 CD release on the Ruby Red label from Portugal, intense and quietly active electro-acoustic synth/drums duo improv by two beyond-seasoned veterans from the fringes of Philadelphia. Of course the "beeps and boops" of antique space-age synthesizer and the urban rainforest tickle of post-free post-jazz percussion have always been a match made in heaven, but I can't think of another time they been so blended as what Cohen on "Buchla Music Easel" and Wilcox on "drums and gongs" have laid to tape here. Feel free to turn it way up, because both musicians employ an uncannily sympathetic light touch throughout -- in 10 tracks and 48 minutes, the music never agitates or explodes, it only ripples and patters and somehow, at any volume in any environment, seems to remain just under the threshold. Cohen and Wilcox also played together on one of my favorite rippling/pattering under-the-threshold mutant jam albums of the

1990s, the phenomenally wrecked Bullet In2 Mesmer's Brain! (Bulb Records, 1998), by Wilcox's long-running revolving-door concern Temple of Bon Matin. There were nine people in the band for the sessions, such a rarefied space-jazz-noise unit that when the CD came out, the band had been rechristened Laser Temple of Bon Matin for that album only. Wilcox's mix is unbelievable, multiple performances layered and separated and crossfaded with dubwise boldness through tiny sonic prisms into swinging mind-sized shadow paintings. Yeah, it's been good to pull out Mesmer's again, and good to have it spurred by Cohen and Wilcox's stunning new duo music CD. (And this just in: "Well over six hours worth of Charles Cohen on the Buchla Music Easel.")

And speaking of multiple performances layered and separated, crossfaded with dubwise boldness, that kinda talk reminds me of this new Excepter double-CD release called Streams (Fusetron), compiled from 36 hours of performance, all originally streamed over three years' time from their website and podcast. In an excellent interview over at the Sweet Pea Review website, Excepter's John Fell Ryan sez, "We use the tools of electronic dance music, but in the services of dissolving boundaries between different kinds of music." Taken out of the full interview's rich context, this might sound like a typical musician talk, but there are indeed countless actual moments of boundary dissolve throughout these two discs. For one example, I put on Streams expecting Excepter's one-of-a-kind foggy reimagining of electronic dance music as a confusing, bemused, and patiently ambling dérive .....and that I got. But I got lots of other things too, and the thing I noticed the most was lots of feral and fearless vocalising, nutso growling and yowling wolf transformation type stuff, reminding me of a New York City band from 40 years ago, The Godz, as much as any of Excepter's electronic-styled contemporaries. St. Julian was talking about the same thing over at his Head Heritage review of Streams, when he brought up "post-Amon Duul 1 protest chanting in a 'Help Me, I'm A Rock' free rock-style as orchestrated by two mush-mouthed Kim Fowley and J. Morrison types performing through Adrian Sherwood's On-U-Sound filter." Hell yeah, and there's plenty more boundary dissolve waiting for you and me on Streams, or any other Excepter release -- always the same, always different, pick up any one and see.

Monotract has put out two albums less than a year apart. First in mid-2006 was the acclaimed Xprmntl Lvrs on Ecstatic Peace, which I missed completely, but on my stereo right now is Trueno Oscuro, their early 2007 followup on Load Records, and if this is what they're up to now it's no wonder Xprmntl was acclaimed. Opening track "Muddy Thunder" sets a great tone with a staccato electronic futuristic robot rhythm, doubled by live drums, accented by thoughtfully applied bursts of static and subtle Magic Band guitar clipping around the edges, all of which turns out to be a long prelude to something almost totally different, a big-guitar power-anthem with rad 80s punk vocals by Nancy. That's just "Muddy Thunder," but every track on this album ends up being a punk song, it's just that many different styles and approaches are used to get there, from the mysterio-femme tone-poem of "Under My Arm," to "The Ballad of Lechon" (vocals like Dave Byrne if he actually was weird, backed with ripping post-punk echo guitar), the heavy beat street funk (seriously) of "Big N" and "Cofu y Kaka" (you can really hear the Caribbean roots in these jams, almost like steel drums are clipping along with the infernal punk grooves), the amazing electric guitar freenoise coda of "Red Tide".... and so on. I can't tell you how many different weird musical styles from the last 20 years they brilliantly allude to on these seven songs, and it all goes down in a blistering 30 minutes. Yep, not counting the Red Tape, Trueno Oscuro has gotta be Monotract's finest release thus far.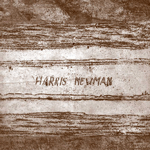 Great split LP of solo guitar from the Belgium-based Glasvocht label, with Harris Newman (from Montreal, Quebec) on the A side, and Mauro Antonio Pawlowski (from Belgium) on the B. This is my introduction to Newman, having missed his opening set at a Six Organs of Admittance show back in March 2005. During the Six Organs set, Chasny called him "the future of acoustic guitar," and now over two years later I can finally see why. First track is an instant grabber, Newman laying down an unstoppable spooky bluesy theme which he proceeds to stop, restart, lead slowly into strange dead ends, stop again for uncomfortable silences in haunted echo chambers, restart again right back into the thick of it, somehow constantly developing it for over 10 minutes while still keeping it stuck in the same place. The title, "Onset of Tourette's," hints at what's going on, as if the song is a close examination of how a motif can become a tic. The remaining two tracks are also excellent compositions, one short and bluesier, the other sounding like a slower, more focused, and way intense reprise of "Tourette's." Really, a perfect album side. The Pawlowski side makes me think of a friend of mine who was getting to know free improvisational music. He thought Derek Bailey and a few others ruled, but he could never really get deeper into the genre. "I wanna like it," I remember him saying, "but it always ends up sounding like guys playing their instruments funny." And he meant it like 'funny peculiar', I guess. I never really agreed with him, but I can't help but think about his statement when going from the experimental but deeply idiomatic music of Harris Newman to the more quirky, atonal, and decidedly non-idiomatic music of Mauro Pawlowski on the flip. The good news is Mauro seems well aware that this music is funny peculiar, because he plays short pieces (ten in all) with titles like "The Emperor's Shy Bladder," "The Paranormal Olympics Cancelled," and "The Last Living Beatle." He has a nice humming and spooky guitar tone too, not unlike Newman's, and the end result is a pleasantly surrealist style that he calls "ethnical Belgian improvisation music."
---
JUNE 9 2007 (DAY OF COLUMBA)
LIVE ON WBLSTD (777.666 FM CHICAGO)
Davis Redford Triad "Into the Mist" (Holy Mountain)
Davis Redford Triad "Violent Stupid Friend" (Holy Mountain)
Air Conditioning "Where To Litter/Trash Burning" (Load)
Greg Malcolm "Mob Job" (K-RAA-K)
Mighty Baby "Virgin Spring" (Sunbeam)
Cherry Blossoms "The Wind It Blows" (Apostasy / Blackvelvetfuckere / Breaking World / Consanguineous / Hank the Herald Angel / Yeay!)
Poor School "[Voor Niets In Zijn track one]" (Cut Hands)
White Lichens "Stolas, or Stolos" (Holy Mountain)
Pink Reason "Goodbye" (Siltbreeze)
The Index "You Keep Me Hanging On" (Voxx)
Derek Bailey "Concert in Milwaukee (excerpt)" (Woodland Patterns)
Rod Poole "The Death Adder" (W.I.N.)
High Speed and the Afflicted Man "Zip Ead" (Rock Toilet Records)
Darkthrone "Det Svartner Nå" (The End)
Women in Tragedy "Lost in the Rays of the Sun" (Cut Hands)
Ex-Cocaine "With The With The When The One" (Siltbreeze)
Cherry Blossoms "Golden Windows" (Apostasy / Blackvelvetfuckere / Breaking World / Consanguineous / Hank the Herald Angel / Yeay!)
---
JUNE 11 2007 (DAY OF THE HEARTS RELEASE)
FOUR SUMMER TOURS..... 16 Bitch Pile Up and Warmer Milks, the co-stars of the Blastitude #19 cover, are both starting tours on June 12, La Otracina (great new CD on Holy Mountain) is starting one today, and the mighty Avarus is coming to the States from Finland in a couple weeks:
LA OTRACINA
Monday 11-Jun Floristree (6th floor H&H building 405 w. franklin st), Baltimore, MD with PLASTIC CRIMEWAVE SOUND, VINCENT BLACK SHADOW, WOMANS WORTH
Tuesday 12-Jun Marvelous Record Store (208 S. 40th street), Philadelphia, PA with BURRS, MOUNT FUJI
Wednesday 13-Jun Cakeshop (152 Ludlow St) , NYC, NY cake-shop.com/ with CHARALAMBIDES, GHQ, SUGARBEATS
Thursday 14-Jun Velvet Lounge (915 U Street), Washington DC with BLOWFLY (seriously!), PLUMS, and more
Friday 15-Jun Spazzatorium Galleria (807 Dickinson Ave), Greenville, NC with DD/MM/YY, OICHO KABU, PONIES AND FLOWERS
Saturday 16-Jun Secret Squirrel (766 West Broad), Athens, GA with MUGU GUYMEN, 63 CRAYONS, SMOKEDOG
Sunday 17-Jun The Whig (1200 main street), Columbia, South Carolina with Jeff South Project
Monday 18-Jun TBA Nashville/Murfreesboro, TN with CJ Boyd and more
Tuesday 19-Jun Murphy's (1589 Madison Ave), Memphis, TN with TRUE SONS OF THUNDER, and more
Wednesday 20-Jun Spooky Action Palace (e-mail venue for location), St. Louis, MO spookyinfo@gmail.com with Ataraxic Ataxia, Sum Of Heroes
Thursday 21-Jun Lazer Mansion (133 54th street), Moline, IL with MONDO DRAG, LAZER MOUNTAIN
Friday 22-Jun Hideout (1354 W Wabansia), Chicago, IL with PLASTIC CRIMEWAVE SOUND, Matthew Wascovich, DRUIDS OF HUGE
Saturday 23-Jun South Union Arts (1352 S. Union), Chicago, IL with Matthew Wascovich/PLASTIC CRIMEWAVE Duo, PLASTIC BONER BAND, FOLK & VIOLENCE
Sunday 24-Jun Basement Show (216 E Hillside Drive), Bloomington, IN with RESTING ROOSTER, HOT FIGHTER #1
Monday 25-Jun Skull Lab, (271 W McMicken ) Cinncinnati, OH with Ryan Jewell, and more
Tuesday 26-Jun TBA, Columbus, OH with Ryan Jewell, more
Wednesday 27-Jun Pat's In The Flats (2233 West Third), Cleveland, OH with MOOTDAK, 9 YR OLD MUDFLESH, THE FLAT CAN CO.
Thursday 28-Jun House Show (114 1/2 Erie Street), Edinboro, PA with DROOPY SEPTUM, TUSK LORD, FOREST DWELLER
Friday 29-Jun Garfield Artworks (4931 Penn Ave), Pittsburg, PA with TBA
Saturday 30-Jun Test Pattern Gallery (334 Adams Ave), Scranton, PA with THE MARSHMALLOW STAIRCASE, THE ULTRA VIOLET RAYS
Sunday 1-Jul Helderberg Palace (96 Sycamore St) Albany, NY with BURNT HILLS
Monday 2-Jul Brilliant Corners (163 water street), Keane, New Hampshire with KENDRA, Ian Joseph and The Toys
Tuesday 3-Jul Grow Room, Providence, RI with XERXESX, BARNACLED, CINNAMON ANEMONE
Wednesday 4-Jul off
Thursday 5-Jul Soundfix Records (110 Bedford Ave), Brooklyn, NY in-store performance
---
16 BITCH PILE UP
Tue June 12 ROCHESTER @ A/V SPACE with Pengo, more TBA
Wed June 13 TORONTO @ Smiling Buddha Bar w/ Disguises, gastric female reflex and the Flynns. Our first show in canada EVER!!!!!!
Thu June 14 MONTREAL @ Au Friendship Cove w/ the TDK C 90 Analogue Summer Ensemble and Hyena Hive (our second show in canada, EVER!!!!!!!)
Fri June 15 BROOKLYN @ Glasslands with Monotract, Religious Knives, Alan Licht
Sat June 16 NEW BRUNSWICK NJ @THINISU 138 Easton Ave New Brunswick, NJ 08901 w/ deep fried radio static for a new american century, ASPS and Panther Modern
Sun June 17 PITTSBURGH @ Belvedere's w/Natura Nasa, Cock Scene Investigator (edgar um, joe roemer)
MON June 18 LEXINGTON @ the frowny bear with cadaver in drag and caves
Tue June 19 CINCINNATI @ Skullab with Kevin Shields, Tik///Tik, Hentai Lacerator, Jor Dan, DJ Thumper, Evolve
Wed June 20 CHICAGO @ ENEMY with burden and magic is kuntmaster
Fri June 22 COLUMBUS @ skylab with Sword Heaven, fat worm of error
---
WARMER MILKS
06/12/2007 - LANCASTER, Pennsylvania - KEPPEL BUILDING W/TBA
06/13/2007 - BROOKLYN, New York - SILENT BARN W/ BLUES CONTROL, NONHORSE, PURIRI, WEIRDING MODULE
06/14/2007 - MONTAGUE, Massachusetts - MONTAGUE BOOKMILL W/ MV/EE AND CHARLAMBIDES
06/15/2007 -BOSTON, Massachusetts - TWISTED VILLAGE W/ SUNBURNED
06/16/2007 - BALTIMORE, Maryland - CURRENT W/ HUMAN BELL
06/17/2007 - WASHINGTON DC - WAREHOUSE NEXT DOOR W/ TBA
06/18/2007 - CHARLOTTESVILLE, Virginia - TWISTED BRANCH TEA BAZAAR W/ NED OLDHAM (ANOMOANON)
06/19/2007 - COLUMBUS, Ohio - CAFE BOURBON ST. W/ SWAMP LEATHER, TIME AND TEMPERATURE+TBA
06/20/2007 - CHICAGO, Illinois - S. UNION ARTS W/ TBA
06/21/2007 - LEXINGTON, Kentucky - THE FROWNY BEAR W/ CAVES, WALTER CARSON AND EVERYONE LIVES EVERYONE WINS
---

AVARUS

06-29 Ridgewood/Queens, NY - Silent Barn
with Manbeard, Fursaxa, Vanishing Voice and Watersports (Blues Control folks)

06-30 Philadelphia, PA - Johnny Brenda's
with Manbeard, Bardo Pond

07-01 Baltimore, MD - Floristree
with Manbeard, Jack Rose, Sri Aurobindo

07-02 Asheville, NC - Harvest Records
with Manbeard

07-03 Knoxville, TN - The Pilot Light
with Manbeard

07-05 Nashville, TN - Springwater
with Manbeard, Taiwan Deth, The Cherry Blossoms

07-06 Louisville, KY - Lisa's Oak Street Lounge
with Manbeard, Caboladies, Deep Pockets (Son Of Earth, Sapat folks)

07-07 Cleveland, OH - Parish Hall
with Manbeard, Thee Scarcity Of Tanks, Terminal Lovers

07-08 Chicago, IL - The Hideout
with Manbeard, Spires That in the Sunset Rise

07-09 Cincinnati, OH - Skull Lab
with Manbeard, Wasteland Jazz Unit

07-10 Pittsburgh, PA - Belvedere's
with Manbeard

07-11 Washington, DC - Velvet Lounge
with Manbeard, Kohoutek, Insect Factory

07-12 Point Pleasant Beach, NJ - Om Baby Yoga Studio
with Manbeard, Phasmida

07-13 North Adams, MA - Robot Mansion at Mass MoCA
with Manbeard, Spires That in the Sunset Rise, Aethr Myth'D (Sunburned, Feathers folks)

07-14 Providence, RI - Foo Festival at AS220 - Annual FREE street festival with 20+
bands on two stages (inside and outside), artist booths, games, craft/record/book
vendors and more more more. FREE FREE FREE all day/night from 12pm to 1am. Other artists include Chinese Stars, Neptune, Stinking Lizaveta, Aa, Spires That in the Sunset Rise, Pwrfl Power, Lazy Magnet, Alec K Redfearn + The Eyesores, Japanther, etc.
---
JUNE 28 2007 (DAY OF THE HEARTS BLOOD)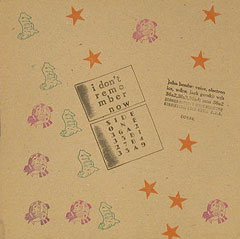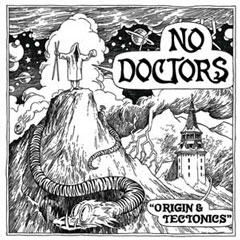 Goddamn John Bender rules....listening to the I Don't Remember Now album from 1980....like a Midwestern Suicide, sure, but with a distinct 'gentle German' influence tinging through that cold and bitter Clevelandness.... Harvey Pekar fronting Harmonia?? Robert Crumb (greeting card era) fronting Cluster?? On deck are Bender's two followup LPs, Plaster Falling (1981) and Pop Surgery (1983), and no, none of these are originals, strictly .rar..... but the real reason I'm posting is to answer a challenge. In the latest newsletter to the No Doctors mailing list, Elvis DeMorrow claimed that their new LP Origin & Tectonics "has already caused Larry Dolman to stop updating his BLASTITUDE site in sheer awe." Well, it's not the ONLY reason I've stopped, but there's no doubt that the advance copy I've received has left me rather speechless, and at first it was because it sounded so slick. It took 'em awhile to put this thing out (their first release since moving to San Francisco in 2004), and it sounds like they spent that time meticulously learning to be a massive, clean-cut, and undeniably pro-sounding rock and roll juggernaut. They've also learned how to really sing melodies and enunciate their lyrics, and I'll be honest, these were unexpected developments. Remember the non-stop yowling garbage-fi chaos of their last full-length, Hunting Season from 2003? Those blighted and decrepit streets have been completely cleaned up, as if some kind of pro-rock Rudy Giulani took over and redeveloped the neighborhood into a futuristic metallic factory complex that slowly crafts a high-tech and burnished reamalgamation of the history of rock. I'm telling you, sometimes they sound NORMAL on this album, like South by Southwest or Kemado Records normal, until you listen closer and realize that's precisely why they are now weirder than ever. Again, their always bold and wiggy lyrical concepts are now clearer and more pronounced, which can be especially disconcerting on acoustic numbers like the extra-catchy campfire song "For You," which goes "Wishing on a woman / wishin' she would strip / Take me to the ocean / wanna skinny-dip," seriously, and then asks a "fire-breathing lady" [sic] to "smoke me like a peace pipe / If you wanna end the war" [sic!]. But then after each one of these preposterous verses they pull out a sweet instrumental turn-around, driven by guitar filigree and melodic bass, and we are reminded that their motives are utterly sweet and pure. And there are other songs on here that are just plain monumental -- "Invisible Clopes" and especially "AAO" take the tempo and weight of doom metal and apply it to some new style that is just as slow but poppier, proggier, and stranger, driven by CansaFis's 'saxophone army' designs and yet more of those bold lyrical concepts. (Apparently the track sequencing reflects "the path from earth to jewel to love at the circus," and I think I'm almost getting it -- definitely getting the "earth" part because some of these lyrics, like "Yardin" and "Tuning the Sundial," are just plain eco, and around here that's a GOOD thing, OK?) "Lost in the Fog" takes the 1950s balladry that was overtly referenced on "Floating Woman" (from the ERP Saints CD EP, 2004, No Sides Records) and makes something more covert, yearning, and intense out of it, a seriously heartfelt lament for a stupefied leisure society. And that's the key -- even with all the goofin' and yardin' and perceived slickness on display, this is a seriously heartfelt record, which is why I keep listening to it.
---
JUNE 29 2007 (DAY OF THE SMOKING PLAIN)
An Unholy Fountain of CD Albums From HOLY MOUNTAIN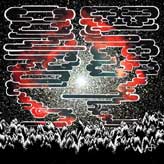 That's right, so far in 2007, Blastitude HQ has received SEVEN brand new CDs from the Portland, Oregon based Holy Mountain label. I could be totally predictable and say that the best one of the bunch is the s/t by Blues Control, because everybody loves Blues Control, and it is another goddamn good album by them. It's not as perfect as Puff, of course, but that's a good thing, because not having to be perfect allows the band to goof around a little, have fun, change things up. Not only are they are able to open this self-titled album with the self-titled title-track "Blues Control," a 2-minute broken/stupid distorto bass and drum sample groove with absurd imitation-talk-box fog-vocals, they are able to follow that goofery up with one of their finest works ever, the languid and utterly pleasant instrumental murk-pop of "Boiled Peanuts," a perfect '2nd album' lead-off single. (See the band's MySpace page for other 'singles' and 'B-sides.') They're having so much fun on this album that they not only title a song "The Blue Sheep," they make it sound like the kind of keyboard-led cheese sandwich that someone would sing karaoke over at a restaurant/bar actually called The Blue Sheep -- and it's still a killer psych track. "Frankie's Problem" shows up again, maybe or maybe not the same version that was their MySpace 'debut single' and/or on their first cassette. Is this song gonna follow 'em around forever? Has it always had those insane clocktower bells in it? And just when you think they've tried everything, along comes album-closer "No Sweat," a 9-minute multi-suite epic in which they try everything else, complete with surprise two-minute astro space drums coda. So yes, out of all these new Holy Mountain releases, Blues Control covers the most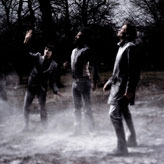 ground -- but it's the self-titled disc by White Lichens that digs the deepest. This band is the Chicago trio collabo between Lichens, the heavy drony solo guise of Robert A.A. Lowe, and White Light, the absurdly heavy drone duo of Matt Clark and Jeremy Lemos. Not that the results are summarily heavy on this disc -- the musicians are smart enough to pull back a little and let the bombs detonate in slow motion. Take the moment from the track "Stolas, or Stolos" (don't ask, they're all named after demons from an occult book, with entire pages reproduced for the track listing) when, after almost a minute of huge silence, someone plays a chilling and crawling slide guitar riff that kinda makes the whole album all by itself as a sort of centerpoint, a locus of control for everything before and after. Too bad the track is only 4 minutes long, but at least opener "Cimejes, or Simeies, or Kimaris" and closer "Bael" are both well over the 15-minute mark, and both made up of exquisite low amp burn

tone blend, with more where that came from..... And for a whole different way of mining the vein of extended heavy rock jamming, there's the Zodiacs and their album Gone, so raw-fi and obvious in its lack of pre-composed music that at first I was surprised that an actual label released it. But on my second listen, I could no longer deny that what the guitar and organ were doing had some serious burn/fire/damage metaphorical capability. The sound is basically maxed-out biker blues and who cares if the players (James "Wooden Wand" Toth, Keith "Hush Arbors" Wood, Clay "Davenport" Ruby) actually ride motorcycles or not, there is metaphorical motor acid in this music and it will fuck you up when you metaphorically drink it..... The Shining Path (San Diego, CA) and La Otracina (Brooklyn, NY) have also served up albums of fried and heavy mega-extended jams for Holy Mountain this year, but where Zodiacs come at it from 'biker rock' these

two are more 'krautrock' and 'fusion prog', respectively. The Shining Path are the "rock" guise of the experimental duo Monosov/Swirnoff (who have records on Eclipse), and from the experimental world they import a lot of twisting thickets of strange electronics. Of course it's mostly backed up by plenty of pedal-to-the-floor highway-star drumming, because this is a "rock" project. That's why the LP edition also comes with a free copy of the CD inside, because "it's what you'll want to listen to wielding a golf club with your upper body outside the sunroof of your car as you steer with your feet." Their music does fly the freak flag, with memorably loud electronic settings driven by various rockin' beats, edited into five or so medium/long crusher/scorchers, no problem there -- it just errs on the side of 'great sounds, no songs', without the frothing commitment of

the Zodiacs. La Otracina, on the other hand, have got the sounds, songs, and the froth, and they've really gone for something massive with their album Tonal Ellipse of the One. Not only is it far more composed than the Zodiacs and Shining Path CDs, it's composed in an extended/exploded 'fusion jazz' sense that ends up being just as wrecked. These five long tracks are credited to the duo of Adam Kriney on drums and Tyler Nolan on guitar and bass. They are joined on every track by Ninni Morgia on guitar (if I'm understanding this interview correctly, his parts were overdubbed later), and a couple other musicians on a couple other tracks, but it all really rolls together as one constant duo/trio prog jam, with the band taking great care to develop its transitions, and also willing to play around with some rather thrilling Teo Macero-style edits. Nolan's bugged-out heavy echo-bass guitar plays slowed-down Keith Emerson riffs that grow into melodic-prog drool crescendos, which Morgia wails over like some sort of wild Richard Pinhas Jr on a made-for-cable film soundtrack. Meanwhile, Kriney bats it all along with unflagging fiery-muso free-jazz drum accompaniment, and it builds and builds into a big oceanic bubblebath of prog excess with appropriate titles like "Nine Times The Color Red Explodes Like Heated Blood" and "Sailor of the Salvian Seas," and I'm telling you, it all really grows on you. 3rd best of the batch, to say the least.... and two more to go, both in a more classic song-based style: Mammatus with some progressive hard rock songwriting from the Santa Cruz scene, and DJ Cherrystones, aka Gareth Godard of London England, with a DJ mix of various bad-ass pop/prog/psych eclecticities from the last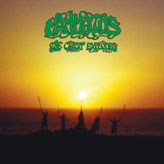 30 years. These are both very enjoyable albums, though The Coast Explodes, the second album by Mammatus, did take a couple listens to grow on me. At first I was comparing 'em to their wild and loose neighbors Comets on Fire and Residual Echoes, and they sounded a little stiff to me, their long and weighty compositions requiring more rigor and patience than I expected. But pretty soon I caught on to the intelligent intricacy of their songs, and how they balanced it with a steady beach-stoner rock undertone that stoked the familiar. And finally, as you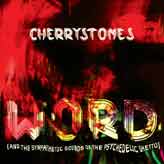 may have guessed, the Cherrystones Word compilation by DJ Cherrystones is tons of fun. His liner notes are great fan testimony, like when he talks about playing some Lard Free during one of his sets and making the on-tour Wolf Eyes guys do double takes. There are also lovingly selected tracks on here by Dead Moon, The Deviants, Chrome, Nosferatu, 1980s George Brigman (just to prove that it's as good as 1970s George Brigman), and other epic progressive bands that I've totally never heard of before, like Fusioon, Roger C. Reale & Rue Morgue, Kontakt Mikrofoon Orkest.... you get the idea. Hot stuff from one record lover to many others, and the same goes for all of this generous fountain from the Mountain. (And for some more Holy Mountain-related record love, i.e. fan testimony, dig all the 'playlist' style record reviews Mr. HM has been posting in the "news" section over at holymountain.com....)
---
JULY 1 2007 (SECOND DAY OF THE CAT)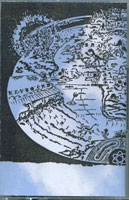 The latest from one of my favorite tape labels of all-time, White Tapes, is a heavy piece. It's by Id M Theft Able, the alias of strange Maine assemblagist/musician Skot Spear, an act that I've been following on and off for I swear something like 8 years now. The last thing of his I listened to was a couple years ago, a terrific CDR called i'm on flourescence, sounding like years of junk noise practice accumulated and finally streamlined into perfect little calm dream-stream miniatures of brain-sound. And now here's a tape called Blue Jay, and it starts even more chill and distant than flourescence, with quiet hums that fade in and fade out for what seems like a good 10 minutes. After maybe 17 minutes you might notice that the piece has been evolving, very slowly, into what could almost be the sound of something or someone singing, and after a few minutes more it really could be the whistles of a bird breaking through the murk, and the whole thing is like some structuralist film where the sound and image both start completely out-of-focus but fade in slowly over the course of 30 minutes, or just an early morning in the woods where the sun has risen just enough between the branches and leaves for you to actually find the bird that is singing and wonder if the murk that its song emerged from was the vast silence of the natural world or just the vast noise inside your own brain.... like I said, heavy piece. That's just side one, please don't let there be anything on side two, because this is perfect. (There is something on side two, called "Standish." It's much more minimal than even "Blue Jay." The sound of a nervous system, any living nervous system. Still a perfect tape.)

Animal Disguise started as a great Michigan tape label in the early 2000s with 'flagship act' Mammal joined by an excellent regional roster. We wrote about A.D. in Blastitude six years ago and it's still going today, having expanded into vinyl and CDs over the years, with acts coming from all over the place. They've always kept the faith with plenty of cassette releases too, such as this one from Sick Hour, which is Beatty and Tremaine from the Hair Police playing in 2005 as a synth duo. I've told you before that "Lexington rules" and jeezus, it just doesn't stop. Of course you know that these guys can get harsh, but as always (see also Beatty's Three Legged Race project) their synth style is set apart from the herd by an ability to get beautiful, elegaic, and melodic, and that's during the heavy parts, not just the 'interludes'.... there are no interludes, this music doesn't need 'em....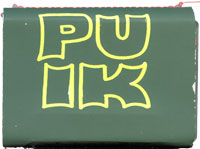 And how about a tape that seems to be called or is by Puik. (Maybe self-titled?) Cool art and sew job. Starts with an entertaining collage of a whole buncha movie bad-asses saying "FUCK" in various creative ways, and then it goes right into what sounds exactly like a track off of the first s/t Alvarius B record, i.e. raw go-for-broke solo acoustic guitar. I honestly thought it was someone else who had the Alvarius B style down cold, until a couple more killer pieces later when the musician started tuning his guitar right there on tape while mumbling and monologuing about it, and, shit, it was unmistakably the voice of Mr. Alan "Alvarius B" Bishop himself, and you know he's always one to do weird shit on wax (although I have NEVER heard him do the 'tuning up and mumbling about it on a studio record' bit before). So, to get it right: the LABEL is called Puik, it's from Belgium, run by visual artist (et al) Jelle Crama, and it has released an excellent cassette of ALL-NEW solo guitar music by a completely uncredited Alvarius B. Sorry I brought it up, though, because the tape is already out-of-print and not even mentioned anywhere on the Puik website OR suncitygirls.com. Oops.

Oh, and another thing, Sun City Girls 7-inches rule. I randomly pulled out their 1993 double 7-inch Borungku si Derita, and suddenly realized for the first time that it is every bit as good of a release as Torch of the Mystics -- or, at least, just as recommendable to the SCG first-timer. With six hefty songs it's a good-sized EP, and could very well be their most completely accessible release. Each number is quite seriously heartfelt and downright melodic -- yes, SCG can do it when they want to, and yes they are very good at it. Then, to hear a few other things they can do, check out their other 1993 double 7-inch on Majora, Three Fake Female Orgasms, which is a little on the harsher and more improvised side but with a strange tunefulness still breaking out of the murk, and of course you've gotta hear their one-act play (I mean comic book) Napoleon and Josephine if you haven't already......
---
JULY 3 2007 (DOG DAYS BEGIN)
Pink Reason
by Steve Kobak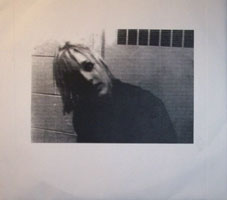 Pink Reason breathed new life into underground music last summer with their debut single, Throw It Away. The homemade seven-inch appeared out of nowhere and dominated turntable time around the United States, filling speakers with basement-recorded gothic post-punk. The slab of vinyl contained within the photo-copied girl-picture sleeve seemed to be constructed by a local scene vet finally breaking into the national underground limelight. When the needle hit the grooves, a classic-model seven-inch blasted through speaker cones with the A-Side sporting a catchy-as-hell lo-fi post-punk burner and the two B-Sides showcasing weirder but just as compelling gothic-industrial tunes. Along with Cheveu, Car Commercials, Home Blitz and Tyvek, the band spearheaded the comeback of the seven-inch single, as christened by Blastitude.
One would think the masterminds behind Throw it Away had released many singles before hitting a stride this glorious but, in truth, it was the first release from one man, Green Bay native Kevin DeBroux. Though DeBroux stockpiled his four-track recordings throughout the years, self-doubt and general indifference from the local scene kept him from releasing the recordings to the public. He received minimal local support throughout his four-year career under the Pink Reason moniker. Promoters refused to book Pink Reason; partly because of DeBroux's rumored antagonistic behavior but also because his music was, in their eyes, "too difficult." This paired with an ever-rotating, unsteady cast of bandmates stirred self-doubt deep within DeBroux.
Friends say DeBroux's notoriety in the local hardcore scene caused negative local attitudes towards Pink Reason. As he waded his way through the ranks of fucked-up teenage thrash bands, psychedelic noise outfits and straight-1980s hardcore groups, he developed an outsider's mindset and a friend group comprised of "the real fuck-ups." In bands like Zone 13 Rejects, a band DeBroux claims was "more conceptual in nature," he provoked and attacked audience members, earning him lifetime bans from some clubs. Todd Kellner, operator of Trick Knee Records and DeBroux's friend, relates the first time he met DeBroux was at a hardcore gig where DeBroux kicked one audience member in the face.
"He had an aura about him where people were kind of afraid of him," said Kellner. "It's kind of funny, especially looking back now."
During a show with hardcore punks Hatefuck, DeBroux and company traveled to Winona, Minnesota. After a five-hour drive to the town, wasted locals, angry punks and gnarled three-legged dogs greeted them by leading them into a commandeered park. Inside the park, DeBroux found "the ultimate punk rock experience" with townies huffing rubber glue and mohawk-brandishing kids starting fights with crusties. The show ended and the locals gave the band three dollars for their troubles. A few kids asked DeBroux and company to chip in the three dollars on a keg. Soon, the crowd dispersed and left the band with no money or place to stay. The band wound up sleeping on an island between Minnesota and Wisconsin and breaking up soon thereafter. He wrote the first Pink Reason song, "Winona," about this experience. DeBroux began to write and record songs on four-track soon thereafter and embarked on three unsuccessful years of creating CDRs and trying to rouse local attention.
After the town towed the car he lived in and crushed it, along with his personal possessions, he decided to move back in with his parents. He acquired a construction job, saved $500 and exacted his revenge on the local scene. He plotted to send his three favorite songs to United Pressing Plant and retire from music altogether. The resulting seven-inch would be a testament to and a panegyric for the power of Pink Reason.
He cannot remember the exact date he received the records but he said it took the record a short while to gain attention. He gained distribution through S-S Records, a label and distro center for a small niche of obscure art punk records. Within a couple weeks of sending copies of Throw it Away to S-S Records, the distribution's operator, Scott Soriano, asked for more copies. Eager bloggers sang the praises of the 7" and his MySpace friends doubled. He said he felt vindicated, as people finally recognized his talent. He believed critics should like his record but, at the same time, one of these reviews humbled DeBroux. The Siltblog entry, written by Siltbreeze records associate Roland Woodbe, praised Throw it Away as "The best record of it's ilk to ooze outta Wisconsin since Hollywood Autopsy slithered into exile..."
"That was the first review that really blew my mind, to be honest," he said.
Soon, Siltbreeze head Tom Lax sent DeBroux e-mails asking if Pink Reason would like to record for the label. DeBroux spent days sifting through recordings, listening to masters and picking the perfect song sequence. Still, he felt timid about sending the songs to Lax because of Siltbreeze's storied history with bands like Dead C, Strapping Fieldhands and Harry Pussy.
"I was afraid to send him the masters," DeBroux said, "but he kept on e-mailing me and saying, 'Yeah, dude, whenever you're ready, just send the masters.'"
Pink Reason embarked on a summer tour with Dear Astronaut in late July of 2006. Self-booked and financed, the bands often played in front of small crowds at art galleries, house parties and dive bars and generated enough gas money to slough to the next date. DeBroux pulled double duty, donning an acoustic axe and iBook accompaniment with Pink Reason and plucking a bass in Dear Astronaut. The tour stretched from Green Bay to Missouri and back to Maine. In between, DeBroux finalized the Siltbreeze deal during his Philadelphia date, even acquiring $20 in drinking money from Lax. (I think that's what they call an advance! -- ed.) He planned on handing Lax a CD of material for the Siltbreeze album but the label's reputation daunted him.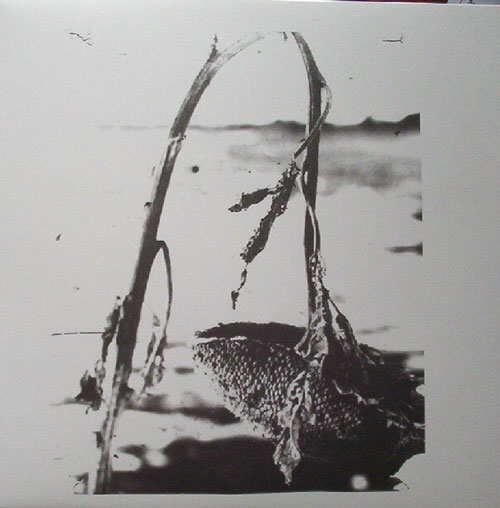 After the tour, he sucked up his fear and send Lax the six songs which would become the 2007 LP Cleaning the Mirror. DeBroux constructed the songs on record during a "tough period" in his life; one that saw him living out of cars, on floors and in friend's closets. He attributes the length of the tunes from these sessions to his speed habit. When he could access recording equipment, DeBroux often stayed up for days at a time, perfecting each song's sound by recording and rerecording guitar solos and bridges while jacked on crystal meth. Seven-minute recordings felt like pop songs to the geeked DeBroux.
"[Cleaning the Mirror] represents a pretty rough time in my life," said De Broux. "It's kind of weird that sometimes, when I think about what I want to do next and shit like that, I'm just in a completely different place than I was in when I was recording that stuff, you know."
Darkness infests the album and DeBroux lowers his easy-going Midwest vocal tone when relating tales from the period. One of his many stories involves grabbing a few friends and some possessions and heading to New Orleans in an attempt to forge a career for his hardcore band. On the way, the only people with money spent it on truck stop beef jerky and other "nonsense," so the crew sold most of their belongings to survive in the Big Easy. DeBroux worked temp jobs in the day and eventually saved enough money to travel back north. The band broke up soon after.
Another finds him spending six months living with and apprenticing under a meth cook and practicing guitar in his vast amount of free time. While moving the meth cook's heroin-addled girlfriend into a new apartment, DeBroux stumbled upon her diary. Unable to restrain himself, he flipped through the pages. Some of the words stuck with him and reworked versions of the diary passages slipped into a few lines on "Up the Sleeve." The gothic-folk feel of the song reflects the bleakness of the lyrics, its tar-pace steadily creeping along until it reaches a lackadaisical boiling point.
"It doesn't make me feel bad, listening to it," he said. "I don't regret my experiences or anything but, when I hear that, it takes me back to times I don't necessarily want to relive at this point in my life."
"Up the Sleeve" also demonstrates his instrumental approach, as it was orchestrated on the spot using whatever instruments were available at the time. He varies his attack on the song, thrashing about on banjo, saxophone and organ as opposed to the usual cheap Casio and guitar attack. After recording the song, he quickly forgot its chords. DeBroux, who taught himself to play guitar by playing along to Russian punk songs, wings it with many other instruments on his recordings. On "New Violence," he bounced a big exercise ball for percussion. DeBroux constructed the rhythm guitar line on "Sleight Train" by strumming on a broken toy guitar he found while dumpster diving.
"A lot of the instruments I use on the recordings I don't even technically know how to play," he said. "Once you've been fucking around with shit as long as I have, even if you're not playing it right, you're still getting what you want out of it."
Though recordings mainly feature DeBroux, Pink Reason concerts feature an ever-rotating cast of musicians. As of May 2007, he claims six members left the band, including Shaun Handlen, an original Pink Reason member who moved to China. He seems to snag whoever is around for each tour. Before the spring tour with Psychedelic Horseshit, DeBroux assembled a band from friends who had moved back in with their parents or were living in cars. At a Cleveland show in March, DeBroux drafted Alex Teder to fill in on drums after his drummer abruptly quit a few dates into the tour.
"A lot of people, I don't think quit. I just think they play with him for a couple of weeks and then go back to their day jobs," said Teder. "It's not like a conflict of interest with anyone not getting along with anyone else."
DeBroux recently shipped off to search of a backing band in Columbus, where record stores already stock Pink Reason records in the "local" section. His success with the LP generated a need for a permanent band. To support his self-professed "transient nature," Kevin embarks on a national tour this summer with a full backing band in support of Hue Blanc's Joyless Ones. He will have a rotating cast of characters in tow for the trek. DeBroux could not tell whether his new supporting band will rock with the loose garage feel or his recordings' structured basement groove.
"I never consciously set out to do anything specific," he said. "It kind of just happens."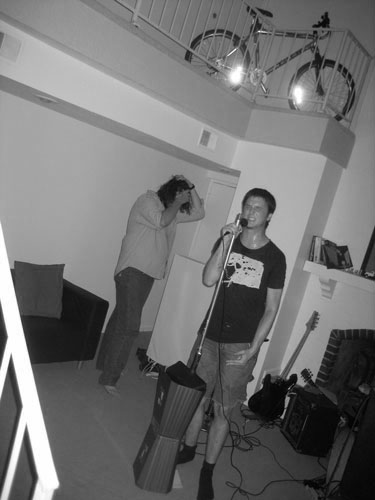 PINK REASON w/HUE BLANC'S JOYLESS ONES
2007 SUMMER TOUR
7.12 Fargo, ND
Aquarium
w/ Hue Blanc's Joyless Ones, They Shoot Horses Don't They & more
7.13 Missoula, MT
Higgin's Hall
w/ Hue Blanc's Joyless Ones, Ex-Cocaine & Eyes Like Candy
7.14 Seattle, WA
Funhouse
w/ Hue Blanc's Joyless Ones, A-Frames & Kount Fistula
7.15 Olympia, WA
Le Voyeur
w/ Hue Blanc's Joyless Ones
7.16 Portland, OR
Rotture
w/ Hue Blanc's Joyless Ones, Tall Birds & Argumentix
7.17 Oakland, CA
Stork Club
w/ Hue Blanc's Joyless Ones, Wooden Shjips & Red Nurse
7.18 SF, CA
Hemlock
w/ Hue Blanc's Joyless Ones & Sic Alps
7.19 Sacto, CA
Fools Foundation
w/ Hue Blanc's Joyless Ones & San Kanzagaskar
7.20 Salt Lake City, UT
Red Light Books
w/ Hue Blanc's Joyless Ones
7.21 Denver, CO
The Office
w/ Hue Blanc's Joyless Ones, Temples & Littles Paia
7.22 Omaha, NE
O'Leavers
w/ Hue Blanc's Joyless Ones & The Terminals
(For more by Steve Kobak see his Apples and Heroin blog at satanrulez.blogspot.com)
---
JULY 4 2007 (DAY OF EIKON)
---
JULY 11 2007 (DAY OF HELLGATE)
Date: Wed, 11 Jul 2007 14:49:19 -0700 (PDT)
From: Send an Instant Message "Neal Schon (no relation)" <caravanserai2012@y*****.com>
Add to Address BookAdd to Address Book Add Mobile Alert
Yahoo! DomainKeys has confirmed that this message was sent by yahoo.com. Learn more
Subject: Avarus / Spires That In The Sunset Rise / Manbeard @ The Hideout, Chicago, 7/8/07
To: larry@blastitude.com
Hey Larry -- sorry you couldn't make it to the Avarus show. It was pretty good. The openers Manbeard were...I don't know. They were 'goofy'. They were one of those bands that thinks their band name is really funny, you know what I mean? They said it about 200 times from the stage. In fact, they had a loop going throughout the set of an eerie woman's voice saying "Maaaaaanbeeeeeard" over and over. They were a pretty large band, with two guitars, bass, keyboards, drums, and a guy who did all kinds of things like flute, violin, sax, handclaps, interpretive dance, he actually was a good musician. They were all pretty good musicians. Their first song was pretty cool, it reminded me of Raymond Pettibon and Supersession! Kinda tranced-out garage-y groove that went on a long time, the recorder flute actually worked well, I think it was Jeffrey Alexander of the Secret Eye label on guitar with a really big beard and he was playing excellent wah-wah guitar... but it kinda got sillier as it went on, theatrical and vaguely operatic 60s-ish psych rock, sorta like trying to do really early Mothers of Invention Freak Out-style pop songs, but it coulda used more Absolutely Free-style extended jamming in my opinion. I did chuckle a few times, I wasn't NOT entertained, but ultimately I just couldn't share the band's enthusiasm over how funny their name was and stuff. Spires on the other hand played a pretty fantastic set. Haven't seen them in what, four years now? Damn. I'd say they're toning down the "shrill harpy" aspect, it's still there but in just the right amount. They were doing things with like looped cello and guitar feedback that I couldn't believe, really otherworldly scraping sounds and judders that accented the acoustic stringed stuff they've always done, with great vocals, really strong stuff... I would close my eyes to listen and just about fall over every time, and I only had three beers the whole night. I don't know, it was rad. And then Avarus came on (it's pronounced ah-vah-ROOS by the way) -- while they were setting up, two of the guys from Manbeard played a wild sax duet on the floor in front of the stage while another one of 'em played percussion on a folding chair -- it was actually really good and, I'll be damned, the show felt like a HAPPENING for a few minutes there. Then Avarus played, 30 or 40 minutes straight, I'm guessing entirely improvised except for maybe the first few minutes, and then they stopped, no encore, all done. The Arttu guy was on drums the whole time -- a very good 'free rock' drummer. Well, he did stop for awhile to play some weird toy electronics, and I think he did some vocals too, but he never left the drum chair. Not much vocals at all, what they did was pretty tentative or just really low-key growling kinda stuff. I think the bassist was the same guy who played bass with Islaja a couple years ago when they were at the Bottle, but now with buzz cut instead of really long hair. I think he's also Sala-Arhino, who did that great CD on Last Visible Dog a couple years ago. He looked pretty fuckin' tough up there, he really dug in and WORKED on that bass. It was him and Arttu bringing the heft all the way. Other than that there were two guitarists and an electronics guy, and everything those three did was kind of... shy? Well one guitarist was pretty good, he would play actual riffs and melodic bits, and he combined with the bassist for some good low end droned out stuff in the middle, but the other one was practically inaudible -- he fiddled with his amp knobs a lot and seemed to play mostly scrapes and noisy twiddles, quietly, and I'm not sure I heard the electronics guy at all. Maybe I'm clueless, maybe they're just that good at blending (hiding?) into the sound and adding something intangible -- I mean, it was definitely more than just bass and drums and one guitar... or was it? Like I said, weird. After the set the bartender put on Ege Bamyasi by Can and it was just like, "Wow, THAT's how you jam with a bass and drums and guitars and electronics" -- like there was so much space and room for articulate subtle chatter in the Can music and there was NO space in the Avarus jamming, just big thick walls of bass that the timid guitar and electronics couldn't penetrate. Or how about this, if the bass and other low end sounds are the SOIL, the role of the higher-end stuff like guitars and electronics is to work as a TILL, to get in there and aerate those thick slabs of earth so the imagination of the players and listeners can seed and grow together. Like wow man, but seriously, I feel like that should've been happening a little more. BUT at the same time I've been thinking about their set a lot, obviously, and admiring it -- they definitely have a spirit and a drive that you don't see every day, something that's unique to them. I liked the way they dug deep into themselves and brought out these walls of heavy psych-drone-groove, there was a real PHYSICAL aspect to it. But it might not have been one of their best shows on the tour. Who knows?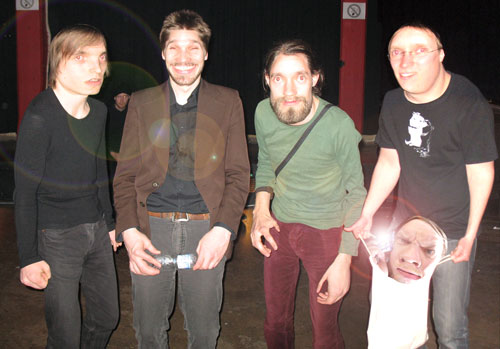 AVARUS: (L-R) riff guitar, (way in back) don't know, bass guitar, inscrutable guitar, (in mirror) drums, (holding bag) electronics
---
---
JULY 13 2007 (DAY OF MIDSUMMER NIGHT)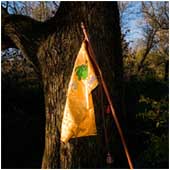 I too was avoiding them just because of their name, but a few people I trust think they're pretty good, so I've finally given a few listens to Raccoo-oo-oon, their acclaimed and reviled album Behold Secret Kingdom. No doubt they do amass a hell of a sound: swirling guitar and sax and electronics, maxed-out wailing and heavily effected vocals, stomping and swinging drummer(s), a weird and seething noise-punk turmoil. Cool, let's see what's going on with the next track.... okay, swirling guitar and sax and electronics, maxed-out wailing and heavily effected vocals, stomping and swinging drummer(s), a weird and seething noise-punk turmoil. Okay, okay, what else have we got here..... a decent Torch of the Mystics rip on solo guitar, that's cool, and now the rest of the band is coming in, turning the song into..... swirling guitar and sax and electronics, maxed-out wailing and heavily effected vocals, stomping and swinging drummer(s), a weird and seething noise-punk turmoil. Hmm, if you don't mind I'm gonna jump ahead a couple tracks -- oh, what's this? A solo electric guitar playing quiet chords for two minutes, that's cool, a nice interlude, and oh, there's the hanging pause.... something heavy's going to happen right about HERE...... and it's swirling guitar and sax and electronics, maxed-out wailing and heavily effected vocals, stomping and swinging drummer(s), a weird and seething noise-punk turmoil. Okay, I'll stop. It's not that I think bands have to "change things up" every five minutes in order to be "interesting," but if they're going to do the same thing on every track (and interludes don't count!), they should do it the way a river always does the same thing, constantly regenerating itself from a greater source, distinguished by side currents and various eddies, steadily evolving with the terrain around it. Listening to this album is like being shown a snapshot of a river, over and over. It's a mighty river, but pretty quickly I realize that nothing's gonna change. The CD does look and feel nice, in a gatefold digipak from Release the Bats, which seems like a fine label, with a Warmer Milks album coming up and lots more. They also have the rare distinction of not being from Belgium, although they are from Sweden, which may in fact be the 'New Finland'.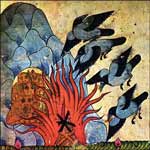 For example, there's Jakob Olausson, that guitar-slingin' sugar beet farmin' folk-singer from near the town of Landskrona (the press loves this stuff). If you've made it this far, you've probably at least heard about his Moonlight Farm LP, as released a year or two ago by the Destijl label, because it's really something. David Keenan may occasionally go a little over the top in his record reviews (my favorite was the time he compared a Wooden Wand album to no less than US Saucer, Loren Mazzacane Connors, The Rolling Stones, MV & EE, Comus, Sun Ra, International Harvester/Trad Gras Och Stenar, and Tom Rapp, all in a mere two sentences), but when he calls Olausson's LP "a modern classic," he's not exaggerating one bit. It's a beautiful and haunting psych folk record, simple as that, with songs that spread out like sweet dark honey and blend perfectly into the fabric of both day and night, shaped by deep drowsy lyrical intonations that wander into unforgettable hooks, like the first song's "If we all could say / what tomorrow brings...." or, in the second song, the weary dusted way he sings "Perhaps I should testify...." You might think "psych folk" is a lame media catch-phrase or something, but I personally use the term to describe albums of psychedelic folk, and this is simply one of the best such albums I've ever heard. It's honestly right up there on my shelf with Oar and Emerges and Furniture Music for Evening Shuttles and the first Six Organs of Admittance and whatever else. The vinyl seems to be more or less sold out but it's just been reissued on CD so jump on it......

and don't forget that Olausson's pre-Moonlight Farm recordings under the name Joshua Jugband 5 are just about as good. Two self-released CDRs came out under that name, a self-titled one in 2002 and one called Damascus Doldrum in 2003, and both have been compiled on one new s/t CD from Gulcher Records. The Jugband music is markedly different than the Farm LP, most obviously because it has no singing, but also because where that LP drifts, this one pounds, like some even-cruder early-period Spacemen 3 demos that extend via loose overdubs into desert-caravan modalities and tranced rhythm-shuffles so unstoppable that I'm practically thinking of Bo Diddley over here......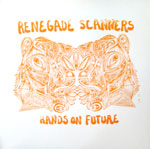 and as if that wasn't enough, not only has Olausson just put out another LP with his girlfriend under the moniker Sus & Jakob (has anyone heard it? is it as good as Moonlight? Sus is on two Moonlight songs, credited with flute and voice -- is it more of the same? Or did I really read somewhere that it's an LP of.... free jazz?), he's also released an odd solo LP of sci-fi instrumentals under the name Renegade Scanners, on Finland's always-hairy Lal Lal Lal label. The title is Hands On Future, and it is not psych folk, falling more on the Jugband side of things and beyond into weird synth-punk territory. I'm gonna call it the third most essential of these Olausson-related albums, mainly just because I think it's a little too enamored with its blooping UFO sounds. They're cool but kind of constant and basic and loud in the mix -- everything else about the record is pretty great, especially when the motorik drumming comes in, and the silk-screen sick-art feel of the sleeve is just right.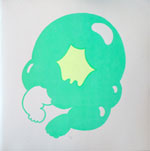 And speaking of Lal Lal Lal and its documentation of some of the sicker sounds of new Sweden, they've also gone and released a gatefold double LP by the one and only Ray Pacino Ensemble. Their Be My Lonely Night cassette was one of the best things Lal Lal Lal put out in 2006, and that whole thing has been reissued here as the first record, with all new songs on the second slab. I'm not quite sure how to describe this band from the village of Järna except to say that they sound like 2000s post-punk weirdos possessed simultaneously by the spirits of a 1930s Scandinavian dancehall oompah band and some cracked 1960s folk troubadours. Ten listens later and I can't do any better than that, but no matter how strange it gets, TRPE is always there to play another song, and they're all surprising catchy and avant-garde and inexplicably effective. As is the hand-sewn gatefold sleeve, with its art by Jelle Crama and totally incomprehensible liner notes....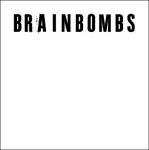 And as long as we're on Sweden, of course we have to mention Hudiksvall's finest, the Brainbombs, because we just got their latest singles anthology CD in the mail, and of course it rules. Released by French label Polly Magoo, this disc compiles five singles from 1998 through 2007 and adds four previously unreleased raw-nerve live songs from 1993, which is pretty choice considering they've only played live three times or something like that. When I sit down and listen to this all the way through, the recording methods and guitar sounds may vary over the years, but never once do the Brainbombs stray from the mission of repetition, of hammering down THE RIFF over and over while the singer nails every single one of his constantly psychopathic one-liners, totally obsessed and totally deadpan. My favorite one to shout over and over right now is "I NEED SPEED!!!," as originally released in 2006 by the Big Brothel label. My wife usually leaves the room when I get to the next part of the verse though -- I think it's very offensive also, but it's just so catchy....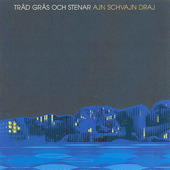 This article is starting to go on forever, but as long as I'm doing this I might as well mention that I was at Reckless this week with the usual used credit burning a hole in my pocket, and on a whim I picked up a used copy of the most recent CD by Träd Gräs och Stenar, who are ALSO FROM SWEDEN. Called Ajn Schvajn Draj, this is the album of brand-new material that they released in 2002 on the Silence label, not too long before they came to the US and did a few shows with the No-Neck Blues Band, TWO of which I saw in one night at Chicago's Empty Bottle (one all-ages, one 21+). Those shows were so good, "a very heavy mellow" as I wrote at the time, dusty downtempo acid-rock jams from the school of the Horse, not a lot of vocals, possibly completely improvised. And this CD has indeed captured a few takes on what they were doing there, but not without twisting the knife a little -- Träd Gräs has always had a stubborn streak -- back in 1970 it was changing their name every two years and playing the riff from "Satisfaction" for 10 minutes at a time, and here in 1998-2001 (when this material was recorded) it takes the form of a lot of shorter tracks that are almost like moody FM radio 'modern rock'. At first I thought Midge Ure or maybe even Bono Vox was gonna start warbling over their shoulders, but they never do, and once you get used to their presence these are actually some powerfully moody songs, fully imbued with a real 'older and wiser' emotional weight, and either way they're outnumbered by those killer instrumental jams, two of which clock in at over ten minutes. Hey, it's an excellent album, and definitely recommended if you've already checked out a couple of their vintage 1970s releases.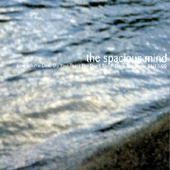 And no, this article is never gonna end, because I just remembered an album from Sweden I've been meaning to review for like four years now. It's by The Spacious Mind, and it's called Live Volume One: Do Your Thing But Don't Touch Ours, Skogsnäs 26/10/99. I've always liked the story of this album, the band travelling up to the commune village of Skogsnäs, "in the middle of the deep north Swedish forests," and laying down this endless slow and somber heavy psych-rock jam, giving it a nice 'testy hippie' title to boot. Compared to the austere aumgn of their obvious forebears in Träd Gräs, the Spacious Mind play more solos and use more e-bows and are more likely to dive into purple wah-wah passages, but that's true of most self-proclaimed "psychedelic jam bands," and very few of them have the stoic Träd Gräs-worthy control that the Spacious Mind exhibit here. Do Your Thing is one of several releases on the band's in-house Goddamn I'm A Countryman label, all of which come (came?) in high-quality digipaks with nice psychedelic photography. Also recommended are the cosmically somber I fell but Andromeda rose to the stars by Moon Trotskij, and a self-titled CD by Råd Kjetil and The Loving Eye Of God that is possibly the best thing from the label besides Do Your Thing, zoned-out melancholy drone-rock imbued with that gloomy Kosmische glow.

Wait a minute, let's go back to Lal Lal Lal for a second....there's one more album that I've got to mention, the debut release by the one and only Nuslux. This is the solo work of label CEO and Avarus member Roope Eronen, and he's really hit upon something brutally simple and special with this concept. The instruments are "oscillator, synth & oscillator, ancient sampler, multi effect board & violin." They are "touched by Roope and mostly built by Tomas," and importantly, there are "no overdubs." This all leads me to believe that Mr. Eronen is just kind of setting things in motion and standing back and listening, and the sound bears that out, with a bunch of short tracks that are, for the most part, harsh-but-humorous wind-up machine-drone miniatures. They sound static and unrelenting from far away, but up close they are loose, animate, and teeming with playful activity, and always deeply weird. It's like the deep-immersion approach of Lal Lal Lal comrades The Skaters applied to the tonalities of No Wave and Noise. And every now and then he changes things up with a track like #13, which is very gorgeous hall-of-mirrors-in-a-cathedral wordless hum-and-echo, still tantalisingly brief. Pay attention -- Nuslux just might be a true original from the Next New Weird.
---
JULY 16 2007 (DAY OF THE TWO DAUGHTERS)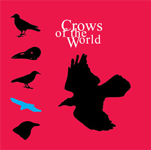 Last Visible Dog has put out their latest nature-themed 'few artists, long tracks' compilation album, this one called Crows of the World. The back cover says "First in a 10 volume series of important new studies detailing the family Corvidae, including first-hand observations of flock formation, nesting habits, plumage, egg-form, distribution, food, behavior, field marks, voice, enemies, winter habits, range, courtship procedures and migratory habits," which is pretty funny because it's obviously from the back of some ornithological field guide, but there's probably still people out there going "Wow, I can't believe they're going to put out TEN of these." Then again, the way LVD puts out CDs, they probably actually will. Anyway, Crows of the World is a mere two-disc compilation, only one-third of the glory that was LVD's Invisible Pyramid box, but it is damn near just as good. Standouts among the 11 compiled artists include some excellent late-night twin-synth droneout by Finland's The Free Players.... great (Sandy) Bullish banjo raga backed with hand-drumming by The North Sea.... weird lonesome drone-fluppery by Western Automatic, which is a guy from one of Chicago's finest bands, Zelienople.... chord organ droneout by the Ilya Monosov/Preston Swirnoff duo.... scary and epic doom-guitar feedback duetting by Paper Wings, which is New Zealand's Antony Milton and someone from somewhere named Anthony Guerra.... great low-end guitar steam-chug duetting by Northern Cross, which is Providence, Rhode Island residents Geoff Mullen and Kris Lapke.... and a closing track by Oaxacan that is totally intense, sounding like gigantic galactic furniture movers working in deep space while, down on earth, vocals by "Amy" keep getting louder and heavier until the movers can totally hear her....even though the liner notes say that it was "recorded live" in "Sacramento"....I don't know who or what to believe here....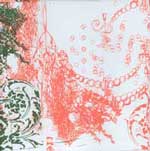 Actually maybe Oaxacan really are from California -- that's what it says on their MySpace page anyway. I'd like to talk about their untitled self-released CDR from 2006 (pictured), but I can't do it without talking about the Vampire Can't CD Key Cutter (also 2006, on Load Records). It goes like this: one night in the recent past, I loaded up the ol' five-disc changer with all kinds of new stuff from the review pile. It got to spinning, and pretty soon sounds awesome and terrible were emanating from my speakers. One particular group that shuffled up from time to time was really catching my ears, someone working some kind of subdued and silence-imbued guitar-drums skronk-patter forward-motion thing, and doing it very well. The drums were skilled enough for jazz, but the guitar kind of destroyed that possible context with various bluntly disruptive moves that were nonetheless musical and creative instead of merely antimusical and destructive. I started noticing electronics and vocals in the mix too, female vocals singing weird syllables and voice sounds, no words that I could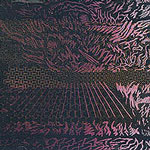 tell, and, oh shit, I realized, this must be that new Vampire Can't disc, Key Cutter, on Load Records! It is in the player, after all, and the one-sheet for it did compare it to the ESP-Disk label, and here I am getting definite Sea Ensemble vibes. Sure, yeah, it's gotta be . . . there's a guitarist (Bill Nace), a drummer (Chris Corsano), and the electronics and vocals must be Jessica Rylan . . . wow, nice move by them, lots of subtle stuff here, I've never heard Rylan sing quite like that, etcetera. Then, maybe another full day later, I realized that this group I was digging wasn't Vampire Can't at all, it was a completely different group called Oaxacan, from a completely different part of the country called Oakland, CA. They've been playing for a couple years now, and I already knew about 'em because their name is almost the same as what Blue Oyster Cult was once called (Oaxaca, for about five hours, as named by Richard Meltzer), and because their guitarist Derek Monypeny once wrote a great article on Sun City Girls that you can read here. I mean, I already thought I was gonna like 'em, but not half as much as I actually did like 'em when I heard 'em, got me? I really thought I would like Vampire Can't that much too, but after being convinced that they were capable of the subtle and deeply involved weird/noise/jazz fluency of Oaxacan, the reality of the Key Cutter album just kind of sounds bashed out without being hashed out. All the players are very good -- everybody knows Corsano is good, a lot of people know Nace is good, and of course Rylan puts out amazing hushed-noise epics like that New Secret picture disc, and I hear her newer stuff is even better. As I listened to Key Cutter, I kept hoping they'd go more in Rylan's hushed and epic dream song noise direction, and indeed they do with the last track "No Strings," which is over 11 minutes long, and my favorite thing on here. Most other tracks are within the 1 to 3 minute range, with that "if we keep 'em short we can call it hardcore" approach that isn't really working for me here. I know, I'm sorry, it's all Oaxacan's fault for being so good!
---
JULY 20 2007 (DAY OF THE FIVE LOST HAVENS
WBLSTD 777.666 FM
(a 2-hour show on a 24-hour satellite radio station broadcasting from Larry Dolman's left brain)
Sonic Youth "The Sprawl" (Blast First)
John Bender "36a3" (Record Sluts)
Area C "Circle Attractor" (Last Visible Dog)
The Stumps "[tracks 2 & 3 from The Black Wood]" (Last Visible Dog)
(VxPxCx) "The Knife Sharpener's Dog" (Digitalis)
RST "The Gate of the Sun" (Last Visible Dog)
RST "Stone Circle Free" (Last Visible Dog)
Morton Feldman "Piano Piece (1952)" (Hat Hut Records)
Eyvind Kang "Inquisitio" (Ipecac)
Occasional Detroit Gaybomb "Willow Gang" (Isle of Man)
Occasional Detroit Gaybomb "Electro-Pop" (Isle of Man)
Gaybomb "[from split CS with Super Pizza Party]" (Isle of Man)
Lovely Little Girls "Wretched Substitute" (Apop)
Weasel Walter "Ghosts" (Savage Land)
Bill Horist and Marron "Tenku" (Public Eyesore)
The Free Players "All Time Sunrise" (Last Visible Dog)
The North Sea "Albino Deer Transmissions" (Last Visible Dog)
Homegas "Maine" (Takoma)
Lynyrd Skynyrd "Gimme Three Steps" (Sounds of the South Records)
Lynyrd Skynyrd "Simple Man" (Sounds of the South Records)
Warmer Milks "[Driving With Diarr track 8]" (WFOT)
---
JULY 31 2007 (DAY OF THE MILLRACE)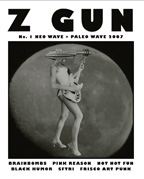 Special post to tell you that as soon as you're done wasting time at work reading this, you should click on over here and order a copy of Z Gun #1, a new 40-page paper zine by the Ss Records crew that, unlike the internet, you can read without even having to be 'wasting time' first. Not only does it bring the passionate, funny, smart, and 'too long to ever quite completely read' record review section back to paper, I can't believe how many great features they've stuffed in here as well. There's a deep Q&A with Kevin from Pink Reason, an inspiring interview with Britt from Not Not Fun, the most definitively hilarious and edifying piece that will probably ever be written on the Brainbombs, and plenty of regional knowledge via an overview of obscure San Francisco Art Punk and a cool interview with a Throbbing Gristlesque SF band I'd never heard of called Black Humor. Damn! Keep it up! Problem is I've already read the whole thing (except for a few of the record reviews, of course). Where's #2? Guess I'll go back to 'wasting time' on the internet.... how about here?
---
AUGUST 8 2007 (THE MOVING HAND)

It's the summer of 2002 and I'm watching the Charalambides play a show at Stormy Records in Dearborn, Michigan. At some point in the middle of a beautiful set of music, the three members each play an unaccompanied solo. Christina Carter goes first with an absolutely stunning vocal solo, Tom Carter goes next with chewy and gristly slide-guitar space-blues, and then Heather Leigh Murray quite simply plays the most sublime spaced-out avant-garde solo pedal steel guitar music I have yet heard in my thirty-odd years of existence. I later learn that she had a mentor on the instrument, fellow Houston, Texas resident Susan Alcorn, who in fact gave Murray her first pedal steel guitar. And now, a few years later, Ms. Alcorn and the Olde English Spelling Bee record label have given another gift, a lovely solo LP called And I Await (the Resurrection of the Pedal Steel Guitar), so that 750 people with turntables will be able to summon this profound musical source for themselves, again and again and again. I'm really glad I'm one of 'em -- I mean, I can really USE this thing. Every time I put it on, it's an instant heavy meditation on human vs. void, song vs. silence, struck vs. unstruck, motion vs. stillness, calm vs. intense.... I could go on, but it doesn't seem right to use the idea of "versus" so much. This isn't combative music, but it is tough music, the way it stands up in the universe with its "single notes that vibrate like tiny, hopeful pin-points of light held deep in the darkest night." (In the eloquent words of Dave Keenan yet again.) The city sounds outside my window can easily drown out this music, but they do not 'win' -- next to it, the roaring engines and shouting citizens and tortuous car alarms sound even more inappropriate and futile than ever. Anyway, it's kinda weird to see an actual private press classic come out as a brand new album, but here it is, in a great gatefold sleeve that features hand-drawn wraparound cover art and, even better, hand-written liner notes that reference 2500-year-old Buddhist sutras, Oliver Messiaen, Stan Kenton, and more. None of which would be nearly as important if the music wasn't so good....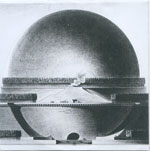 Sorta like hearing SWA before Black Flag, or the Jackofficers before the Butthole Surfers, or, I don't know, Brides of Funkenstein before Parliament, I have heard Face Place before Sword Heaven. Who is Face Place?, you may ask, especially if you're not from Columbus, Ohio, and maybe even if you are. Well, they are a Columbus-based duo featuring Mark Van Fleet (of Sword Heaven) and Jen Burton (of Face Place), and they play very minimal and strange chilled-out duo tapes/oscillator/etc noise music that haunts and hides and drifts. "Wizard tower music" they call it and yeah, I can see it, like Saruman's tower rising from the scorched and blackened landscape, but the Orcs are away on business, that giant flaming eyeball has been asleep or something for a few days, and Saruman's just chilling up in his garrett, smoking some pipe-weed, reading the Necronomicon, listening to some Bach. The record ends so he just kind of listens to the wind for awhile, walks out on the balcony and stares at the smoking plain, goes back inside and tweaks a spell or two, you know, that kind of wizard tower vibe. I've got two Face Place CDRs here, Dribblor and Floralor, both excellent, the latter preferred slightly as it closes with a great track called "live at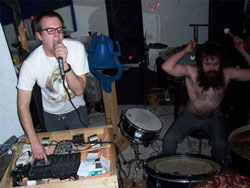 casa gameboy 7-23-05 (featuring Mike Shiflet)." As for Sword Heaven, well, fuck. Soon after hearing Face Place, I heard them too. Quite a few different releases, in fact: their split LP with Lambsbread on the Lost Treasures of the Underworld label, their 7" on BloodLust! as part of that label's "Private Series," the Live at Little Brother's CDR on Cut Hands/Little Miracles, and their side of the insane Various Artists Pisspounder 3LP on Deathbomb Arc. All that and I still don't know what the hell is going on with these guys except that it is intense barbaric ritualistic sonic abuse every single time. People might throw around that old "sounds like the apocalypse" chestnut when they're talking about extreme music like this, but with Sword Heaven we're talkin' terrorist acts in the streets as social order collapses....rag-tag tribes of survivors squaring off against each other over meager supplies....ritualistic herd-thinning gladitorial combat for the entertainment of slave-owners.... etcetera. All of these records are recommended, especially the split with Lambsbread and Live at Little Brother's, and their 'actual debut' full-length is coming soon on Load. Oh, and by the way, these guys opened for Skinny Puppy! Anyone know how those gigs went?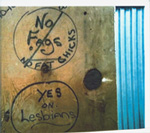 Here's two new CDR releases from our friends at WFOT in their sweet paste-on digipak style. Partly this is an excuse to talk about another killer Warmer Milks release, but this Towelhead album by Violent Students has pulled off the upset victory. Their first album (s/t on Parts Unknown) was perfect endless mutant slow-dirge bass-bombed quaalude strut, and the Street Banger EP was an absurdly white-noised follow-up in which they continued the strut, but shit, I could barely catch the groove behind the blast-wall production. Still ruled and the cover looked good, but Towelhead is like the perfect midpoint between the two albums -- a single 30-minute-odd track that is sonically very fucked, but this time the groove (yes, I like Violent Students because of their groove), thanks to some hellacious sludge-filtering in the mix, is always just discernable enough, in ways that steadily and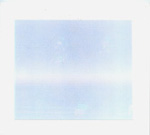 incrementally change as the track progresses. Always different, always the same.... speaking of which, the Warmer Milks disc is called Driving With Diarr, and it feels like a sequel to their previous WFOT side Aja Braun the way it knocks around wildly from song to experiment to goof-off to prayer. It starts out with a spooky staring-contest dirge, and then a relatively normal song in Mikey's 'melting Will Oldham' style, but quickly loses its shit completely into who knows what. I can recall plenty of highlights, like the whole "wild in the streets / runnin', runnin'" thing, and the solo/zoned guitar-raga closer, but I'd have to listen to it another 25 times to figure out half of the other, uh, components to this one....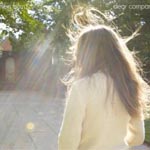 And finally, I realize I'm not going to win any 'tough guy' points for this, but this debut CD by Meg Baird (Dear Companion on Drag City) has been sounding real nice for the last couple months. What can I say, when it comes to the 'Philadelphia scene', I'm so incredibly open-minded that I like both Violent Students and Espers. (Which is why they call me "Saint Dolman," if you were wondering.) Meg Baird is in Espers, but she's all by herself on this album, really just her and a guitar throughout, and does she ever have a handle on these songs. Here's where the tough guys and gals can check out and go listen to Sutcliffe Jugend or something, because this is full-on olde-tyme British Isles & American balladry, with only two songs written by Baird, the rest being traditionals and covers, played with a skeletal and hypnotic grace and power. Deep as we are in this era of "rad sounds, no songs," it's easier than ever to forget the kind of focus and strength that can be required to just sing a song and accompany it on an instrument. This album is a pretty stark and timeless reminder.
---
AUGUST 11 2007 (DOG DAYS END)
WBLSTD 777.666 FM
(a 3-hour show on a 24-hour satellite radio station broadcasting directly from Larry Dolman's left brain)
Eloine "Bonanza Illusion" (Foxglove)
Slint "Breadcrumb Trail" (Touch & Go)
Psalm One "Needs" (Birthwrite)
Thaione Davis "Local 181 (Featuring the Linebackers)" (Birthwrite)
Grouper "Heart Current" (Root Strata)
Träd Gräs och Stenar "The Return of the Oppressed (A Love Story)" (Silence)
Touched "Backscratcher" (Black Velvet Fuckere)
The Terminals "Vertigo" (Last Visible Dog)
Violent Students "Pyramid Duty", etc. (WFOT)
Drunks With Guns "Punched" (self-released)
Velvet Underground "Cool It Down" (Cotillion)
Wi77!n6 "The Barren Slope" (Evolving Ear)
Wi77!n6 "A New Nest For Mr. Pest" (Evolving Ear)
Sun Supreme "[side one excerpt]" (MEDS)
Phet Potaram "Koh Phuket (Phuket Island)" (Sublime Frequencies)
Psalm One "Dubblewood Pipe" (Birthwrite)
Psychedelic Horseshit "Quasar" (Columbus Discount)
Grouper "Cover The Windows And The Walls" (Root Strata)
Susan Alcorn "Heart Sutra" (Olde English Spelling Bee)
Susan Alcorn "And I Await (the Resurrection of the Pedal Steel Guitar)" (Olde English Spelling Bee)
Eloine "Apples On A Cutting Board" (Foxglove)
---
AUGUST 12 2007 (DAY OF MOSES)
NOW ON THE INTERNET:
Funny interview with Kevin Drumm from 2003.....
I haven't listened to the fearless and raw improvised music of LaDonna Smith for awhile but it was nice coming across her website (don't miss her psychedelic poems) via Susan Alcorn's links page......
There was an hour-long Parliament-Funkadelic documentary on PBS about a year ago and now the whole thing can be watched at YouTube. Slightly cheesy in parts but still awesome.... pretty much all the big names show up for interviews.... you can finally see what Cholly Bassoline looks like.... Billy Bass is fuckin' funny and somehow seems like he's still in his twenties.... I now have an even bigger crush on Dawn Silva.... Remember Shock G of the great Digital Underground? He gives a good interview and probably smoked a really big blunt about two minutes before filming.... lots more, of course, but no Pedro Bell interview! C'mon man, Jake Austen coulda hooked that up!.....
Damn, look at all the Los Llamarada (Monterrey, Mexico weird-punkers as brought to you stateside by Ss Records) vids that this YouTuber has posted.....
Damn, look at these crazy industrial landscape video loops that Viki made for the Museum of Contemporary Art (Detroit). Get all four of 'em going at the same time for a real American nightmare!
Here's a bad-ass interview with Charalambides for a yoga magazine called Ascent. Heavy stuff, in a couple places Christina's statements actually read to me like the prose of Octavia Butler....
Pretty wild interview with the late great poet Robert Creeley, complete with a helluva LSD story! LOTS more to read in the Paris Review Interview Archive..... And speaking of LOTS to read, don't miss The Realist Archive Project and the Punk Zine Archive....
My old second cousins from New Zealand once blew my mind a little talking about the 1960s journey they took on the Hippie Trail, and here a Dutch guy, who also travelled it, has made a little online scrapbook about it.... and that's as good a place as any to point you towards the journals of someone who just took a Free Agent Trail of his own through the Middle East. Ladies and gentlemen, read all about the Kevekev.com No Politics No Religion Tour Summer 07..... and don't miss Kev E. Kev's 'podcasts' as The Radical Pessimist.....
"Chocolate Rain" rules -- I wouldn't call it this generation's "Desolation Row" or anything, but Tay Zonday is a lot closer to Bobby D than he is William Hung, that's for sure. Check out these two killer interviews for insights.... and I can't help but think of this album....
---
AUGUST 17 2007 (DAY OF THE HIGH CITIES)
'OUTSIDER MUSIC'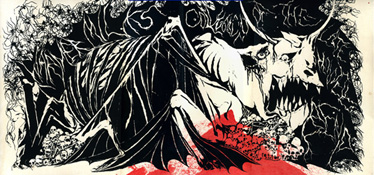 COLLECTION OF THE LATE HOWELL BEND / WARMER MILKS split LP (cover art by Matt Minter)
Who is Irene Moon? A performance artist, a singer, an academic? Well she's all of those, but above all she's.... a travelling lecturer on entomology and director of an avant-garde theater troupe. For some time a resident of Lexington, Kentucky, friend and collaborator with the Hair Police crew, tangentially part of the American noise underground, but she doesn't really advertise what she does to that whole scene..... can it be that she is a Scene of One? I saw her put on a totally strange musical performance/surrealist lecture a few years ago on a bill with a bunch of noise acts and it was much more Laurie Anderson than Leslie Keffer. Barely heard a peep from her since, not because she hasn't been busy, just because she's truly outside of the usual underground channels. However, Blastitude has received a split LP with Warmer Milks that she has just released on her own Begonia Society label, and her side, with a group called Collection of the Late Howell Bend, is a total jaw-dropper. This improbably-named group seems to have been convened in order to accompany performances by another Moon concern, the Auk Theatre. Their membership is elastic; here Moon is joined by Ellen Mollé and Sara O'Keefe from Eyes and Arms of Smoke for a dark theatrical gothic ballad with spooky text that sits suspended and rotating in dream time, spacing out on Mollé's insistent cello sawing and someone else's moody piano. For the second track, which feels like an extended instrumental rumination on the first, O'Keefe's totally hypnotic multitracked clarinet really applies the osmotic tongue pressure. (On a side note, if you like psychedelic drone/dream jazz, you MUST hear O'Keefe's solo cassette as Ara, released in early 2006 on Rampart Tapes...... ) On the flip Warmer Milks change it up completely, as they always do, even from themselves. The style here is side-long tribal industrial goth squeezed through a highly personal filter, the kind of thing they were doing on their 2006 tour with Howlin' Rain. Those of you who have really been paying attention will be going "dude, Cprek-era Milks!" and that's totally another good reason to check this LP out. As is totally awesome 'great beast' cover artwork by former Hair Police member and current (?) Auk Theatre member Matt Minter.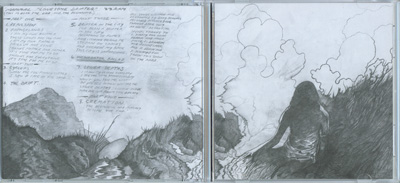 MAMMAL LONESOME DRIFTER CD (front and back cover, jewel case fold out style, art by Gary Beauvais)
And then there's the curious career of Gary Beauvais aka Mammal, the CEO of Animal Disguise Recordings. He came up in the early 21st as a kind of in-the-wake-of-Hanson harsh-noise sick-beat guy from the exploding Ann Arbor/Detroit nexus, but he seemed to split off from that particular scene-fest a few years ago and go a stranger, more desolate, and misanthropic route. The last thing I've heard by him was his second full-length, Double Nature from 2003, a brutal CD which really did sound like he was smothering his old style and scene under a pillow and recording its muffled howls and thrashings. Missed his 3rd LP from last year, but did note the rather grim title was Let Me Die, and now these years of grim isolation seem to have really coalesced into a monstrous manifesto, a CD and double LP called Lonesome Drifter. As the one-sheet makes clear, this is a "new chapter in the story of Mammal," described as "brooding, psychedelic, loner blues." That pretty much nails it, though it doesn't say how HEAVY this album can get -- it starts off with a slow, awkward beat that almost sounds like a nod to his sound circa 2001, but then guitar and bass kick in and pulverize that notion with a grinding destructive wall of sound that pretty much guarantees that you'll have to turn your stereo down (or way up if you're lucky and the set and setting are right). The song is called "Repulsion" and seriously, it's fucking awesome. From there the album pulls back somewhat into the brooding loner sound described on the one-sheet, a carefully programmed series of sparse and desolate songs of deep reflection, withdrawal, loneliness, depression, immolation ("Incinerator Ballad"!), and ultimately.... acceptance? Most of this information comes from the music itself, as the album is almost entirely instrumental -- there are lyrics and surprisingly clear singing on some tracks, but only a few terse lines here and there. I'm sure it will all get compared to the obvious doom metal reference points, but there's something truly unique about this music, in large part because Mammal has really learned how to pull back from the extremity of typical metal styles and say more with less. The best example is the last track "Cremation" (side 4 on the LP version), a 20-minute psychedelic masterpiece of a melancholy doom bass-led ballad, forlorn and strangely gentle as it winds its way out. It's got a spaced-out and heavy feel that actually reminds me more of certain vintage krautrock side-long downer epics more than anything contemporary. After all, the Beauvais drawing on the cover is like a strange and grim echo of the drawing on the cover of Ash Ra Tempel's 1972 album Schwingungen, and indeed all of Lonesome Drifter can be heard as a post-apocalyptic sequel to Schwingungen's epic scorcher "Flowers Must Die." There, heavily influenced by Funhouse and overwhelmed by the ongoing modern urban explosion, Ash Ra screamed, "I feel like an ill child from the universe / a Lost God in the dust of the city," and here, Mammal, with the stereo off and tumbleweeds rolling by past empty lots and empty buildings in a city that the urban explosion has long since abandoned, practically whispers, "I've been a drifter in the city / breathing in fumes and looking behind me / steppin on cracks and breaking my back / this city is unforgiving." Weird unique melancholy doom music from the new (dead) Detroit, Lonesome Drifter sounds like what's next on the continuum after post-industrial, a new American album that truly needed to be made.
---
AUGUST 24 2007 (THE DESERTED GARDEN)
WBLSTD 777.666 FM
(a 3-hour show on a 24-hour satellite radio station broadcasting from Larry Dolman's left brain)
Psychedelic Horseshit "Quasar" (Columbus Discount)
Buppah Saichol "Roob Lor Thom Pai (There Are Many Handsome Men Out There)" (Sublime Frequencies)
Sun Ra "Nidhamu" (Saturn)
Kevin Drumm & Daniel Menche "Gauntlet" (Editions Mego)
Bob Dylan "You Gotta Serve Somebody" (Columbia)
Parliament "The Goose" (Casablanca)
Atlas Sound "Axis II" (Hoss)
Stevie Wonder "Boogie On Reggae Woman" (Tamla)
Stevie Wonder "Creepin'" (Tamla)
Group Inerane "Kuni Majagani" (Sublime Frequencies)
Totally Dad "Creeks" (Obsolete Units)
Ghost Moth "[Live, track one]" (Pendu Sound Recordings)
Eyes Like Saucers "Still Living In The Desert (And Mostly Inside My Own Head)" (Last Visible Dog)
Yellow Swans "Mass Mirage" (Load)
Chie Mukai "[untitled from Somethings compilation]" (Last Visible Dog)
Collection of the Late Howell Bend "A Line of Trees" (Begonia Society)
Clockcleaner "New In Town" (Load)
Mammal "Cremation" (Animal Disguise)
Lichens "Restoration of Temperment" (Hoss)
Group Inerane "Nadan al Kazawnin" (Sublime Frequencies)
Bob Dylan "I Believe in You" (Columbia)
---
AUGUST 29 2007 (DAY OF CONLE)
CHECK THESE OUT WHILE THEY ALL STILL WORK!
SPARKS (from 1974) TO LIVE AND SHAVE IN LA (live in Detroit on their 2004 tour, amazing camera and editing by Time Stereo) DEMONS (hardcore synth noise with amazing visuals by Alivia Zivich of AA Records) MORE DEMONS VIDEO MADNESS (more from Alivia Zivich) MINOR THREAT (shown DESTROYING live and then skating -- maybe they should've just released this 5-minute clip in theaters last year as American Hardcore) RITES OF SPRING (fucking weird band) EMBRACE (don't know what to think about this -- watching this clip is actually the first time I've ever heard them -- weird to see Ian basically still doing his Minor Threat style of singing and moving, but now in front of a band that doesn't exactly kick ass -- his physicality and performance is now much bigger than the music, so it ends up being like weird Japanese theater or something -- this is cool though) ANTLER PISS SISSY SPACEK WHITE OUT SONIC YOUTH (total classic) SONIC YOUTH (incredible) MTV THE WHO ("Anytime Anyhow Anywhere," talk about "noise rock"....all band members rule, more respect than I thought for Daltrey's stage persona, good chill dancing and soul belting) THE WHO ("Who Are You," live in the studio in 1979 -- heavy!) INTERNET
---
AUGUST 31 2007 (FIRST DAY OF QUEST)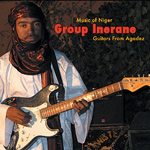 If you thought the Group Doueh LP from early this year on Sublime Frequencies was a knockout, the label's second vinyl-only release, Guitars From Agadez by Group Inerane, is just as great. Group Inerane is a guitar-guitar-drums trio with a bunch of ladies singing backup, and their hometown Agadez is the largest city in Northern Niger ("often called the beginning of the end of the world" according to this rather eloquent traveller). They play in the hardcore trance/punk electric guitar rock style that emerged out of the Touareg displacement from Mali and Niger in the 1970s and 1980s due to heavy droughts and mistreatment by their home governments. In 1980 the Touraeg were offered refuge by Muammar al-Qaddafi in Libyan rebel training camps; many accepted and began to encounter a more modern economy and technology, including electric guitars. A bad-ass rock group called Tinariwen was formed in these Libyan camps, apparently around 1982. Often regarded as the first Touareg group to play electric guitars, they were finally gatekeeped into the USA as a cultural entity around 2004, by National Public Radio et al. I saw 'em play a good but heavily gatekeeped show at the Chicago Cultural Center in November '04, and then, the following July, a fairly more raucous outdoor show at the Chicago Folk & Roots Festival. They're a great band, but frankly, on Guitars From Agadez, Group Inerane sound like they would blow 'em off the stage. Their guitar playing, especially by singer/bandleader Bibi Ahmed, is much more fluid and rippling than Tinariwen's, and the drummer really drives the songs into new places tempo-and-feeling-wise. At certain times when the toms are clattering and the guitar is scything, the group sounds like, well, vintage 'song-based' Sun City Girls. The hardcore SCG/SF freaks might recognize Inerane from their great appearance on Niger: Magic & Ecstasy in the Sahel, a Sublime Frequencies DVD filmed by Hisham Mayet and released in 2005. Mayet also recorded all but one of the tracks on this LP, during those 2005 sessions and more in 2007, with great results, the most super-hot holy-shit example being "Nadan al Kazawnin," an INSANE electric guitar raveup that seriously sounds like My Bloody Valentine jamming with Henry Flynt.....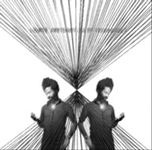 New-to-me label from Atlanta, Georgia called Hoss Records has sent along two lovely-looking split LPs, the latest in an ongoing series, and judging from these two we should be paying attention. In fact, Hoss 007, a split between Lichens and Lexie Mountain, is one of my favorite albums of the '007. Compared to this year's White Lichens collabo CD on Holy Mountain, the solo Lichens side here has a real sparse and fragile sound, just voice and guitar and a lot of space. The singing is amazing, wordless, fearless and bold, uncertain and meandering, both gentle and piercing, and it's buoyed by a pretty/brittle guitar arpeggio loop that constantly spirals skyward while the voice extrapolations flow smoothly in and out of killer blown-out melodic guitar soloing. It's called "Restoration of Temperment" and I'm telling you, after a few listens to get used to its strange atmosphere, this track really grows into a thing of beauty, a totally off-the-cuff and seemingly relaxed psychedelic performance that nonetheless pushes constantly into weirdness and uncertainty. Much like Bernard Shakey himself, it sounds like Lichens would rather head for the ditch than the middle of the drone-rock road..... and you can bet he'll find Lexie Mountain there, wading at least waist-deep. Her side of the LP has a lot in common with Lichens' -- both are solo, both feature one long track based heavily on vocals, both use loop pedals extensively. One big difference is that Lexie doesn't have any other instruments, so all the effects are on her voice, but this isn't some hypnotic and lulling moan-wave, this is something highly disruptive and confrontational, a bad-ass, nutso, feral, funny, and all-around ripping solo performance live in Atlanta in 2006. Spoken word, avant garde, punk, DIY, stand-up comedy, Rosanne Rosannadanna meets Genet's The Maids meets American Idol (ON ACID OF COURSE) meets Yoko and Meredith and Dame Patty Waters herself. Totally mental and fearless and beautiful, and that goes for both artists. Somebody sneak this LP onto Simon Cowell's iPod right away -- how could he not appreciate two such boundary-pushing human voices?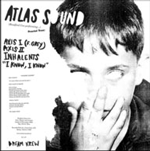 As for Hoss Records 008, a split LP between Atlas Sound and Mexcellent, I knew nothing until learning that Atlas Sound is the solo guise of Bradford Cox, frontman of Deerhunter, a band that I still haven't heard, if you can believe that. I do read 'the shit' out of their blog, because self-expression rules and fuck Pitchforkmedia.com yet again for their god-forbid-someone-be-weird-and-bold crusade -- but I digress. I was worried that this album might be a little Pavement-damaged, I guess just because of the handwriting on the cover and whatnot, but hey, I like it. Wobbly home-recorded psyched-out delay-pop with spacey-warm electronics and a serious kraut pulse emerging in a couple places. And on the flip Mexcellent, another previously-unheard-of-by-me band from Atlanta, also impresses. At first from across the room I thought they were playing some kind of weird indie-metal, but it's not that at all -- it is indeed heavy, but not due to guitars and growls, more like a shambling suburban-American This Heat, with crappier equipment and crappier drugs. Pretty cryptic and doomy stuff, and whaddayaknow, all four of these Hoss Records split LP sides are perplexing me and offering new complexities every time I listen. In flux we trux....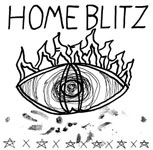 When I heard Gulcher was releasing a Home Blitz CD that collected both of that band's landmark 7-inches plus a buncha other tracks, I thought "right on," of course. But now that it's actually in the player I can't believe how good this thing is. Hearing the 7-inches right in a row as five great songs is fantastic, but it's the five songs just after that, from the Home Blitz side of a 2006 split cassette with Friends & Family, that have really got me flippin'. I mean, "Benches," man.... "Benches." Fucking out-of-nowhere high-lonesome country-rock ballad with perfectly wrong skewed-imitation pedal steel lead guitar goofin' and Mr. DiMaggio just about tearing his guts out on the vocal/storytelling, and it's followed up by "Bored," which is a Public Disturbance cover. That means nothing to me, all I know is that Home Blitz plays it as a truly amazing piece of bedroom yearning gothic psych pop clatter. These two songs alone are worth picking this disc up (as are any of the first five), but there are three more tracks from the Friends & Family split, continuing all over the map in a really good way. "Yard" is basically Daniel doing his half of the Car Commercials approach (weird detuned and ringing near-silences), and then the next song "Marquand Park" might almost be, in some strange way, HB's single greatest achievement. A mid-tempo hardcore strut taken apart and cubistically rearranged, including ridiculously accomplished 'atmospheric' intro. A lot like something off of God Bless the Red Krayola, now that I think about it, except the style being taken apart is 80s/90s HC instead of 60s psychedelic pop. "GT Performers" is the last of this group of songs, a short one that takes the HC riffing into concise new directions, and then the NEXT five songs are all from a Weird Wings 12" release that apparently isn't out yet, and really ties everything up into a serious style, great riffs played rough as hell and with great humor, Danny D.'s most inspired confluence of weird dead ends and vicious songwriting yet. He may have started out great with those 7-inches, but I think the kid is still getting better....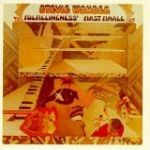 And you know what other album slays? Fucking Fulfillingness' First Finale by Stevie Wonder. It was always Innervisions this and Talking Book that around here, but all of a sudden I think FFF is the one I'll take to the desert island. Y'see, just tonight I was walking home from the grocery store up here in the ERP, and right on my street they're setting up an all-weekend arts festival, you know the style, and a DJ was outside spinning some records. Generic diva house music all the way, but just as I was passing by, he made a genius change-up and played this album's "Boogie On Reggae Woman," which is EASILY the best soul song of all time. Yeah, except for all those others, but seriously now, somewhere between the utterly driving drum & conga rhythm, the preposterously gaseous synth bass, the preposterously sweet harmonica solo, and all of Stevie's sweetly lascivious love of music and music of love on display, well..... I came home and put on my $1 vinyl of the whole album and was reminded that it has plenty of other great songs too.... you already know the scorching Nixon dis "You Haven't Done Nothin'," but how about the Afro-Futurist yearning of "Heaven is 10 Zillion Light Years Away," the moody epic solo piano ballad "They Won't Go When I Go," and the amazing "Creepin," with its totally prog chord progression, perfect synth groove, PERFECT background vocals by Minnie Riperton, and trippy love lyrics. ("Why must it be / that you always creep / into my dreams?")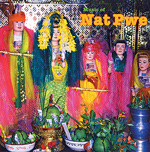 And back to Sublime Frequencies for just a second, they're still putting CDs too, and their latest batch of three is as good as ever. Thai Pop Spectacular 1960s-1980s and Molam: Thai Country Groove From Isan Vol. 2 are tons of fun, but my favorite has gotta be Music of Nat Pwe, yet another dizzying journey into the ornate acoustic alchemy that is Burmese music (see also the Princess Nicotine CD on Sublime Frequencies, or the earlier LP version on Majora if you can find it, or the awesome Nat Pwe DVD on Sublime Frequencies if you can find IT). I'm not going to tell you anything else about these CDs because I CAN'T. It's like Mark Gergis and Alan Bishop say in these awesome statements from the Molam liner notes (and feel free to replace "Molam" with Thai Pop, or Burmese Hsaing Waing, or any other musical style you'd like): "The only true experts on Molam are those who grew up listening to it, loving it and living it. They're the ones qualified to talk about it with any credibility -- but they aren't talking, and neither are we. We're listening." "For assistance decoding or reducing Molam and its makers to a scientific nothingness, please contact the appropriate authorities."
---
SEPT 15 2007 (SIXTEENTH DAY OF QUEST)
CHICAGO SHOW REPORT
Om, Circle, Endless Boogie, Ecstatic Sunshine, 9/14/07 @ Empty Bottle. You know I don't get out to shows much anymore, but considering that I would've gone to see any of the top three here all by themselves, I pretty much had no choice..... Walked in with about 5 minutes left in the Ecstatic Sunshine set. I'd never heard of 'em before but they said they were from Baltimore and it sounded pretty good, coupla dudes jamming along (plus I think a floor-sitter who I didn't notice until the end of the set), bobbing to a strange swirling rhythm made up of stacked guitar dream-noise. Nothing especially unique but good sounds and intensity, crowd liked 'em too. Next up was Endless Boogie, also known as Endless Set-Up Time. I mean, I've got no problem with bands that have like 38 effects boxes and get super-stoned and then spend 40 minutes just getting their pedal cords untangled, at least they're working, but Endless Boogie have a pretty straightforward 'guitar and amp' setup, and they were doing that style where a guy in the band stands by the stage and smokes cigarettes for 20 minutes, then goes up and fiddles with his amp for 10 minutes, then goes back in front of the stage to smoke more cigarettes just in time for a different guy in the band to come up and start fiddling with his amp for 10 minutes. Ya know? But all was forgiven when they finally plugged in, because they really do throw down. Paul Majors not only looks and acts onstage like some kind of Hanna-Barbara cartoon idea of psychedelic rocker, he is also a great 'slowhand' lead guitar player, better than Clapton and in fact closer to Allman, and Jesper Eklow is a great rhythm guitar player too. I constantly thought I was hearing actual studio-rock horn parts and Hammond organ riffs, but it was just the overtones he was generating out of those repeato-riffs. Not to mention genuine tampura vibes in a lot of places, thanks in no small part to the pacing of the killer rhythm section. There were many moments where the riff was totally locked in and cycling, and everything would start to rise, then Majors would raise it even higher with some well-placed cryptic Iggy barks, and then they'd bring it down just right too. But, back to the "endless" jokes, for the second band on a FOUR-BAND BILL, they did play a little long. There was a moment when a jam ended and a "thank you, good night!" woulda been perfect, capping a top-notch 40-minute-or-so set, but they stayed right there on stage, retuning, talking over what to play next, until Majors said, "We'll make something else up here in a minute," which wasn't really what I/we wanted to hear. They eventually started up a take on "Rollin and Tumblin" that was fine for 7 or 8 minutes but then started to get endless in a not-so-good way, some vibe-slipping going on, some guys bringing it down while others were bringing it up, some guys hitting a change while others stayed on the root, and get this, when that finally ended they made no move to take off their guitars, same retuning & talking routine, and even after the soundman started blasting Amon Duul 2 Yeti over the PA, Majors went up to mic to say "Awwwlriighht!" or something but the mic had been cut! Ha ha, the Bottle doesn't mess around. Gotta love Endless Boogie for the endless balls though.... and they do kick plenty of ass....with those balls..... ANYWAY, up next was Circle. I had still never actually heard 'em except for their recent uncharacteristic mellow fusion jazz album Tower. The only other thing I had to go on were those goofy pictures floating around from Arthurfest 2005, so I didn't really know what to expect (this was a popular opinion, something I overheard from the crowd at least three different times), but in a nutshell: they came out looking exactly like those Arthurfest pictures, and the music was JUST AS WEIRD. They put on a bombastic show from the get-go, and very quickly I got it, that each of the four is a total rock'n'roll character that also plays an essential musical role, not unlike Led Zeppelin a collection of four irreplacable and irrepressible individuals. Suddenly their "New Wave of the New Wave of Finnish Heavy Metal" catchphrase didn't even sound like a joke, because at least 70 or 80 percent of what they were playing really was a sick fusion of high-energy Euro hardcore and Euro metal, played with precision/love/humor/energy, while the other 20 or 30 percent brought in all kinds of other things like krautrock trance, glam rock, avant garde composition, free jazz and fusion jazz, not to mention sick dance moves and harmonica solos. One of the weirdest bands ever. And then came Om. I mean really, what a ridiculously epic night. After the headliner-worthy style of Circle, I couldn't believe there was gonna be another band, let alone that band being OM. (And tonight they're playing at the Bottle again, this time with Daniel Higgs and Lichens. I'm just thinking of this two-day event as the first annual OM FEST 2007, because these two lineups are almost as good as the entire Pitchfork 2007 roster combined. Can't wait to see who opens up next year.) They also took awhile to get set up, mainly due to finding the optimal place for Chris Hakius's extensive drum kit, although Al Cisneros's ungodly four-cabinet bass amp setup seemed to just sort of emerge from the shadows all by itself, ready to go, the red standby light humming OMinously as drums were moved all over the stage and the packed house rumbled and Yeti kept on wailing (and by the way good call Empty Bottle DJ, what an absolutely surreal, constantly blazing, out-of-time album Yeti is). When was I gonna get home, 3AM? But where else in Chicago would I rather be? And after all the expectations, Om did not disappoint. Not at all. It was incredible. The bass sounded absolutely monumental. It's the greatest bass sound I've ever heard live, actually, no doubt about it. The rest of the mix didn't quite hold up to this level -- Hakius is an unbelievable drummer but seemed to be fighting the mix a little bit, and the vocals were close to inaudible at times, though I didn't take this as a mixing issue so much as part of Cisneros's overall style, which is an actually very chill and humble presentation of utter heaviosity. Cisneros's role in the songs, as both singer and instrumentalist, is not to dominate, but to channel, even as he wields one of the most effortlessly dominating bass tones in rock history; seeing him play live, you can't help but notice how soft his no-pick touch is and how gently his riff syncopations weave into the implacable universe-rhythm of the songs. They don't use 'heavy' to crush you or bury you, they use it to slowly build a mountain that you can climb until you see the edge of the earth.
---
SEPT 19 2007 (TWENTIETH DAY OF QUEST)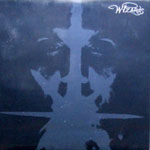 Lotsa synth action going around in today's weird underground and that's understandable. It's a sound for the ages, so alien, cold, and futuristic, but also somehow very human, offering immediate translation of obscure brainwaves and the deepest mental landscapes into sound/music/art. Still a lot to accomplish there, but before you get all excited and record a rad new CDR release every time you turn the damn thing on, make sure you've checked out the source, like any of the awesome first seven Heldon albums or Terry Riley's monumental Persian Surgery Dervishes. There are probably a hundred more examples after those, and probably the deepest of them all is Wizards by J.D. Emmanuel, a beautiful and relaxing album of driving and pulsing synth and organ music, released in 1982 as a private press LP from Houston, Texas. On the back cover it said "J.D. Emmanuel may be contacted for live performances and to share workshops on his research with music in relation to stress, meditation, altered states, and as a medium for counseling and physical therapy." I'm sure these workshops were (are?) interesting, but it's amazing how much therapeutic and meditative value you can get from the record alone -- in fact, just this week I personally witnessed this album help to calm a fairly serious anxiety attack. Just one of many reasons you should have this music in your house, and Belgium label Dreamtime Taped Sounds (closely related to the Imvated and Bread & Animals labels, for those keeping track) has put out a new "25th anniversary" vinyl reissue. I kinda wish they would've left the eerie B&W cover photo of Emmanuel "dry" like it is on the originals, but it's actually a little creepier this way, and the vinyl itself sounds superb, the sonic treatment that these 37 minutes of "at-one-ment" deserve. Apparently Dreamtime is already sold out of this, but before heading for ebay hurry up and check the distros, or see if J.D. himself has some copies....

Also new from Dreamtime Taped Sounds is a fine little 'cassingle' by the artist known as Ignatz. He's from Belgium and you might remember him from a fine cracked electric guitar alien-blues CD he put out a year or two ago on the K-RAA-K label. He recently becacme a father and apparently this single is an ode to the baby boy. Side A reminds me of the aforementioned full-length, a weird space-blues-trance that gets a fatherhood twist from its submerged lullaby melody and its playful windup-toy coda. Side B makes the ode overt with a blown-out guitar-and-falsetto ballad, a bit of a Neu "Lieber Honig" shot through with the kind of fragile awestruck emotion you can hear on Richard Youngs's Sapphie. Very nice.

Always more tapes, like this split cassette on a Columbus-based label called Teen Action Records, part of their "Ohio series." Side A is a jam by Blastitude #19 cover stars 16 Bitch Pile Up that is downright…. incredible. It's a quiet jam, but within the quietness they build up so much haze and tension and weirdness and grossness and distraction that by the time you realize someone is screaming it's waaaaay to late, and that's when the backwards satanic chanting starts up. (Only in my head, but still......) It's live before an audience too -- I don't know how they did it. After this work of genius I wasn't exactly jonesing to hear the B side, especially because it was by someone named Twink Bully, but they/it quickly won me over with a nice bit of slowly accumulating crunch-burrowing. About 6 minutes in you realize there's a free-crashing drummer playing along – it's so nice when you don't notice things right away. I guess this is what I wish the Dead C sounded like these days…. It does kinda go on and on, and that's even before the second ending, the one that's supposed to go on and on. But hey, both jams were recorded live in Columbus in June 2007, so this really is some up-to-the-minute shit, and the 16 Bitch thing is just beyond….

And also from Teen Action comes a compilation on a C60 called Stay in School Drugs are for Losers You Suck. It comes with this sticky fake rubber maggot sitting right there on the A side that actually made me jump when I opened the case. Then I checked out the list of artists, all from Ohio, and I scratched my head because Lambsbread was the only one I'd heard of at all. Still, that and the maggot was enough to get me to play the whole tape, and it's good stuff. Someone named Nathan Snell starts off with two tracks of solo heavy guitar damage that might be the best shit on here, unless it's the spaced-out track by the Honey Mountain Whistlers (which really is a whistling ensemble, and they seem to do 'originals,' which means that their track is some mega-weird reverb-drenched ghost-story meander). The Lambsbread track is decent, not awesome, pretty shitty live recording, but it's still enough to remind that somehow no other band sounds quite like Lambsbread. (The high tension wire guitar feedback duel that opens the thing is especially nice.) Gagging Nuns, Furfur, and Homo the Wolf are on here too, and I don't remember too much about them except that their stuff was pretty crazy. I would listen again. All these tracks were recorded live in Columbus, OH at one of two venues, Animal Hammock and Skydad, the same two venues that the sides on the 16 Bitch/Twink Bully were recorded at......
---
SEPT 21 2007 (TWENTY SECOND DAY OF QUEST)
7-INCH SINGLES, etc.

I think someone said this new "proceeds go to Food Not Bombs" 7-inch by the Wooden Shjips is their best record yet and I'm in full agreement (having not yet heard the brand new full-length on Holy Mountain). It's the same kind of amiably burning California trance rock they did on their first two records and this is the most scorching example yet, the bass on a mental wind-up "How Many More Times" repeato-riff that goes and goes throughout both sides, at 33RPM too, so you get a pretty nice 10-minute chunk. It's called "Sol '07 (parts 1 and 2)," and the sol flows over the bass-and-drums earth in the form of submerged but crazy echo-vocals, possible farfisa organ, floating psychedelic mariachi trumpet (!), ripping guitar solos, Rother-style bliss-blend guitars, red vinyl, classic generic paper sleeve, playful mystery vibes, a Sick Thirst / Holy Mountain Production, super great record........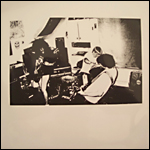 as is the Pink Reason "By A Thread" 7-inch (Trick Knee Productions), every bit as essential as his two perfect previous releases, the "Throw It Away" 7-inch and the Cleaning the Mirror LP. I mean the A side here "By A Thread" might just be his single greatest song, certainly his most upbeat and driving, his most pop-punk if you will (not saying you should), but still with the crucial gooned-out dark-cloud Pink Reason feel you've come to know and die with. And the B side changes things up, to say the least, with an a capella blues called "The Devil Always Wins," only to change it right back to square one for "Down On Me," another pumping/driving/wavey love/hate song as catchy as the first. These hooks are huge and this record is great, right down to the cover photo of a show (or is it a practice?) and the party photos on the labels.....

I have yet to hear Robedoor hit a single bad note. As far as I can tell from the 3 or 4 releases I've come across, they're one of the finest 'moving stillness'/'haunted stasis'/'superstoned drone' bands of the 2000s, and their piece here on this split with Ghosting is just mesmerizing. No speed marking (is there ever anymore?) but I play it at 33 so it'll last longer. Nice lock groove ending too. Ghosting holds their own on the flip, also a static/drone/wall kind of piece, but with more active ingredients, namely a loose crap-strings Western-style raga that eventually gives up completely and lets the wall take over as it begins to levitate and bend in slow unbreaking waves. White vinyl, Not Not Fun label, a good one.

This rather infamous single on Black Velvet Fuckere by Louisville, KY garage punk ravers The Touched really rips too. Doug Mosurock's negative review for his Dusted column is kinda right when it says, "33RPM means the songs are all too long by half," and he's also correct to call it "execrable," like when the singer says "My baby's not a whore!!!" over and over, but even with all that being true, I can't help but feel a little closer to Scott Soriano's Z Gun take: "Fucking god shit!" It's all just so raw and howling and tinned-out and out-of-time, with its 70s Cleveland gibber outshowing its 80s Biafra ire, and at the end of the last song, "Gimme Your Heart," when the band slows it down and the singer does his falsetto thing, that's where the soul music comes out.....

And yet another blown-out DIY psychedelic no-scene weird soul garage single has showed up in the mailbox, the debut from Eat Skull on the Meds label. Side A has two blown-out nervous nerd-punk skiffle songs at 45RPM, both with big hooks buried in scorching tones and very adventurous mixes that place things like the unamplified ukelele (?) much louder than the 100-watt-cabinet noise bass (??). Side B is one song at 33RPM which gives 'em a chance to dive into an excellent mini-"Sister Ray" for a few minutes. Apparently Eat Skull is another Hospitals-connected band, as was the awesome Sic Alps lineup that cut Pleasures and Treasures, which reminds me that the Hospitals' Jocks and Jazz rec on Load from waaaaay back in the day (2005) was a good one, which makes me wonder if the Hospitals aren't some kind of collective-unconscious cornerstone for this whole '00s no-scene DIY punk revitalization, and if maybe Pete Frame should do a family tree. If they had only released a 7-inch EP of some kind back in Year Zero (2006), they'd be truly legendary, but I'm more than happy to settle for Eat Skull in 2007.....

And speaking of this whole '00s punk thing and its annoying but sometimes cool older brother "garage," I can't believe that my old town Lincoln, Neb. has a garage scene that is actually good. But here it is, spearheaded by Boom Chick Records, the label run by I think The Terminals, who are NOT the New Zealand band, but a Lincoln, NE band that have released a fine 7-inch EP here called Takin' Care of Brooks. The A-side is a femme-sung retro-strut called "Ritual" (written and originally performed by The Mods) that really hits a nostalgic hard rock meets tough chick meets punk soul sweet spot somewhere inside my head. On side B the guys in the band take the mic and hold their own with a couple originals, darker and more frantic.... Lincoln and Boom Chick have also brought us a really tough 4-song 7" EP by Brimstone

Howl called M-60. This songwriter named Johnny Ziegler has got it, a gnarly voice and guitar style, great drawling hooks, and a band that cooks. They've since put out a few other 7's that I haven't heard (BTW, I am fully aware that all of these records are incredibly old and everyone else reviewed 'em at least a year ago, just sayin'), including one produced by Jay Reatard, and the critics are saying that M-60 is their least essential, not because it's not good, but because the others are better, how about that? And by the way, remember when Charles Lieurance wrote that wild piece about the blues, Marvin "Candy Licker" Sease, and a Nebraska band called The Zyklon Bees? Well the Bees were Brimstone Howl before changing their name and some personnel.....

And speaking of incredibly old, why the hell did it take me like two years to listen to this Big Nurse single, "Who Wants To Kill The President?" b/w "Electrocute Your Cock"? The A side is a wrenching dubbed-out mental howl of a protest song, the singer asking the title question over and over, continually sending it through a meat-grinder of trippy effects while the rest of the instruments just wrong the fuck out in some kind of unknown rhythmic truth. The B side, as many of you have already surmised, is a Vom cover. In it, the band turns what was actually a pretty straight-ahead song into a feedback-laden cubist disaster that somehow never stops moving forward. Released on their own High Density Headache record label, check their blog for discog info and wistful imagery of weird youth gone rad......

I'm ending up liking this Wicked Poseur 7-inch more than I think I should. From Houston, Texas, the band (or, actually, the guy) plays cheesy 1980s-style synth-pop that pretty much has to be ironic, but the hooks are surprisingly good and the rhythm hits just right. "Maybe Eliminator" has got a soft kick, a deadpan vocal, and it's been playing in my head off and on for about three weeks now. Would've been one of the best songs on the Valley Girl

soundtrack, for sure. The label is called Enduring Self........ Side A of this Grouper 7-inch on Type Records always makes me feel like I need to change the dials on my stereo. It's so dreamy that it's cloudy, murky, and (intentionally?) muddy. Could it be that this music is too dreamy? Like a dream you will never comprehend or even recall? After listening to the A-side "Tried" many times I still have no idea how the song goes. On the other hand, her Cover the Windows and the Walls LP (Root Strata) is an absolute blown-out dream-psych psych-pop masterpiece. I know how ALL of those songs go. That album may in fact be too good -- it was the first one I heard, and so far neither "Tried" nor the earlier Way Their Crept LP have quite lived up to it. (P.S. Have also now heard her Wide LP and it's closer.) Her live show at the Bottle back in July was excellent though, and on the B side of this 7-inch, "Everyone in Turn," she proves that without the wall-of-sound production she can still play a gorgeous and otherworldly song. Definitely curious to see what's next....

Finally listened to this Silver Daggers 7-inch, also on Not Not Fun, that's been sitting by the stereo for probably TWO years now. It's pretty good, better than their more recent New High & Ord CD on Load. They're a good band in an aggro post-Ex mold, but like the Ex they can sometimes err just a little on the side of strident, and the sparkling clean studio sound of the CD maximizes this pitfall, where the garbage basement vibe of the 7-inch enshrouds it. I prefer the latter, although the former has much better cover art (by Gary Panter), so buy it on vinyl too if you're interested. Maybe it sounds a little murkier that way too......

And hey, I may like "murky," but that doesn't mean a band can play mediocre pop-punk and pass their shit off as good just because it's 'drowned in noise' or 'bathed in scum' or whatever, even if they are from Ohio. Now, now, settle down -- I am not referring to Times New Viking (they're really good), and I am definitely not referring to Psychedelic Horseshit. On their Who Let The Dogs Out? 7-inch EP (on Columbus Discount Records), they don't merely write an okay pop song and give it a fashionably lo-fi setting, they take the fuckin' melody from "Don't Be Cruel" and blast it off into outer space as a 45-second farfisa-organ raveup recorded inside a plastic telephone receiver. That's "Quasar," and the other two songs are almost as great and certainly nice pieces of the puzzle that twist in unexpected ways. Psychedelic Horseshit call it "practice rock" and it's about time somebody coined that phrase -- it's been one of my favorite styles of music for years. Can't be much more than 4 minutes of material here, and I am more than ready for a full-length with like 26 of these 1 or 2 minute basement-spun glories. It might even be almost as good as that ultimate practice rock album, Bee Thousand............. OKAY THAT'S ALL FOR NOW, HUNDREDS (TENS) MORE SINGLES STILL ON MY DESK TO BE REVIEWED SOMEDAY/NEVER/SOON!
---
SEPT 30 2007 (DAY OF TRISMEGISTOS)
LIVE ON WBLSTD 777.666 FM
(a 3-hour show on a 24-hour satellite radio station broadcasting from Larry Dolman's left brain)
Pink Floyd "Breathe" (11/15/72 Boblingen, West Germany)
Wooden Shjips "Sol '07 (part 1)" (Sick Thirst/Holy Mountain)
No-Neck Blues Band "[side one of Ken's Electric Lake]" (CD reissue on Locust)
Taurpis Tula "Judas the Lion" (Ikuissus)
Abydos "Save Me, Sava River" (Abandon Ship)
The Terminals "Vertigo" (Last Visible Dog)
The Byrds "Goin' Back" (Columbia Legacy)
Bob Dylan "Standing in the Doorway" (Columbia)
Sapat "Baal's Balls" (Siltbreeze)
Stone Harbour "Thanitos" (Void)
Stone Harbour "Still Like That Rock'n'Roll" (Void)
USAISAMUDBOY "President's Day 07" (Mass Dist)
Argumentix "Lend Me Your Blanket I Want To Dream About You" (Trash Skull)
Grouper "Everyone In Turn" (Type)
Judee Sill "Lady-O" (Water)
Sybille Baier "Softly" (Orange Twin)
Hamza el Din "Oud Duo" (JVC)
Hamza el Din "Arafa" (JVC)
Bo Hein & Bo Mein "Master of The Nine Cities" (Sublime Frequencies)
Ka Kaw (White Leg Group) "Nam Jai Fan (The Generosity of Our Fans)" (Sublime Frequencies)
Nathamuni Brothers "Varnam in Raga Shankarabharanam Janya, Unknown Title" (Fire Museum)
Fantastic Magic "Fox Wedding" (Abandon Ship)
Locrian "Visible/Invisible" (For Documentation Only)
Pulga "Raga Pulga" (Fire Museum)
Big Nurse "Who Wants To Kill The President?" (High Density Headache)
Pink Reason "By A Thread" (Trick Knee)
The Terminals (NZ) "Undertows" (Last Visible Dog)
The Terminals (US) "Ritual" (Boom Chick)
Eat Skull "Things I Did When I Dyed My Hair" (MEDS)
Wooden Shjips "Sol '07 (part 2)" (Sick Thirst/Holy Mountain)
---
OCTOBER 9 2007 (DAY OF THE BLOOD SUN)
LAST VISIBLE DOG
with another 29 excellent CD albums (actually 6, which is still a lot)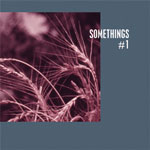 The Last Visible Dog label has really figured out how to put together a top-notch compilation over the last few years, and here's yet another one called Somethings #1. It was assembled back in 2004 by Ilya Monosov (of Monosov/Swirnoff and The Shining Path) without LVD in mind, but it is a perfect fit for the label as it collects long, spacious tracks that give each artist a chance to really sink in. The opening 10-minute-plus voice-and-erhu solo jam by Chie Mukai is one of those worth-the-price-of-admission deals, huge sweeping echoing notes carved out of the deepest night sky. And that's just track one, so you get a lot more, like live aggressive free improvisation by the sax duo of Andrew Deutsch and Joe McPhee, a weird set of field recording miniatures by Nick Castro, for the likes of "items found in my pocket" and "various fan motors from the 1940s" (you may know him as a new psychedelic folk recording artist, but these tracks are a whole other kettle), 6 or 7 minutes of solo saxophone by Masayoshi Urabe, a performance that is very quiet but also gets very loud for seconds at a time (sometimes it sounds like not one but two people are playing full blast, and other times all that can be heard is the desultory shuffling of his feet on the floor), an absolutely rich and deep 10 minutes of gorgeous drone by Sarah Peebles that more than lives up to its title ("Music for Incandescent Events no. 1, after sunset with crescent moon setting over field"), a twitchy and subtle piece by curator Monosov called "Untitled Performance in Open Air" (for "trumpet, electronics, tape, field recording and manipulation, mixing board with an attached microphone and speaker"), and things are suitably closed out by Preston Swirnoff with a rippling piano drone that echoes and decays back into itself vertiginously for a good 10 minutes. (Reminds me of side B of the Paavi LP!) This is a comp bursting with original sounds and ideas and I'm definitely looking forward to Somethings #2...... Formerly the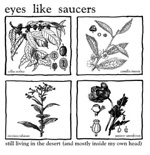 farfisa organist for the Providence, RI psych rock organ trio Urdog, and author of the great liner notes to LVD's Elegy Box, Jeff Knoch is now recording solo for LVD as Eyes Like Saucers. His debut CD is called Still Living In The Desert (And Mostly Inside My Own Head), and aside from some sparse instrumentation and two songs with strange vocals, this is essentially a "slightly modified Indian pedal harmonium" album, in the admitted spirit of Nico's Desertshore. Droned out and elegaic, these songs/pieces/hymns are not so much sonically heavy as they are philosophically and psychedelically heavy, which really ends up being the same thing, doesn't it? One of the songs with vocals is a great creeping cover of Robert Wyatt's "Sea Song," the album closes with a reading of "Desertshore" called "Desert Song," and the long instrumental tracks in between are tough high lonesome hardcore psych, one man pulsing both with and against the universe and more than holding his own. Not to mention that some of these solo pieces also remind me of the solo kheng (bamboo organ) pieces on the new Sublime Frequencies CD Ethnic Minority Music of North Vietnam, which is just to say that it's some wide-ranging stuff....... and this seems like a good place to mention the LVD release Haunt, the second

album by Eric Carlson a/k/a Area C, on which he is joined by Knoch and together they create patient New England Kosmiche tracks played largely on keyboards, with guitar and electronic embellishments. At first I thought it was a little square, sorta like the geometric pattern on the cover, but the more I listen the more it draws me in -- the album really does build further on my 'pulsing with/against the universe' description, via some kind of dark Riley/Glass/Vuh hybrid... taken together, these two albums are a really heavy statement, the out-of-nowhere front-runners of this new LVD batch, although Providence is getting some serious competition (in what is not a contest) from another fave LVD locale, New Zealand. Remember the Sandoz Lab Technicians? They had a great (paper-only!)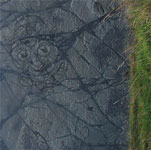 interview in Opprobrium #2 and a great 1996 debut LP on Siltbreeze, but something happened with NZ freenoise back around 2000 or so -- either the musical activity slowed way down, or I just decided to stop paying attention. Probably the latter, because apparently the Technicians have been more or less extant the whole time, and LVD has put out their latest CD The Western Lands. On first listen it didn't click at all, but from second listen on, there it was, hooking me at first with suddenly sublime electric piano that now made me think fondly of the Circle album Tower, another LVD title I had just gotten into (one of the label's releases promoting another, in a highly evolved manner, without words). After that, The Western Lands began to reveal an overall subtle and sublime approach to epic improvised psychedelic composition, especially on the 31-minute title track -- deeper, richer and more revenant than the shorter and more casual pieces I remember from a decade ago. (Non-LVD SLT aside: Nathan

Thompson of Sandoz Lab Technicians has a solo project called Expansion Bay and has put out a CD called Star Obsolescence on the Spanish Magic label. Fairly standard concrete-style laptop drone that didn't wake me up until the last track, which sounds like the ringing of church bells fractured and blown up into a strong representation of the infinity, glory, and paranoia that are inherent to religious devotion....) And speaking of the great (alleged) year 2000 disappearance of NZ freenoise, when's the last time you thought about RST? Y'know, solo freenoise guitar overdubber Andrew Moon, from the

city of Auckland? Released an excellent CD on Ecstatic Peace in, I don't know, 1999? And another one in 2000 on Corpus Hermeticum? Speaking of which, have ya pulled out the 1996 comp Le Jazz Non lately? I just did for the first time in about 7 years and it rules, including the 8-minute RST track. And, to the point, his new 2007 CD on LVD called Axes might just rule over all of 'em. As with the Sandoz Lab Technicians, he sounds like he's been working and honing nonstop for the last few years, dialing away from the thicker and louder low-end style of the 1990s into a quieter approach that seethes and hovers and breathes more, living up to such sci-fi titles as "Lords of Space," "The Gate of the Sun," and "Stone Circle Free." (One of the quietest and best tracks is even called "L.A.S.E.R.," as in Light Amplification by Stimulated Emission of Radiation, of course.) Highly recommended, don't lose it in the shuffle..... and for yet another New Zealand band showing up on Last Visible Dog after a long

absence sounding like they had never gone away, can you believe that The Terminals have put out their first album in over a decade? It's called Last Days of the Sun, and they sound just the same as they did circa 1995, the rolling drums by Peter Stapleton, the dramatic vocals of Stephen Cogle, the classic psych-rock organ of Mick Elborado (who also brings in perfectly applied Eno/Ravenstine/Romany synth disruption), Cogle's rhythm guitar constantly stoked and seared by the electric guitar of Brian Crook (whom late-90s heads will also know from The Renderers and, with Stapleton, Flies Inside The Sun), the bass guitar by the one and only John Christoffels, all boiling up into heavy windswept shouting-from-mountaintops classic rock that is somehow tempered by both a post-Ubu/Joy Division electronic bleakness and a 1950s doo-wop wistfulness. Jeez, I didn't know how much I liked this band. The opener "Vertigo" is certainly one of their best, a slow majestic burner that starts with wistful acoustic guitar, sweet backing by Elborado, and excellent lyrics ("Constant talking / The endless shit we know / It's the unspoken / that brings on vertigo"), while Crook's hushed electric guitar feedback and Stapleton's absence threaten a beauty more convulsive, and sure enough as they eventually enter the fray it all builds into a boiling and seething love song that repeats the lines "I love your hair, your hands, your eyes, it shows / it's unspoken, it's like vertigo" over and over as a mantric hymn. And really, the whole album more or less stays up around this level, probably their single best batch of songs.
---
OCTOBER 29 2007 (ALL HUNTERS)
CHICAGO SHOW REPORT
Air Conditioning, Mammal, Cadaver in Drag, Paranoid Time, Bloodyminded, 10/27/07 @ The Flower Shop. Sick show dude, in fact, I'm so out of show-going shape (some call it "getting old") that I actually got SICK at this show. The good news is that I did not actually vomit, thanks to the quick and correct diagnosis that I was suffering from dehydration and malnutrition, as in I had not had a drop of water since three in the afternoon, but did have five beers instead of eating any dinner, and was currently at a fucking Bloodyminded gig in a fucked-up smoke-filled space on the south side of Chicago. Not only that, but a strangely lugubrious and melancholy Bloodyminded gig that seemed to last twice as long as their usual blowout. It was still a good one, with preposterous sonics and many fine Mark Solotroff intros on such topics as the P.A., the just-opened Joy Division flick, and special guest Greh Holger ("From Ann Arbor -- I think I liked him better when he was from Detroit"), but the songs themselves seemed slow and distant, probably because they were literally the warmup band, going first on an epic bill with a pre-9PM start time on a cold fall night. It seemed to take forever, and the gut-churning electronics pulverized my gastrointestinal equilibrium so relentlessly that after just three or four songs true nausea was setting in, and I started to feel like I might fall down in my tracks. I will always recommend the live Bloodyminded experience, but be warned, seeing them in a weakened state really is dangerous. When it finally ended I felt in no position to even watch one more band, let alone four, and here I had just driven myself to this godforsaken southside location with two other northsiders in tow, depending on me to get them back home several hours later when the show finally ended.....
Thus, the second act Paranoid Time, the one I hadn't really heard of, was the one I was most likely to skip in order to get some fresh air, and I would've too, if he hadn't set up and started up so fast. Paranoid Time is the solo project by Scratch'n'Sniff label head Pat Yankee, and I had barely even managed to tell my passengers that I wasn't feeling too hot when he was all set up and hitting pedals and shit was coming out of the speakers, one of those 'soundcheck becomes actual set in less than 1.5 seconds' events. He was a good 10 seconds in before the synth-pop on the PA finally got killed. And the set was a fucking rager. Total rock'n'roll. Apparently there's been some chatter about "wall noise" in relation to Paranoid Time but this was lurching, stuttering rumble and manic squall that clipped and fractured perfectly, with the low-end stuff being particularly nice. Not to mention that he would periodically kill the sound and shout something to rile up the audience (no microphone) and then dive right back into it as they shouted back. Two minutes in he stopped completely and yelled something like, "AM I CRAZY OR IS ANY OF THIS SHIT COMING THROUGH THOSE PA SPEAKERS AT ALL??" The crowd answered "NOOOOO" because even though they had been into it, the man was right, it wasn't coming through the PA. A few seconds went by when someone tinkered with something somewhere, and when the noise came back it was DEFINITELY coming out of the PA, to roars of approval. He stopped one more time to shout "THAT'S WHAT I'M TALKING ABOUT!!" and it was off to the races. Whole thing lasted 7 glorious minutes or so. Totally killer, I forgot I was sick.
Next up was Lexington, Kentucky band Cadaver in Drag. Since they were actually gonna take more than 5 minutes to set up, I had a chance to walk to the cheap liquor store on the corner and buy some water. All they had were the small 12-ounce bottles, so I bought two, which immediately started to help, and I couldn't miss Cadaver in Drag anyway because their new CD/LP Raw Child (on the Animal Disguise label) is fucking excellent, my introduction to the band, a bass/guitar/drums power trio presenting what is essentially a study of two heavyweight doom-sludge bass notes run through a churning psychedelic ringer for a good 30 minutes, cycled back and forth, first slowly (for 20 minutes) and then very quickly (for 10), accented by hefty screamo vocals and driven by a zoned-out band. The third and final track is a total cooldown, the shortest at 8 minutes, a sort of stately dirge fanfare/farewell with a few more notes than two, some played by Robert Beatty (Three Legged Race, Sick Hour) on his trademark elegaic synth. The lineup on this night was different, a five-piece featuring two guitarists (one of whom was Travis Shelton, key member of Warmer Milks, now recording solo as Nataraja) and none other than "Hive Mind" Holger on synth. They didn't fulfill my Raw Child expectations -- the songs they played didn't seem nearly as focused, and the sound was totally muddy, but they did deliver a nice crazed city rathole vibe with all the lights out, a nice heaving audience pit, screams going down in the din, and a good 15-20 minute closing noise jam that just kind of started happening at some point and never stopped until the set was over.
And next was Mammal. One of the main reasons I came to this show was not only to see his set, but to pick up the double-vinyl version of Lonesome Drifter, the fantastic new album he was doing this short tour behind. I've already got the CD, as recently reviewed in these pages, but this is an album that is so clearly conceived as a double LP that I had no choice but to upgrade. It's even a gatefold, with that great fantasy/loner cover art given full justice, and a lurking photo of the man and his milieu taking up the entire inside spread, all on awesome paper and with an excellent vinyl pressing… seriously, pick this thing up while you can. Of course, I wondered how he was going to pull off this album live….was he going to do the whole thing, beginning to end? Was he going to do any old stuff? Encore with "Keep It Live in 85," perhaps? Or at least "Fog Walkers"? Nah, he came out all by himself with bass guitar, drum machine, and amplifier stack and opened with "Repulsion," the first track on Drifter, and it sounded just as huge as it needed to. I still felt like shit, so I went and laid down on one of the crappy couches that lined the walls and melted into a semi-delirious quasi-intangible state, floating on these huge bass reverberations. I found myself immediately picturing "Repulsion" as not a song, but an entity cruising through the deepest and blackest space and I was right there with it. This was the best I felt all night. And for the record, he didn't play the whole album. It was a pretty short set, and if I was judging correctly, he played three songs, none with vocals. I think the second was also from Drifter but I'm pretty the last one wasn't, a little more 'uptempo' than anything on that album. Not sure about the details though, I was too transported.
And there was still one more band to play, the mighty Air Conditioning. They were in a tough spot, not being part of the Animal Disguise 'package tour' but playing last on a five-band bill anyway, to a potentially exhausted crowd. There was some chatter that they were exhausted themselves, in an especially road-weary state, and at one point earlier I did see the big guy Robert Jurgensen sitting with his head slumped down, looking like he felt worse than I did. But by the time they got their gear set up, the crowd was holding strong, perhaps hoping, as I was, to hear some of the amazing shit off of their Dead Rails album on Load Records, even after it became clear that they were going to be playing as a duo, sans drummer. Jurgensen handed out some pills, which a bunch of people gobbled up, even though they were just antibiotics (as I heard him explain to someone who asked). The smaller guy Matt Franco started strumming his guitar, playing actual nice-sounding 'fantasy' chords through a somewhat comical guitar synth type setting. As he kept strumming away, Jurgensen began to patiently subvert and destroy, his main tools being that killer bass you can see on the cover of Blastitude #18 (sporting only two extremely detuned strings) and a phalanx of pedals and electronics. He dug so deep into those two strings you wouldn't believe it, and the payoff just got bigger and bigger. Franco's chords eventually washed out completely into the thick granular rumble, at which point he began getting just as physical with his guitar as Jurgensen was with his bass, doing insane scything moves that pulled out correspondingly brutal high-end tones. As it built to a fever pitch, Jurgensen grabbed his weird modified mic and sang/screamed the shit out of something. And then they did the only thing that was left to do: end it. Unfortunately, they didn't just end the song, they ended the whole set. Now, I love short sets, and I was more than ready to go home, but I couldn't believe that was all they were gonna do. I still can't believe it. I want more.
---