JAN 7 2007 (HOLLY DAY)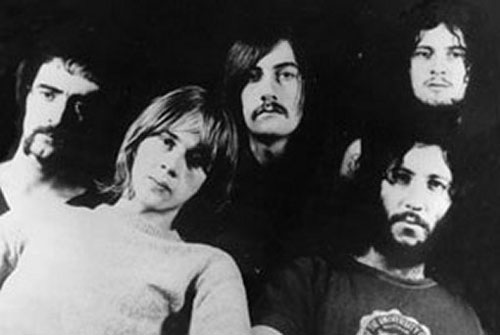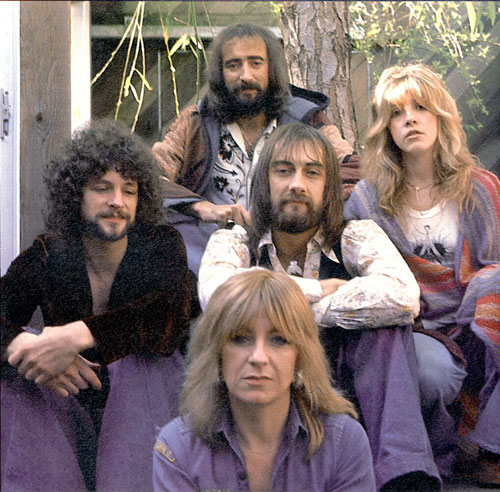 FIRST POST OF THE NEW YEAR?!
Daily Blastitude?! What was I thinking? I guess those nine days of Yuletide are on their way to being about nineteen days -- Fahey was right, we really are gonna celebrate Christmas all year..... but jeez, I've gotta write something.....how about I just answer the question: what is blowing my mind right now? That's about the only question that I ever try to answer with Blastitude, and right now (11:15 PM, January 7th 2007) the answer is Fleetwood Mac, all eras. I realize Tony "Tango in the Night" Rettman has already told us this, and I've had a worn-out $1 copy of Then Play On right by the stereo for about a year now, but I didn't fully get it until this week when Ben Chasny (on the Six Organs of Admittance site) posted a link to a "Green Manalishi" vid, and I started checking out all the "related" vids over to the side (thanks StreetDreamer83!). This is really the first time I've heard anything else from the Peter Green era, and goddamn, the guy ruled. I mean, he looked cool as hell, all shyly stoned with the winsome beard, but when he took the stage he owned it, even when he was off to the side or in the back, singing the blues for real (lower case b all the way). Examples: "Rattlesnake Shake" on Playboy After Dark, appropriately enough a great song about masturbating, a raw "Oh Well", and the haunting sweet change-up instrumental "Albatross", a song that went to #1 on the UK charts. In fact, believe it or not, in the year 1969 Fleetwood Mac sold more records than the Beatles and the Stones combined. (At least that's what their then-manager says in Part 2 of this entertaining documentary.)
So Green may have been a star but, as you can see from any of the linked performances above, the whole band was very important. I never thought I liked Mick Fleetwood, mainly because of his various bouts with ill-advised facial hair and ponytails, and of course those hanging wooden balls, but it turns out he was a very creative drummer, always coming up with unique proto-trance backbeats, thanks in no small part to a pre-Corsano ability to wield multiple mallets, brushes, and various auxiliary stuff (possibly even including the rhythmic clacking of a certain pair of hanging wooden balls?). John McVie was the perfect foil on bass, playing minimalist heavy blues, demurring to Fleetwood's flash in classic British stoic tradition (and his facial hair was generally excellent). And then there were the other two guitarists in the original lineup, Jeremy Spencer and Danny Kirwan, both of them fine songwriters, soloists, and frontmen in their own right. And then, to make it even more interesting, they had not just one but two Syd-style acid casualties, with first Green and then Spencer wandering out of the band in a daze, about a year apart from each other. In the interim between Green's departure in 1970 and Buckingham and Nicks' arrival in 1975, they released a whopping six albums, and I've barely heard any of that stuff so I can't say too much about it. Those albums do have some supporters, and Bob Welch was a kinda funny dude who had at least a couple decent tunes, and one great one in the Fleetwood Mac song "Hypnotized," which I would occasionally hear on classic rock radio growing up -- here it is with one of those YouTube fan montages -- dig the eerie vibe, UFO pictures, and yet another genius Mick Fleetwood backbeat -- and while you're over there scoping Bob Welch don't miss his stunning "Sentimental Lady" music video from 1977 and his 10AM "wakeup call" at Cal Jam 2 with a suspiciously exuberant Ms. Nicks on backing vocals and tamborine (insert cocaine-in-the-morning joke.......... here).
Of course, in 1975 the Mac hooked up with the Buckingham-Nicks duo and I know you know the rest, whether you want to or not. It was a different band than "the dirty old Mac" of "Oh Well" et al, certainly more commercial, epitomizing the super-rich L.A. soft-rock of the 1970s, everything that punk and hardcore were a movement against. But dammit, the music was still very good. Just look at this arena performance of "Dreams" from 1977. Stevie Nicks here is seriously one of the most amazing things I've ever seen on YouTube, if not with my eyes -- the apotheosis of the 70s rock star, and the song she's singing is haunting, gutsy, and emotional, with a truly awesome backbeat by Fleetwood and Mac, which allows Buckingham to do those skeletal volume-pedal guitar melodies which just float so much aura over the top. It's not like I'm some kind of Stevie Nicks sycophant either -- believe me, the nights weren't always this dreamy, and there's barely 5 songs by her I can think of right now. "Sara" was great, sort of like "Dreams" part two, but with more 'progressive' songwriting -- is it just me or does the band sound a little like something off of Can's Future Days in this live version from 1979? Of course "Rhiannon" would be the other definitive Stevie song, and you don't wanna miss this clip of the, um, charismatic young composer talking about its origins. I haven't even mentioned Christine McVie -- she's heavy too and by most accounts was the real frontperson 1970-1975. I don't know, I apologize for the wealthy rock star worship, but they had soul, and that's all that matters, no matter what the genre or how many records got sold.....
---
JAN 10 2007 (QUARTZ DAY)
VIOLENT STUDENTS
HOMOSTUPIDS
HOME BLITZ
F'NU RONNIES
Friday
January 26
@ a frat house
3914 Spruce St.
Philadelphia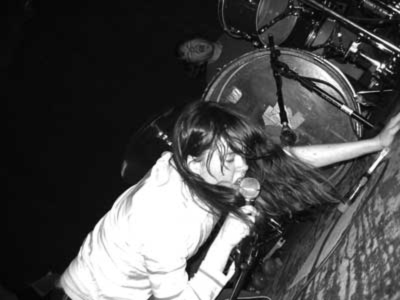 Magik Markers by ???
MAGIK MARKERS
HOMOSTUPIDS
BLUES CONTROL
RICHARD + JON
DJ BRIAN TURNER
DJ 200LBU
Saturday
Jan. 27th
Cake Shop
152 Ludlow
NYC
8PM
7 Bucks
---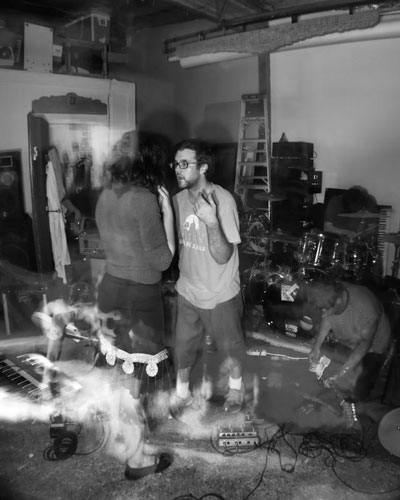 Gang Wizard by Lars Knudson
Gang Wizard / Kevin Shields / God Willing / Celesteville / Unicorn Hard-On EU tour!
------------------------------------------------------------------------------------------------
Fri 2/2 - Open Circuit (Hasselt, Belgium) fat-cat.co.uk
Sat 2/3 - Off
Sun 2/4 - Helbaard (Den Haag, Holland)
Mon 2/5 - Dwars On VPRO/Dutch National Radio and Television (Amsterdam, Netherlands)
Tue 2/6 - Off
Wed 2/7 - l'embobineuse (Marseille, France) www.lembobineuse.biz
Thurs 2/8 - Off
Fri 2/9 - La Miroiterie (Paris, France) w/ Evil Moisture
Sat 2/10 - Freaks End Future (Antwerpen, Belgium)
Thu-Sat Feb 15-17 - INC at Churchill's (Miami, FL)
Sun 2/18 - 0ff
Mon 2/19 - New College of Florida (Sarasota, FL)
---
JAN 13 2007 (FIRST OCEAN)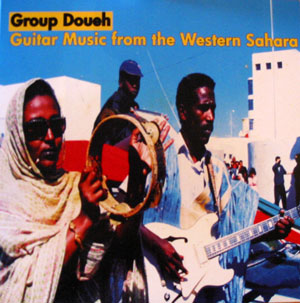 I used to tell you about every single release on the Sublime Frequencies label in these pages, but at some point in 2005, after they had put out over 20 releases in about two years, I just couldn't keep up any longer -- and since then they've put out close to 10 more, still consistently very good and often great, with Guitars of the Golden Triangle: Folk and Pop Music of Myanmar Vol. 2, Choubi Choubi! Folk and Pop Sounds From Iraq, Ethnic Minority Music of Northeast Cambodia, and Radio Algeria immediately coming to mind as recent standouts. But right now the real stop-the-press news is their brand new release from just this month, Guitar Music From The Western Sahara by Group Doueh, a true standout gem even in this sparkling company.
The liner notes by Hisham Mayet tell a great story that starts when he and Alan Bishop picked up some wild electric guitar music on shortwave radio from their Morocco hotel room in 2005. They made a tape and hit the streets, playing it for cassette vendors to see if any could identify it. All the vendors could tell them was that it was "Sahrawi music," meaning music from the South, and to find more they'd have to go there themselves. Mayet took their advice, returning to Morocco a few months later and heading to the Western Sahara, "a disputed territory nestled on the Atlantic coast of Northwest Africa between Morocco and Mauritania." He drew blanks in Layounne, "the provincial capital," so continued south to the remote peninsula town Dakhla, where a shop keeper heard the tape and then called out to a little boy, who led Mayet through the streets to a guy in a blue track suit, who turned out to be . . . the very person they had recorded off the shortwave radio back in Morocco, the one and only Baamar Salmou, now known as Doueh. Born in Dakhla in 1964, he started Group Doueh in 1981, leading it until the present day through several lineup changes, with steady gigging including festival appearances as far away as France and Portugal. He also recorded lots of stuff over the years, on his own "modest cassette recording equipment," and he opened up these archives to Mayet, who also recorded a couple hot new numbers in "Doueh's compound," and they assembled this LP, which I've now listened to four times a night for the last three days.
Sure, maybe this LP is so special simply because it's the first Sublime Frequencies release on vinyl, but then again maybe not -- the fidelity on this thing is understandably not perfect, and it really took me my whole first listen just to get used to the blaring and variable quality. No, what mostly makes this record special is the same thing that improbably drew the Sublime Frequencies crew to the beyond-obscure Group Doueh in the first place: great improvisational trance rock guitar playing. Seriously, you've gotta hear this guy. He plays in a fast, sometimes nearly manic style, fluid and fluent, pealing off all kinds of melodies and runs and catchy minimalist chord changes, raw timeless extended North African modal improvisation shot through with the rippling electric rhythm/lead sorcery style of James Marshall Hendrix (cited by Doueh as a main influence, via cassette tapes imported into town by Spanish settlers during the 1970s). Doueh's a heavy singer, too, leading his band(s) through pounding, ecstatic Mauritania/Mali/Polisario-style protest/trance rock with familial groove/chant vibes not unlike Phil Cohran and the Artistic Heritage Ensemble's On The Beach. Hell, half the time it even sounds like a crackling VU bootleg to me -- sure, why not? The point being that, regardless of what my feverish mind may be picking up from these grooves, the guy is a brilliant and truly unknown guitar player, and you can hear it for yourself right here.
see also:
SUBLIME FREQUENCIES EURO TOUR
Neung Phak live, films & dj sets with Alan Bishop & Mark Gergis.
Sun City Girls will play one show only in Berlin.
Jan 19 2007 8:00P
Neung Phak and Sublime Frequencies - Concert/Film/DJ Set
LE LIEU UNIQUE- Nantes, France
Jan 20 2007 8:00P
Neung Phak and Sublime Frequencies - Concert/Film/DJ Set KUNSTENCENTRUMBELGIE-Burgemeester Bollenstraat 54 - 3500 Hasselt - Belgium
Jan 21 2007 8:00P
Neung Phak and Sublime Frequencies - Concert/Film/DJ Set
WORM -Rotterdam, Netherlands
Jan 26 2007 9:30P
Sublime Frequencies Film and DJ set
OCCii -Amstelveenseweg 134 Amsterdam, NL
Jan 31 2007 8:00P
Sublime Frequencies at Transmediale Festival BERLIN
Feb 2 2007 8:00P
Sublime Frequencies Film and DJ set
SHELDAPEN -D'herbouvillekaai 36 -Antwerp
Feb 3 2007 8:00P
Sublime Frequencies Film and DJ set
EXTRAPOOL -Tweede Walstraat 5 - Nijmegen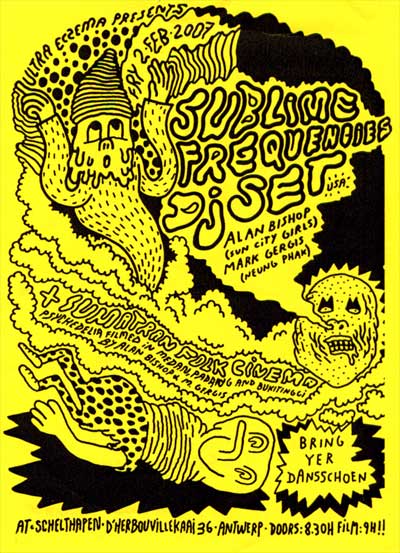 ---
JAN 14 2007 (DAY OF THE NEW WORLD)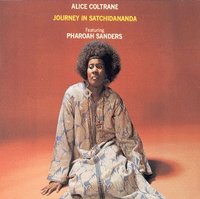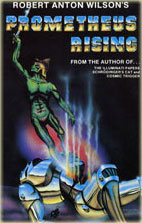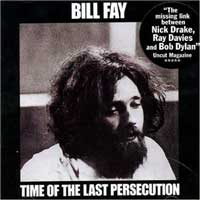 Alice Coltrane made beautiful music. Playing Journey to Satchidananda every single morning was a longtime day-starter at the day job a couple years back, a ritual that has started up again this week. Why did we ever stop?......Robert Anton Wilson was (is) a great educator (or de-educator), offering a course (or anti-course) in the transcendence, or coexistence, of various reality tunnels. I've been digging into his textbook Prometheus Rising for a couple years now -- it's a pretty rigorous course, but there is plenty of payoff. Every chapter/lesson ends with a series of "exercizes" for further study and edification. You gotta love it when he says, at the end of the very first set, "If you think you have learned the lessons of these exercizes in less than six months, you haven't really been working at them. With real work, in six months you should be just beginning to realize how little you know about everything." ......... and now playing: Bill Fay Time of the Last Persecution. I realize this album is bleak and dark and all that, but every single time I put it on I sink into the grooves like I'm laying on a bed of (black) roses......also hitting the spot tonight are a couple of double CD sets: Mother of Thousands by MV & EE and the Bummer Road (Time-Lag) and the brand new anthology Inroads by Roy Montgomery (Rebis).....
---
JAN 16 2007 (DAY OF DUSK)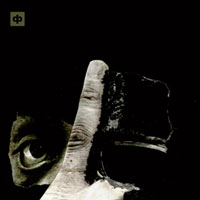 DAVE PHILLIPS
A Collection of Curses CD (BLOSSOMING NOISE)
I'm sure there are readers of this zine who have some idea what exactly Dave Phillips (of Schimpfluch-Gruppe, Ohne, Fear of God, et al) does, sound-wise, but I'm basically clueless. About the only critical insight I can muster is some variation on "Whoah." The bio on Phillip's MySpace page mentions "psychophysical tests and trainings" and "various trips to Asia for field recordings, especially of insects," which does shed a little light. And sure, I could trot out such bywords as noise, aktion, and bruitism, but I don't really know what any of those mean. Regardless, what really makes it all work for me is the impeccable overall sonic design and attention to detail (which is where things like field recordings of insects come in, though never in an obvious way). This is shocking, meticulously arranged music that constantly reinvents itself, and A Collection of Curses is a very nicely done anthology of all kinds of odds & ends from the years 1994-2004, comp tracks and various unreleased stuff, both a fine introduction to the guy's work and an essential disc for the longtime fan.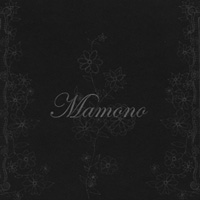 KEIJI HAINO/K.K. NULL
Mamono CD (BLOSSOMING NOISE)
Another great new one from the Blossoming Noise label. First off the top-quality printing job has to be noted. "Printed with vegetable based inks using both traditional letterpress & offset printing methods on custom black folders" says the one-sheet, and it does work beautifully, but even better news is the music. I've never been that into the work of K.K. Null, but he really makes a fine foil for the eternally heavy Haino, dragging the man into some pretty challenging and refreshing areas, the furthest I've heard him go into explicit 'no wave' and 'power electronics' territory, for example. This album can get really weird, very heavy on the electronics, with sheets and sheets of pulsating insect-storm, heaven-and-hell, cyborg-caught-in-the-radiation-storm-on-the-misty- mountaintop type stuff, but that's not the only kind of weird on here -- there are also a couple tracks where each guy takes a turn playing crude drum-kit improv along with whatever freakiness the other is plugging in. (Null goes scary-maximal with harsh electronics and horror vocals, while Haino goes weird-minimal with crazy goof-tone guitar tangles.) But no matter what the setting, it's still classic Haino through and through -- when his one-and-only vocalizations start popping a few minutes into the epic first track, they sound as ancient and alien and as fully THERE as ever, and that really goes for everything on this 67-minute album.
---
JAN 18 2007 (DAY OF THE UNDERTONE)
This Saturday the 20th (day after tomorrow) in Louisville, KY: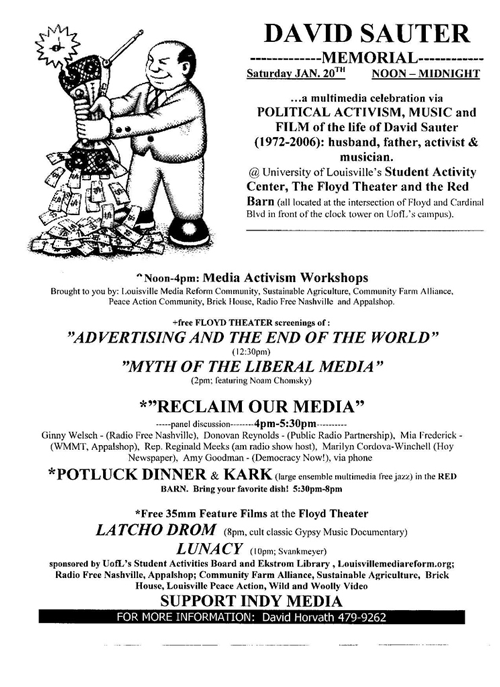 ---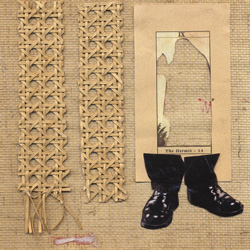 KARK
The Hermit LP (HP CYCLE)
And speaking of Kark from Louisville, KY (see potluck dinner music above), they gather up various members from Sapat, Valley of Ashes, Crappy Nightmareville, the Belgian Waffles, Maximum Corpse, and surely more to play straight-up large-ensemble jazz with elements of Coltrane's Ascension group, Coleman's Free Jazz group, Sun Ra's larger Arkestra lineups, larger Braxton groups, etcetera. They apparently once played a show with a lineup of 28 people, which could very well have been too many, I don't know, but however many (9? 12? 15?) are playing on their vinyl debut The Hermit, it sounds like the right amount. Two side-long rippling numbers that develop from eerie distant Varese/Partch accumulations into extended explosive blizzards of swinging polyphony, with a 'groove' side fearlessly rearing its head once or twice, all done with fluency and patience. Kark understand the tradition, continue it, and might even be starting one of their own...... (and this just in from K. Abplanalp: "believe it or not, but there are 28 people (including 4 basses!) on the first track of the kark record, 26 on the second side and 13 on the second track of the first side!")
---
JAN 25 2007 (SECOND OCEAN)
After a full week of not posting anything, here's a post to tell you that I won't be posting anything for another full week. Going out of town. Away from computers. Can't wait. But before I go, what is blowing my mind right now? Not a whole lot. I did listen to an album by The Moonglows this morning and it was pretty glorious. Nothing like some sweet downtempo doowop. And, just like Kark (from the previous post) they were from Louisville, Kentucky..... The Films of Kenneth Anger Vol. 1 is finally on DVD and it looks great, especially after years of watching them on 9th-generation VHS dub. I'm happy to report that the Water Witch in Eaux d'Artifice is just as creepily inscrutable as he/she/it was in analog dub-o-vision, but I gotta admit that when it comes to Rabbit's Moon I prefer the 7-minute "kiddie version" with that ridiculous "things that go bump in the night" song, even though the 16-minute 'original' version as restored for the DVD has a -- here we go again -- downtempo doowop soundtrack that includes the exquisite "I Only Have Eyes For You" by the Flamingos. Anyway, while I'm waiting for Vol. 2 to come out I'm gonna reread Bill Landis's terrific Anger biography.... And hey, here's a relatively new album that relatively rules: Hot Ginger by Phantom Limb & Tetuzi Akiyama, very nicely put together by the Archive label. Phantom Limb is indeed an outgrowth of the PeeEssEye/Evolving Ear camp, hooking up with the subtlely renowned Japanese guitarist for a 30-minute quartet jam from June, 2006. Two electric guitars and two electric organs getting into deep and heavy soul-drones, with a welcome classic rock undertone seeping through.... and another great album from today has been Shazam! by The Move..... I've never been to the True Vine Record Shop in Baltimore but I hope to some day. In the meantime I've been digging their off-kilter and soulfully lo-tech website, especially now that they're conducting and posting some nice quick-hit interviews, with Twig Harper, Blaster Al Ackerman, and more.... that Blaster Al Ackerman LP I Am Drunk sure blasted me a couple months ago when I listened to it loud and alone in the car. Good thing I wasn't! (Drunk.) Four stars, I've been afraid to listen to it since....
---
FEB 2 2007 (DAY OF VOYAGE)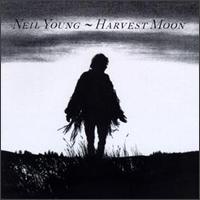 Day of voyage, how about that.... I've now been away from home an entire week and I still haven't put on a single record or even looked at a stereo. I did find a computer, though, hence this post. Actually, I guess there has been one record, Harvest Moon by Neil Young, going around and around on the CD player in the car. Man, I love that album. I'm probably not supposed to, and sure, it might not even be in my Neil Top 10, but there's just something perfect and ethereal about the way those songs sit together. Right now I'm thinking about the 10-minute album closer "Natural Beauty" and how the harmonica haunts the whole thing. I don't know if MV & EE are into Harvest Moon as much as they are the older stuff, but I'm definitely getting a Bummer Road feel from the way Neil's harmonica is the unlikely instrument that holds the whole arrangement together. The other thing that holds the whole album together and gives it that total dream vibe is the angelic backing vocals by Nicolette Larson (RIP) and, yes, Linda Ronstadt. On just about every song they ooh and aah and float in and out of the choruses at just the right places, you'd almost think it was Linda Perhacs and Christina Carter or something. What can I say, it's a sentimental favorite, and sometimes I wonder, as the world spins out of control with merchandise: as the proud owner of a dozen or so Neil Young albums and a decent record player, how much more do I really need?
---
FEB 3 2007 (PLAINS OF PARADISE)
And plains of paradise is about exactly right too, with the lovely Loess Hills in there to really make it roll, but it's like -7 degrees out right now, and grandma and grandpa and everyone else are in bed, so I might as well see what's good on the internet . . . . Did I say good? Great cover story/photo essay for the Baltimore City Paper by Carly Ptak, online version here (be sure to "view the slideshow"), another installment in her (and the Almanac's) ongoing musical-and-otherwise delineation of all the riches and complexity that live inside what we are supposed to think of as poverty..... and great statement by Alivia Zivich (of Aryan Asshole Records) on the alleged link between 'noise' and 'testosterone', in a new interview over at Dusted Magazine. Whole interview is nice, check it here.....
---
FEB 4 2007 (THE LADEN BOUGH)
Back in Chicago, tiny apartment, dirty freezing mega-city at six degrees below zero. No, I'm not writing a brand new 'cyberpunk' novel, but I am listening to a bunch of merchandise spinning out of control, random noise-type CDs that I can barely identify -- Harvest Moon what? Actually, To Live and Shave in L.A.'s Horoscopo just came on the box -- can't miss that one. Strong work, my friends, and so is Noon and Eternity. Heckuva double shot, and speaking of heckuva, I'm actually excited for an upcoming Chicago show (it's like I'm a kid again): Warmer Milks at the Empty Bottle a week from tonight (Sunday, Feb. 11)! Now, in apology for these last three posts being a total vacation diary, I'll segue outta here with a buncha upcoming Milks dates and, whaddayknow, a spring tour by the Shave....
WARMER MILKS UPCOMING SHOWS:
Feb 18 2007 8:00P Tower 2012 Cleveland, Ohio
Feb 19 2007 8:00P Little Brothers w/ ARBOURETUM Columbus, Ohio
Feb 20 2007 8:00P Mecca w/ Arbouretum and Eyes and Arms of Smoke Lexington, Kentucky
Mar 2 2007 8:00P Worm Festival Rotterdam, Holland
Mar 3 2007 8:00P (KR-AA-K)3 Hasselt
Mar 4 2007 8:00P Paradiso w/ Rac-oooooo-n Amsterdam
Mar 5 2007 8:00P Helbaard Den Haag
Mar 6 2007 8:00P Instants Chavires Paris
Mar 8 2007 8:00P Galleria Ze dos Bois Lisbon
Mar 13 2007 8:00P Milks no longer playing at Pour Haus w/ Sunburned Hand of the Man but show is still on!!! Louisville, Kentucky
Mar 15 2007 8:00P The Hideout (SXSW) Austin, Texas
TO LIVE AND SHAVE IN L.A. APRIL/MAY TOUR:
April
27 (Fri) Nashville, TN @ The Springwater
28 (Sat) Lawrence, KS @ Replay Lounge
29 (Sun) Denver, CO @ Rhicoceropolis
30 (Mon) (drive day)
May
1 (Tue) Seattle, WA @ S.S. Marie Antoinette (6 PM, all-ages)
1 (Tue) Seattle, WA @ Rendezvous (10 PM)
2 (Wed) Portland, OR @ Rotture
3 (Thu) Oakland, CA @ 21 Grand
4 (Fri) Los Altos Hills, CA @ KFJC-FM (afternoon)
4 (Fri) San Francisco, CA @ Hemlock (evening)
5 (Sat) Los Angeles, CA @ The Smell
6 (Sun) Los Angeles, CA @ Il Corral
7 (Mon) (drive day)
8 (Tue) St. Paul, MN @ Turf Club
9 (Wed) Chicago, IL @ Nihilist
10 (Thu) Evanston, IL @ WNUR-FM (afternoon)
10 (Thu) Detroit, MI @ MoCAD (evening)
11 (Fri) Philadelphia, PA @ The Avant Gentlemen's Lodge
12 (Sat) Baltimore, MD @ The Bank
13 (Sun) Washington, DC @ Rock 'n' Roll Hotel
14 (Mon) New York City @ Club Midway
---
FEB 5 2007 (THIRD TWELVE)
MV & EE "GREEN BLUES" TOUR (already in progress)
01-31 northampton, ma - iron horse (with thurston moore)
02-01 cambridge, ma - lily pad
02-02 brooklyn, ny - glasslands
02-03 philadelphia, pa - first unitarian church chapel
02-04 charlottesville, va - the dust warehouse space
02-05 asheville, nc - harvest records
02-06 nashville, tn - ruby green
02-07 atlanta, ga - eyedrum
02-08 birmingham, al - bottletree
02-09 new orleans, la - hi-ho lounge
02-10 houston, tx - rudyard's pub
02-11 austin, tx - shawn mcmillen's house
02-14 los angeles, ca - the smell (w/Charalambides)
02-16 san francisco, ca - hotel utah (w/Charalambides)
02-17 santa cruz, ca - the attic (w/Charalambides)
02-18 eureka, ca - the accident gallery (w/Charalambides)
02-20 portland, or - reed college chapel (w/Charalambides)
02-21 seattle, wa - gallery 1412 (w/Charalambides)
02-27 iowa city, ia - the hall mall
02-28 chicago, il - empty bottle
03-01 lexington, ky - mecca
03-02 cleveland, oh - museum of contemporary art
03-03 toronto, ontario - sneaky dee's
03-04 montreal, quebec - la sala rossa
03-11 new haven, ct - sundazed @ bar
03-16 austin, tx - mohawk (ecstatic peace sxsw showcase)
---
DEMONS TOUR
(speaking of Aryan Asshole Records, Demons are synth/synth/visuals AA 'flagship' band of sorts -- all these bills look amazing)
06 Feb 2007, 20:00
Party-@, 267 S Portage Path, Akron, Ohio
Mark Morgan solo, Demons, Emeralds, Thursday Club, Skin Graft
07 Feb 2007, 20:00
AV Space, 8 Public Market (second floor), Rochester, New York 14609
Mark Morgan solo, Demons & Pengo
08 Feb 2007, 20:00
FLYWHEEL, Easthampton, Massachusetts
Sightings w/ Demons, Mirror/Dash (T Moore & K Gordon) and Kendra
09 Feb 2007, 20:00
Flipped Out Jacks!!, 96 Sycamore St, Albany, New York
Sightings, Demons, Bill Nace & Burnt Hills
10 Feb 2007, 20:00
Nom d'artiste, 25 Edinboro St, Boston, Massachusetts
Sightings, Demons, Rotten Caracas, Child Bride
11 Feb 2007, 20:00
TONIC 107 Norfolk St, New York City, New York
Sightings, Demons, Zaimph & Aidan Baker
12 Feb 2007, 20:00
GLASSLANDS, Brooklyn, New York
Richard and John bass drums action, An Alien Heat (Mark Morgan, Bill Nace, Thurston Moore guitar trio), Demons jam with Twig, Religious Knives, Awesome Color, Chris Freeman DJing!!
13 Feb 2007, 20:00
TBA, Washington DC, Washington DC
Sightings w/Demons and Twig Harper
---
FEB 8 2007 (THE WHITE SUN)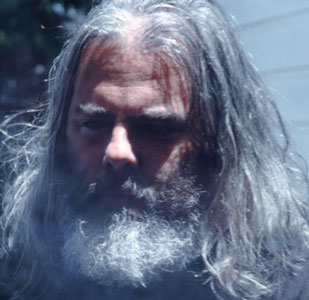 Goddamn -- Cayce Lindner of Flying Canyon, RIP. Their self-titled debut CD on Soft Abuse was one of the best new albums I heard last year (reviewed back in #20). The songs and production were everything psych-folk is supposed to be -- spooky, spacey, ethereal, balanced between delicate and heavy -- and Lindner took it up another level still with a rich and sharp vocal style, delivering stark and direct lyrics wrapped in hooks that made you remember and ponder. (For more on what Lindner had been doing, go to this thread over on I Love Music, where Justin Farrar of Quantum Noise has compiled a few recommended links.)
---
FEB 10 2006 (DAY OF ICE)
LIVE 2/10/06 ON WBLSTD (77.7 FM CHICAGO)
Haino/Null "10:06" (Blossoming Noise)
George Brigman "Jungle Rot" (Anopheles)
Prince "Bambi" (Warner Bros.)
Sun City Girls "Dark Chinese Sour" (Abduction)
Group Doueh "Sabah Lala" (Sublime Frequencies)
Group Doueh "Cheyla Ya Haiuune" (Sublime Frequencies)
Roy Montgomery "Goodbye Mrs. D'Eath" (Rebis)
Prurient "Apple Tree Victim" (Load)
Gowns "Advice" (Cardboard)
Giant Skyflower Band "Meditations On Christ And The Magi" (Soft Abuse)
Flying Canyon "In the Reflection" (Soft Abuse)
Flying Canyon "Down to Summer" (Soft Abuse)
Psychic Paramount "Dsinter Blues Recorder" (No Quarter)
Led Zeppelin "No Quarter" (Atlantic)
Omar Souleyman "Atabat (2)" (Sublime Frequencies) (this track is amazing!!)
United Bible Studies "Watching The Rain Reshape Galway" (Deserted Village)
Anahita "Maidens of Saxony" (Deserted Village)
Gowns "White Like Heaven" (Cardboard)
John Hegre "Worry" (Dekorder)
Killick Erik Hinds/Dennis Palmer/Bob Stagner "Shrimp Britches' Krystal" (Solponticello)
Ministry "Lay Lady Lay" (Sire)
---
FEB 11 2007 (FIFTH OCEAN)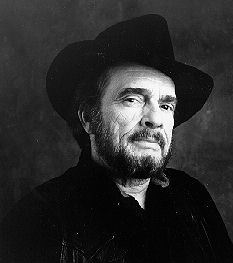 "Country legend Merle Haggard touts green energy" says one of today's Yahoo News headlines..... Speaking of Merle the Pearl, the Sublime Frequencies label, and various other very colorful energies, all and more are discussed in an extensive recent interview with Alan Bishop (Sun City Girls, Sublime Frequencies, Alvarius B, you know) that has been conducted and posted by an Athens, Georgia-based online concern called Sweet Pea Review. Part of the reason it's so extensive is that each question by Sweet Pea editor J. Kaw is practically an entire post-graduate writing assignment all by itself, but at least he's serious, tackles big ideas, and understands where the Girls are coming from (he points out that, among other things, they are "exploring the space between literature and music"). He understands Sublime Frequencies too, and either way Bishop is unfazed by the questions and offers many generous responses, including one to Chris Bohn's editorial "hit piece" in The Wire from about a year ago.... SONG ALERT! This last Friday at work Ministry's 1995 cover of Dylan's "Lay Lady Lay" popped up on a co-worker's iPod. I didn't know such a thing had ever existed, but now I'm kinda obsessed with it. They play it as straight as they can, which ends up being glorious, a sloth-paced heart-sick junk-sick arena-rock future-Oi! heavy-metal ballad from hell, booming in my head all weekend. I'm so out-of-the-loop when it comes to file-sharing I actually had to go to YouTube and check out the original made-for-MTV video just to hear it again, but this morning it had been removed due to "use violation." Weird. The song can still be heard on YouTube here, with visuals that are actually a little better, but only use half the song, and part of the charm of the thing is the way it just keeps on going..... And oh, hey, here's a page about almond milk in medieval times, complete with recipe. Here in the modern times, it's my 3rd favorite drink in the world, right after water and coffee. (4th place is BEER.)
---
FEB 16 2007 (THE PAINTED TIMBERS)
LAYING DOWN THE GAUNT-LET:
ROCK IS A SKINNY MAN'S GAME
by Joe S. Harrington
Take it from the man himself: "At this pt, compared to the stuff your other writers do -- which is either 'serious' analysis or first-person whatsis -- what I do is SATIRE . . . I mean, an article about how SKINNY rock n' rollers are? I mean, WHO of your readership actually listens to rock n' roll? But then again, urrgh, didn't I once review an AEROSMITH album for you idiots!? Anyway, who the hell else am I gonna give 'em too? BLENDER?"
---
FEB 18 2007 (FIRST DAY OF VERDUN)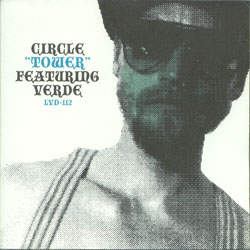 CIRCLE
"Tower" Featuring Verde CD (LAST VISIBLE DOG)
OK, so this is the best album I've heard all year. I know it's only February, but trust me, it'll be on my year-end Top 10. Actually, this is the first album I've ever heard by these long-running Finnish legends, but I have a feeling their biggest fans won't be prepared for this one either. Not that there is a typical Circle style -- they were always described as "krautrock," and these days they often get called "metal" (hell, they claim to be the "N.W.O.N.W.O.F.H.M.," get it?), but this album is assuredly not metal, unless you're talking about the metal reeds of electric pianos being repeatedly and hypnotically struck by felt-covered hammers. Yep, "Tower" Featuring Verde is a full-on fusion jazz album, led by the electric piano, played In a very Silent Way, except Miles is just conducting, and Terry Riley is sitting in for Joe Zawinul on the keys and kicking some MAJOR ass. And fusion jazz doesn't tell the whole story either, partly because no one ever takes a solo, and partly because it could also be sweet psychedelic soul, soft and relaxing new age music, AND heavy low-boil minimalism, all at once. Whatever it is, it's hard to believe, and really, it's almost exactly the album I've been wanting somebody/anybody to make ever since I first heard In a Silent Way all those many years ago.....
---
FEB 20 2007 (THIRD DAY OF VERDUN)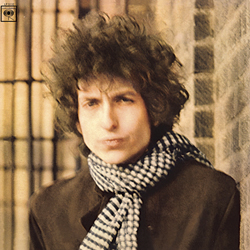 Thought I'd take a little bit of time today to muse on one of my favorite lyrics: "But to live outside the law, you must be honest." That's the big D talkin', from the 1966 song "Absolutely Sweet Marie", side 3 of Blonde on Blonde. Just ten words, but it's pretty much an entire goddamn guide to life. Lemmy might think so too -- 30 years after Blonde on Blonde was released he copped the line for the Motörhead song "Overnight Sensation," and arguably improved it a little ("To live outside the law, my dear you gotta give a damn"). Well, it turns out Dylan had done a little copping himself in the first place, as pointed out in the February 2007 issue of Harper's Magazine, in an impressive defense of plagiarism by Jonathan Lethem called "The Ecstasy of Influence." Y'see, in a 1958 film noir called The Lineup, directed by Don Siegel, written by Stirling Silliphant, a character says, "When you live outside the law, you have to eliminate dishonesty." Lethem figures Dylan saw it, and yeah, I guess he must've, huh? I thought about it again today because I was reading a little book called The Stainless Steel Rat by Harry Harrison, a real fun 1961 pulp sci-fi mix of space operatics and hard-boiled con-man stuff, and I came across this passage: "You're a criminal," I muttered through clenched teeth, and spat on a NO SPITTING sign. "You hate the law and live happily without it. You are a law unto yourself, and the most honest man in the galaxy." So now I'm wondering, did Harry Harrison ever see The Lineup? And did Dylan read The Stainless Steel Rat? You never know, maybe that sci-fi geek Jimi Hendrix lent it to him....
---
AND IN OTHER NEWS.....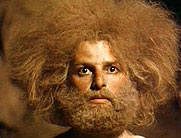 ---
FEB 21 2007 (FOURTH DAY OF VERDUN)
FROM SUNCITYGIRLS.COM/NEWS:
"With deep regret, we must announce that Charles Gocher passed away yesterday in Seattle due to a long battle with cancer at the age of 54. He is survived by the two of us who adopted him as a brother 25 years ago and his many friends around the world. He will be missed more than most could ever know. Our thanks to everyone for their support and encouragement during the past three, very difficult years. Many of you were not aware that Charles was ill and that's because he wanted it that way. Details of a memorial in his honor will be announced soon. ---Alan and Richard Bishop"
Even 10 years of having my mind blown repeatedly by multiple Sun City Girls records didn't prepare me for finally seeing Charles Gocher play live at the Empty Bottle in Chicago, November 2002. He was great throughout the show, but at one point the man embarked on a full-fledged drum solo, in a style that funneled Elvin Jones, Buddy Rich, Han Bennink, and lots of other natural phenomena, human and otherwise, through all the humor, guts, weirdness, and passion of a true American individual. As the crowd hollered and laughed with joy, I clearly hallucinated that his drum kit was sliding forward to the front of the stage as he played, sort of like an arena rock concert drum riser gimmick, but on a much more human and mysterious scale. (Magic for thousands is easy, but magic for 300? 400? That's when you really have to be good.) At some point after Alan and Rick had joined back in, I realized that the drum kit was back where it had always been, of course. As great as he could sound on the records, seeing him live revealed so much more. (As one astute anonymous commenter on the internet described this week: "Charles sometimes played above the cymbals. Just played air.") And I'm sure anyone who ever saw a Sun City Girls show can remember with glee the way he would emphatically rise from his drum chair in the middle of a song or improvisation and continue playing while standing, darting all over his kit -- the energy level in the room, already uncommonly high, would rise right along with him.
"If you get people watching, you can experiment. One of mine is to watch a person and throw in a rimshot every time they blink their eyes. Because eye-blinking is an involuntary response, they don't understand that I'm playing their eyes blinking. The more I hit the snare as hard as I can when they blink, the more they're going to blink their eyes.......We've always been into ecstatic kinetic motion, senselessly throwing ourselves around our instruments, turning people in the audience into instruments, playing people, playing the kinetics of crowd motion. Like when people are more interested in the social aspects of being there, or when you get enough people so that it's like an ocean-herd, warm waves moving through cold waves of water. We've gone out of our way to watch crowd flow and draw them into what we're doing." (Charles Gocher in "Invasion of the Tiniest Vikings," interview with Sun City Girls by Seymour Glass, Forced Exposure #15, Summer 1989)
"He was standing on the chair, balancing on one foot and scat singing to a prepared tape, while also conducting," Rick explains. "He was freaking me out, man. We wanted him to join the band right then, and we didn't even know he played drums!" (from "Hiding in Plain Sight" by Mike McGonigal, Seattle Weekly, April 14, 2004)
And, even before I could fully comprehend Gocher's musical skills, he had already blown me away as a writer. There was the "Riddle Child Abuse" piece in Forced Exposure #18, and the piece published on the insert that came with the Torch of the Mystics CD, but of course not even these prepared the world for the huge sprawling 1996 masterwork that was Dante's Disneyland Inferno. If Time Magazine put Alan Moore and Dave Gibbons' Watchmen comic book on their 2005 list of "the 100 best English-language novels from 1923 to the present," I'm thinking this double-CD set should've been on there too. I now realize that it was very much a group effort, both lyrically and musically, but back when I first got it home and would put it on for rapturous and terrifying headphone sessions, I was basically convinced that the whole thing was emanating directly from Gocher's brain, with no actual musical instruments involved. "Sexy Graveyard," "The Brothers Unconnected," "A Man is an Insect is a Flame," "A Secret Revealed Unwittingly," "The Ballad of (D)Anger," "Let's Pretend," "Family of Nails"....so many classics, and that's just scratching the surface.
I still believe that he and the band, regardless of what their primary medium might be, are the truest heir to William S. Burroughs my generation will see. Like Burroughs, Gocher had the ability to take what could seem like a straightforward narrative and patiently infect it with the fantastic and absurd and horrifying by steady degrees, and more importantly, he had the kind of GUTS that Burroughs had, a very rare thing. But, beyond the noir surrealism, his concepts could be completely unique from Burroughs, involving history, archaeology, intense philosophical inquiry, and more. Like everyone in Sun City Girls, he was/is a true multifaceted original. Right now, I'm thinking of two of his more gentle narratives, "The Bearded Hermes" and "Charles Gocher Sr." The former was recorded live on WFMU in 1990 and appeared on their 1993 compilation They Came, They Played, They Blocked The Driveway. You can listen to it here on WFMU's website, and below is the text of "Charles Gocher Sr." as it appears on Dante's, no further commentary necessary.
Hello. My name is Charles Gocher, Sr. I was this gentleman's father. I was born in San Leandro, California, in 1906, and died in Los Angeles in 1964. Charlie was very young then. Right now, his song is paying homage to the past. You folks might not realize this, but every one person in each of your ancestral chains is very important to you, because without each link's role in continuing your lineage, you would never have been born. Listen to him as he plays his song, and its meaning will become clear. He's discovered a new method of cheating the cycles of Hindustan. He's donated his body to Columbia University's Musical Sciences Department. After he's passed through this form, the department will take his body, remove the skeleton, and hollow out the bone marrow. They will be used as instruments for a thirteen-piece orchestra. The eight bones that comprised his arms and legs will have trumpet mouthpieces attached to one end, and will be used as horns. The five remaining bone sections -- the rib cage, the hip bone, the shoulder bone, the back bone, and the skull -- will be used as the percussion instruments, with the hands and the feet serving as the beaters. The musicians will be instructed in the methods taken from his writings pertaining to improvisational music. During the orchestra's performance -- delivered annually on November 12, his birthday -- his internal organs, preserved in a canopic jar sitting on the stage front, will be guarded by a young Nepalese milkmaiden who, during the course of each ceremony, will fall into an ecstatic possession trance, and invoke his spirit in the same manner as he is invoking mine right now. Listen to his song. Let me leave you with one last thought: if his idea seems too preposterous, and if you don't believe in the reincarnation of the soul, how do you know that we're not all dead already?
---
FEB 24 2007 (THE UNRECOVERED OCEAN)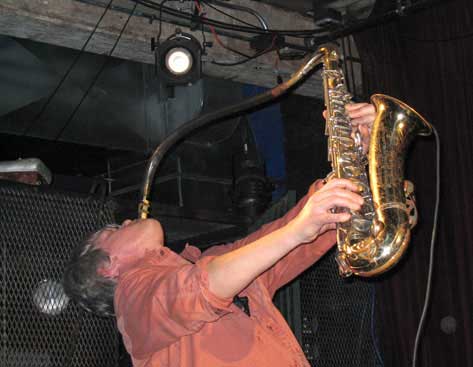 BORBETOMAGUS
weekend road-trip gigs in Baltimore & Philly
SATURDAY
MARCH 03
401 W. Franklin
5TH Floor
H&H Building, Baltimore
BORBETOMAGUS
TWIG HARPER
RAVI BINNING
LEXIE MOUNTAIN
plus special guests
MAT BRINKMAN
FILMS BY : IAN NAGOSKI + CATHERINE PANCAKE
9:30 PM $8
SUNDAY
MARCH 04
Arsnovaworkshop Presents
International House
3701 Chestnut St, Philadelphia
BORBETOMAGUS
RAVI BINNING
+ OTHERS
8PM $ 8
---
FEB 25 2007 (BODY OF LOVE)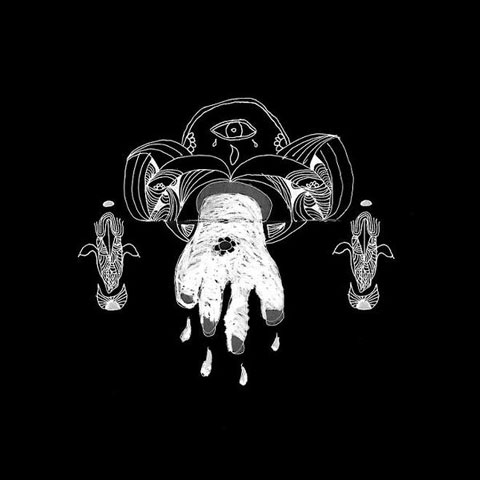 BLUES CONTROL
"Puff" Tour
http://myspace.com/bluescontrol
* * *
Saturday 3/3 @ 134 Louis
134 Louis St, New Brunswick, New Jersey
with Figments, Fogeaters, Car Commercials, Asps, The Yets, Lifers
* * *
Thursday 3/8 @ The Bank
2013 Frederick Ave, Baltimore, Maryland
with TBA
* * *
Friday 3/9 @ Cafe Bourbon Street
2216 Summit St, Columbus, Ohio
with Lambsbread, Celldim Frequencies, Puffy Areolas
http://myspace.com/cafebourbonstreet
* * *
Saturday 3/10 @ Optima Shithole
1703 Ridge Ave, #206, Evanston, Illinois
with Accent of the Future, Number None
* * *
Sunday 3/11 @ Empty Bottle
1035 N Western Ave, Chicago, Illinois
with Number None
http://emptybottle.com
* * *
Monday 3/12 @ Lemp
3301 Lemp Ave, St Louis, Missouri
with Worm Hands, Raglani, Larva
http://lemp-arts.org
* * *
Wednesday 3/14 @ Mini-cine
846 Texas Ave, Shreveport, Louisiana
with TBA
http://swampland.org
* * *
Friday 3/16 @ Spiro's
611 Red River St, Austin, Texas
with Wooden Shjips, Suishou no Fune, Lesbian, Burning Star Core, The
Psychic Paramount
http://2007.sxsw.com/music/showcases/band/48991.html#
* * *
Saturday 3/17 @ House Of Tinnitus
628 Lakey St, Denton, Texas
with WZT Hearts, Lexie Mountain Boys, Ecstatic Sunshine
http://myspace.com/houseoftinnitus
* * *
Sunday 3/18 @ The Treehouse
109 S Cedar St, Little Rock, Arkansas
with El Paso Hot Button, Bus Train Car
http://arkydiy.com
* * *
Tuesday 3/20 @ AC Temple
1709 12th St S, Birmingham, Alabama
with Magik Markers, Hollow Bush
* * *
Wednesday 3/21 @ Ruby Green
514 5th Ave S, Nashville, Tennessee
with Magik Markers
http://rubygreen.org
* * *
Thursday 3/22 @ Butcher Block Gallery
931 E Main St, Louisville, Kentucky
with Sapat, Magik Markers, Three Legged Race
http://myspace.com/butcherblockgallery
* * *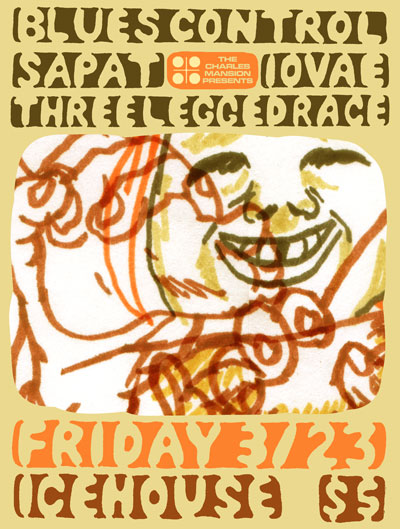 Friday 3/23 @ The Icehouse
412 Cross St, Lexington, Kentucky
with Iovae, Sapat, Three Legged Race
http://charlesmansion.org
* * *
Saturday 3/24 @ Twisted Branch Tea Bazaar
414 E Main St, Charlottesville, Virginia
with Spiral Joy Band
http://www.teabazaar.com
* * *
Monday 3/26 @ Velvet Lounge
915 U St, Washington DC
with Insect Factory, Plain Lace
http://velvetloungedc.com
* * *
Tuesday 3/27 @ Big Jar Books
55 N 2nd St, Philadelphia, Pennsylvania
with Meg Baird
http://balancingman.org
* * *
Saturday 3/31 @ Fort Sunshine
54 Porter St, New Haven, Connecticut
with Mouthus, Magik Markers, Mike Tamburo
http://myspace.com/fortsunshine
---
FEB 27 (BROOM DAY)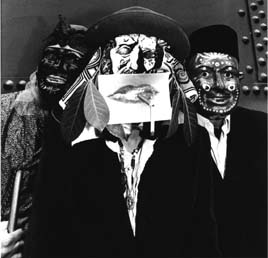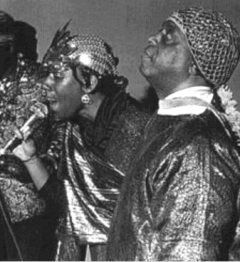 I keep thinking of Charlie Gocher because I'm feeling his spirit all over the place, and I don't mean that sentimentally, I mean it empirically. I feel it when I'm cooking dinner and there's more than one burner going on the stove, or when I'm telling a tall tale to my son; right now, there's a weird icy rain going on outside and, in all seriousness, every time a delicate spiny flurry of the stuff hits my window it sounds like something Charlie could and would fearlessly play on the drums. To make a more obvious example, earlier tonight I was listening to a little Birth of the Cool, and one quick little Max Roach turnaround somewhere in the middle sounded just like it could've been Charlie playing -- even the recording quality suddenly had the same whiff as a SCG guerilla job. In fact, all the jazz I've heard this week has made me think of Gocher, from the very old-school stuff we were listening to at work (Louis Armstrong, Gene Krupa), all the way to Coltrane's Live in Seattle, an album he was something of an expert on. He loved jazz and was, simply put, a great drummer in the jazz tradition, a rare link to a culture not only pre-internet and pre-punk, but even pre-rock. Many anecdotes have been posted here and there since the announcement on February 20, and one of the good ones on the Sun City Girls MySpace page has him crashed in the backseat of a car after a night of revelry, about to pass out, giving some sound advice: "You gotta listen to Art Tatum."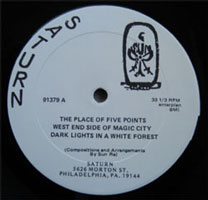 I've done that this week too, and it was nice, but right now I'm listening to Sun Ra, who often makes me think of Sun City Girls, and vice versa (angels and demons at play, you know). Indirectly, the folks at Magic of Juju (as tipped by the Backroom at the Book Beat) have supplied some sublime and needed elegy music this week by posting five very rare Sun Ra albums. Right now I'm way into three of 'em from the 1979-1981 range, a Ra era I had not yet investigated: Omniverse, recorded 9/13/79, On Jupiter, recorded a month later on 10/16/79, and Voice of the Eternal Tomorrow, recorded about a year after that, 9/17/80. All three are just beautiful (and again, I don't mean it sentimentally, I mean it empirically). Omniverse is my current favorite, one of the most chilled-out and meditative Sun Ra recordings I've ever heard, partly because he sticks to the acoustic piano (even though he was way into electronics at the time), and partly because the compositions are all relaxed, smoky, late-night cool-downs. It's a scaled-down seven-person Arkestra, but the arrangements are sparse enough that it has more of a piano trio feel, with guest horn solos here and there. John Gilmore on tenor and Marshall Allen exhale the spirit of the 1940s and 1950s via great casual hard-bop space balladry, and newcomer Michael Ray (pre-Kool & the Gang!) holds his own on trumpet. Danny Ray Thompson hangs back on baritone sax, and the rhythm section of Richard Williams on bass and Luqman Ali on drums keeps things chill through five titles that riff exquisitely on dream memories of strolls through the back streets of Birmingham, Alabama.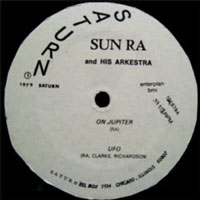 On Jupiter (aka Seductive Fantasy) is a little more upbeat, starting off with the title track, a joyful and slippery June Tyson-led soul-jazz showcase, and then hitting with the totally weird disco-funky "UFO" tune, which mixes up bad-ass funk-band horn blasts (including a super-tough trumpet solo by Ray), psychedelic wah-wah guitar, and, as usual for the Arkestra, would-be driving rhythms lost deep in post-orbital space-wobble, topped with an unstoppable hook of a chant. This one goes "U....U-U-UFO," over and over, sounding like some dusted Marvin Gaye sci-fi dream. On the flip side, "Seductive Fantasy" stretches out for the duration, a soulful epic that starts languid and pretty a la Omniverse, but calmly works its way into some very knotty and out-there territory before it's done. It goes just as far as the stuff from late 1960s, but the trip there is slower, quieter and calmer. Just like 1940s bebop subsided into 1950s cool jazz, it was inevitable that in the 1970s, fire music would either burn out completely or have to reduce heat to a simmer -- Ra often chose the latter option and made a lot of beautiful music.

But then again, we've got the sublimely titled Voice of the Eternal Tomorrow (aka The Rose Hue Mansions of the Sun) from 1980, and there's absolutely nothing cool about it. This is terrifying fire music, one of the most disorienting and raging forays I've ever heard from an Arkestra, and that's saying something. About three or four minutes in, the band drops out and Sonny tears into a downright brutal electric organ solo, obviously plugged into his secret 'destroy planet earth now' pedal. Elsewhere, the Arkestra employs a full-group stop-and-start blast style that just devastates. The whole thing really has to be heard to be believed, and when I say "beautiful" it's a very specific kind of beauty, sort of like all the pretty colors you would see if your very soul was hung out in front of you on a clothesline, or if you were large enough to watch an entire star system implode.
The other two Ra albums over on Magic of Juju are must-hears too, especially the title track from the 1973 album Discipline 27-II, 24-plus minutes of laid-back good-time soul-strut call-and-response between Ra and the "space ethnic voices" of June Tyson and three other ladies. Recorded in Chicago (during a 1972 tour stop)! And, if you like other kinds of music that have informed Sun City Girls, you'll find plenty more of interest at Juju -- maybe even some of that Tibetan jazz. So thanks to Juju for sharing, and thanks again to Sonny and Charlie for all the music and more.....
---
FEB 28 2007 (THE UNSPOKEN VOWS)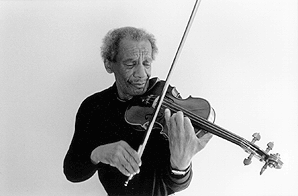 RIP LEROY JENKINS (AACM, Revolutionary Ensemble, et al)
LIVE ON WBLSTD (77.7 FM CHICAGO)
Sun City Girls "Charles Gocher Sr." (Abduction)
Sun City Girls "The Bearded Hermes" (WFMU)
Sun City Girls "The Brothers Unconnected" (Abduction)
Sun City Girls "The Ballad of (D)Anger" (Abduction)
Sun City Girls "Napoleon & Josephine" (Scratch)
Sun City Girls "Esoterica Of Abyssynia" (Tupelo)
Circle "Gättö" (Last Visible Dog)
Talk Talk "I Believe In You" (EMI)
Alice Coltrane "Isis and Osiris" (Impulse)
Larval "There's Something Under Her Bed" (Cuneiform)
Warmer Milks "The Hold" (Fuck It Tapes)
Sixes "Reign In Hell" (Enterruption/Troniks)
Excepter "Targets" (Fuck It Tapes)
True Primes "Intramental" (Locust)
MV & EE "Sic 'em Cocola On Me" (C.O.M.)
Joshua Jugband 5 "[Damascus Doldrum #1]" (Gulcher)
Neil Young "Don't Say You Win, Don't Say You Lose" (Bernstein Tapes)
Neil Young "Pocahontas" (Bernstein Tapes)
Bob Dylan "Highlands" (Columbia)
The Kills "Kissy Kissy" (Rough Trade)
Revolutionary Ensemble "Vietnam 1" (ESP/ZYX) (heavy as hell)
Leroy Jenkins "Space Minds, New Worlds, Survival of America" (Tomato)
Sun Ra "The Place of Five Points" (Saturn)
Sun Ra "The Rose Hue Mansions of the Sun" (Saturn)
Sun Ra "UFO" (El Saturn)
---
BLASTITUDE #23
JANUARY/FEBRUARY 2007
by Larry "Fuzz-O" Dolman (except where noted)
all day names from Year by Angus MacLise