JARBABY: Grave Disaster cassette (UNREAD RECORDS)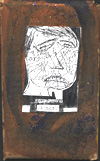 Unread Records is a fine little cassette/lathe-cut/private underground music label run by Chris Fischer of Omaha, Nebraska. Chris is from Lancaster, Pennsylvania, but he moved to Omaha because that's where classic tape label Sing Eunuchs! was from, so you know he's hardcore. Jarbaby is a dude from Normal, Illinois, and this cassette has a pretty serious 'early Shrimper' or, yes, 'early Sing Eunuchs!' vibe. Bashed-out solo post-punk young-man folk. I should say right off the bat that I can tolerate at the most one out of every, say, three or four hundred solo singer-songwriters I see or hear whose names don't happen to be "Bob Dylan" or "Nick Drake." So you might say this isn't REALLY my kinda thing, but Grave Disaster does have a visceral quality that makes it connect more than the usual back-of-a-coffeehouse-in-a-college-town or opening-for-Franklin Bruno-in-a-college-town fare. Mister Jarbaby has a fine way of singing sweet sad love songs but screaming out the words here and there and pounding his guitar like he might break a string, which makes the whole thing kinda tense and nervy. Plus, the third track on here is a super-distorted guitar-and-keyboard instrumental that'll really wake you up. The tape could've used a few more interludes like that in my opinion -- somewhere along the second side the tape starts to slip into the singer-songwriter bog a little bit, at least for me. I like pretty much all the songs that have overdubs though, and I also like the way that between the songs there's stuff that Mr. Jarbaby just taped off of the TV or from his record collection, and then he comes on himself and sings a song, sometimes after imitating the thing he just recorded off of the TV or whatever. It's that kind of underground off-the-cuffness that elevates Grave Disaster, like a lot of Shrimper and Sing Eunuchs! stuff, out of the dullness that pervades this genre. And dig the painted-on cardboard envelope thing the tape comes in......
LINKS:
UNREAD RECORDS
METAL EXTRAVAGANZA mix tape (MEMOREX)


I got Kevin Wasteoid from here in town to make me a tape of METAL, you know, death metal, black metal, doom metal, grindcore, extreme metal, Scandinavian church-burning bassist-killing metal, etc. etc. A year ago he played me some music by a German band called Bethlehem and it blew my mind. The thing that struck me was that it wasn't just the extreme high-speed Iron Maiden-on-fast-forward automaton metal that I'd been hearing - that was in there, but Bethlehem also had this almost languid and deeply melancholy "quiet" side, where a church-sounding organ would come up in the mix even higher than the guitars and the vocals would take on an almost operatic quality (the scene in an opera where the villian is onstage alone and has a psychotic breakdown under a forlorn spotlight). But of course it was still heavy too, with plenty of speed-riffs and slow-azz Black Sabbath riffs too, and a truly unforgettable singer. I begged Kevin to make me a tape of Bethlehem, and he promised to. In the Lincoln music scene, things like this usually take about a year,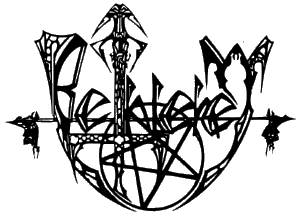 and sure enough, like clockwork, he dropped off the tape at my job just a couple weeks ago. He ended up only putting about five songs by Bethlehem on there, and filling out the rest (a 120-minute tape, one of those shitty neon-colored Memorex tapes) with tracks by TONS of bands. Let's see, there's Discordance Axis, who are very good and make their 5-8 songs on here sound like ONE endless stop-start-scream-frenzy song, a real black tunnel of apocalypse riffing. Cannibal Corpse have a great singer, with a laid-back death-belch, and also have very good riffs. Rorschach I don't remember in any immediately distinguishable way. Flesh Parade kick off side two and are really excellent, sounding a bit like Discordance Axis - I put this side on while I was driving down 17th Street to work, and to hear this EXTREME screaming music going on while looking at all the people in all the cars, slowly trudging their way to somewhere further along, I really felt like I was FLYING above them for at least a few seconds. (Yes, that's right, the liberating powers of rock-and-fucking-roll, once again.) Gorguts is a band with a singer who sounds like their name. They also have a high screamy counterpart singer, which I'd like to mention is one cliché about this genre; a lot of the bands, especially the American post-hardcore skate-kid metal bands, have one low death-belch singer and one super-high screamy singer. It gets a little old, but it's usually easy to forgive when wrapped up in the intensity of the music. Cattle Decapitation is a side project of The Locust, sounding quite a bit like The Locust (except again, they have more of a low/high vocal dichotomy, unlike The Locust, who are pretty much all high). Dystopia I don't recall individually, oh wait, I think they're the ones who have a sort of snotty surf-dude-ish singer instead of a high screamy singer. And then there's Wasteoid, Kevin's own band from right here in Lincoln, who recorded some stuff at their practice space which Kevin was kind enough to stick on here. They're really good, standing right up with almost every other band on this tape, although again they've got the low/high thing going on in extremis. Impaled is next, then Mastodon, then Damad (if I'm reading Kevin's writing correctly), then Napalm Death. I must've quit paying close attention right through here, because 120 minutes is a long time to be listening to a bunch of extreme metal, and I don't recall any of these last few bands individually, not even the legendary Napalm Death, who I've of course heard before. Finally, Kevin had the good taste to end the tape with about two-and-a-half songs by Virgin Steele! Terrible, screamy, slightly doomy (Helloween-influenced????) 80s cock metal! YES!!! MEEETAAAALLLL (up your ass)!!!!!!!!!!!!! Thanks Kevin. -- Matt Silcock
NEWTON: Stain cassette (BREATHMINT)


I got this cassette direct from the man himself (Newton) at a show he played at Omaha's Gunboat venue just a few weeks ago. Newton is a guy from the Philadelphia area named Mat and he's a FREAK, okay? Freaky in a good way, of course of course, via intelligence, energy, and good humor. One way he uses those characteristics is by dressing up as a giant bumblebee with guitar pedals duct-taped to his chest and playing broken toy keyboards while writhing around, screaming into mics through distorted guitar amps, etc. He and his bandmate (wearing a green orderly jumpsuit and a labcoat) did this at Gunboat, and after the show Mat went outside, right there on 38th Avenue & Farnam, and started lighting off all varieties of fireworks he had bought earlier that day in illegal-firework mecca Missouri. This was quite a blast in several ways, and it made neighbors come outside and the cops even showed up and the kindly Mr. Newton gave them all of the rest of his illegal fireworks, no questions asked. And anyway sometime between the rock and the fireworks he gave me a copy of this cassette which he's selling on tour. The flip side of it has a little message sticker that says "WARNING: Never attempt to insert cassette this side up. Turn over before using." Newton was very adamant that I heed this warning or there would be trouble. Someone else looked at it and said, "Oh, that's an answering machine tape. It's probably just a loop of about 30 seconds of music." That wasn't as fun and mysterious as Newton's warnings.
The next day, I played it in my car, right side up, and heard some very nice beeping and crashing sounds, not unlike the show I'd seen the night before, except coated in that glistening room ambience that always sounds so good in my car. Funny song titles too, like "Star Spelled Backwards Scares Me." I couldn't tell if it was looping back to the start every thirty seconds or not; the sounds were all real similar but they seemed to be changing in unpredictable ways. I wanted to be sure I'd heard the last song, "I own the Black Dice 10 inch where they use that An Oxygen Auction drum beat," and after about six or seven minutes of the same stuff I'd decided that the music was definitely looping every 15-30 seconds and I'd probably, you know, heard it. It reminded me of Vigilance! by Harry Pussy. Great sounds, though, I wish it really was a full-length tape. With this kind of shit, 20 or even 10 minutes qualifies as a full-length, so it's not that hard to do. Why you noise-scene jokers, I orta.... I still haven't had the guts to put it in my tape deck WARNING side up.
LINKS:
BREATHMINT RECORDS
REPTILE cassette (NO LABEL)


Reptile is a band featuring the guy (in the labcoat) who was touring and playing with Newton when our paths crossed in Omaha, Nebraska, as recounted in the previous review. This guy (why don't I ever just ask "what's your name?") also gave me a cassette, explaining "This is my other band. We dress up as lizards when we play. I've got tons of these cassettes to get rid of." Cool! Okay, so they dress up as lizards, or, to be specific, as a snake, a lizard, and a turtle (it's a trio), but how's the music? Well, it's stumbling, heavy, screaming, lumbering rock music. It almost sounds like cavemen playing covers of early Antioch Arrow songs, but where Antioch Arrow was 45 RPM, Reptile is down around 16 with the occasional 33. And that's only if cavemen sang their lyrics with the post-hardcore "bloodcurdling scream" and "death belch" vocal techniques. (Oh wait, these singers are reptiles, what am I talking about cavemen for?) Not bad, not bad at all, with five crazy songs that clock in at not very much of a long time. (Twelve minutes tops?) I don't think they're really a band anymore, but they were there for awhile, and they have a website (see below) that'll give some more info.
LINKS:
HTTP://BITE.TO/REPTILE
WILL SIMMONS: Him With His Head In His Hands 7-inch (UNREAD RECORDS)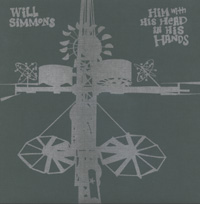 I again have to rescind some of the more disparaging comments I made previously about the indie singer-songwriter genre, 'cause this is a really good 7-inch. Simmons is a cat who lives in Pittsburgh, though he's not from there, and writes and records gem-like little acoustic songs. There are six songs on this 7-inch, three on each side. It also comes with some nice liner notes by Quayle Smithers ("Rock Archivist") that I read before putting on the record, and that really added to the whole experience. All six songs are just guitar and voice, except the last one, "For Vollis Simpson," which sounds like it has an accordion is chugging along even though the liner notes reveal that it's just 'a sample of "Gasn Nigun" by Margaret Leverett (© 2000 Traditional Crossroads).'
The first song is "Happy Birthday Cake for Kevin," with sweet lyrics sung over a chiming rock guitar riff (that just happens to be played on an acoustic in a bedroom). When the song ends with a slow fade as Simmons repeats the title a few times, sure it sounds kinda maudlin, but then I imagine it being on some theoretical future volume of The Smithsonian Anthology of American Folk Music, 30 or 70 years from now, and it suddenly sounds heavy all over again.
On the next song "One Man to Know," Simmons slows down the tempo quite a bit and sings, in a sweet jazzy style that I much prefer to the bombast of someone like Ben Folds, surrealisms like "...only able to surface after / breaking through the skin of water / tumbling when divers only / take another glance at your father / he is only one man to know / he is only one man to know..."
"Praying for Pittsburgh" certainly starts out a little maudlin too but it's topical which has always been part of folk music and either way, 30 seconds in it doesn't matter anymore because of the soft chiming spareness of Will's guitar playing, his fine singing, and his imagistic cut-up lyrics. And in fact every song is short and direct, hanging in the room like little sun-breaks through the blinds, even the ones on Side Two that are even slower and in minor keys. Good stuff from Pittsburgh manufactured in New Zealand for an Omaha label. (I think it's a lathe-cut seven-inch.)
LINKS:
UNREAD RECORDS
THE GOLDEN AGE OF UNDERGROUND RADIO WITH TOM DONAHUE cassette (DCC COMPACT CLASSICS, a divison of CBS RECORDS, INC.)


Trust me,anytime I'm at an Alco in Nebraska City, Nebraska and I see a cassette clearance rack where there's a various artists tape with songs by Donovan on it selling for 29 cents, I'm gonna buy it. Hell, I'd buy any tape for 29 cents, sight unseen, just to play the odds. It'd be more fun than buying lottery tickets -- just think, two bucks and you get eight different tapes, surely at least one of them is gonna be by Black Sabbath or Peter Gabriel-era Genesis or Merle Haggard or maybe some good blues like Lightnin' Hopkins or Muddy Waters....or Spanish Flamenco guitar or Montrose or The Best of 80s Metal or or or...
Or this tape, a compilation of 'underground' pop rock tunes from the Summer(s) of Love, with actual airchecks by Tom Donahue on San Francisco's KSAN from 1968-1971 edited in between songs. It's a gas, with Donahue's laid-back patter complimenting strange psychedelic rock like "Fresh Garbage" by Spirit and the fantastic long version of "Time Has Come Today" by the Chambers Brothers. "So You Want To Be A Rock And Roll Star" by the Byrds is a classic 2-minute ode to guitar glory, just as "Get Together" by the Youngbloods stands as a glorious moment in mellow chime rock, thanks to the interlocking guitar chording and Jesse Colin Young's sweet tenor voice. Krist Novoselic from Nirvana made fun of "Get Together" at the beginning of "Territorial Pissings," so people my age aren't s'posed to like it, but he was just referring to that ridiculous Freedom Rock commercial. I'm sure he's since heard it at a party and said "damn, who's this?" and then when the chorus ("come on people now, smile on your brother, everybody get together, let's try and love one another right now") kicked in he said "oh shit, this is the song I made fun of! I've never heard the whole thing before! I kinda like it!" Or something to that effect.
"Shoot Out On The Plantation" by Leon Russel and "Delta Lady" by Joe Cocker aren't too special but when coming in the middle of all this underground rock historical context, they don't sound too bad, just the way that not every song you hear on the radio is equally great but they are all of a piece. And then, the side closes with the one song I really bought the tape for: "Atlantis" by Donovan.
I have previously only heard this song once in my life, when I was about 14, living with Mom and Dad and Sis in Tabor, Iowa and waking up to my clock radio alarm, which was set to Sweet 98 FM, which played oldies every Sunday. One Sunday the alarm woke me up while this strange song was playing: a guy talking over a wistful art-folk-psychedelic-rock backbeat, saying something about "strange continents," "new life"....."HAIL ATLANTIS!!" And then the band kicks in for a big ride-out chorus, as heavy as something like "Go Now" by the Moody Blues or "Hey Jude" by the Silver Beatles, with big vocals going "Way down....on the other ocean..." on and on...and that's the song, just an intro and then the chorus, fading out slowly into eternity.
I never heard the song again, and I never thought to buy it in a record store, but every now and then I would think of it, and then about 10 years later I was playing guitar for Opium Taylor and drummer Matt Focht was also fascinated by the song after having heard it once somewhere. We'd have conversations: "Matt, do you have the song "Atlantis" by Donovan?" "No, but I love that song, I heard it when I was 14 and I haven't heard it since!" "I know, I've only heard it once too!" Every record store we stopped at, and we stopped at one in almost every town, Matt Focht would scour the Donovan section, always coming up empty. Where was "Atlantis"? It seemed like it would be easy to find, on any old Donovan greatest hits collection. But as far as I know Matt never found it. Now he lives in Brooklyn, New York and whaddayaknow, I find it on a 29 cent cassette at an Alco in Nebraska City, Nebraska. I'll admit it's not quite as majestic as I remembered it being on my clock radio during blissy sleep-fog that morning of sixteen years ago. But it's still pretty damn great -- my favorite part is Donovan's amazing spoken intro -- is that his real accent, or is he just showing off to be cute??!??
Side two opens with another great Donovan song, "Hurdy Gurdy Man," the most notable use of the tremelo effect pedal in rock history. (Runner up: "Crimson and Clover" by Tommy James and the Shondells, another unfairly dismissed great band, "Mony Mony" notwithstanding; "Cr. & Cl." was an extremely psychedelic pop single, and in the pictures on one old LP I've seen, the band has a look that could pass for the 13th Floor Elevators.) Then "Darkness, Darkness" by the Youngbloods, which isn't as good as "Get Together." "I'd Love To Change The World" by Ten Years After is a pretty great song though I'm not sure what Alvin Lee means by "everywhere it's...
dykes and fairies" or whatever that line is. I think he's complaining about them. "On The Road Again" is my favorite Canned Heat song and I'm so stoked it's on here...I've been looking for that tune on record as long as I've been looking for "Atlantis," but I didn't even recognize it by its title when I bought this cassette. It's the one that goes: (low voice, blues melody, call-and-response background vocal): "In the rain and snow..." It has this amazing electric pulse to it, as if the overdriven blues-chug harmonica licks are dicing and slicing over a tamboura being droned on throughout. And I love that singer's falsetto.
"What About Me" by Quicksilver Messenger Service is, I think, an old radio hit, because I swear I've heard it before. From hearsay I've gathered that Quicksilver had an extrapolative psychedelic jam side, with guitarist John Cipollina spoken of in awed tones, but this song is total pop, almost literally indistinguishable from a Jefferson Airplane song sung by Marty Balin. Pretty good song, really -- no extrapolative psychedelic jam section, but there are a lot of lyrics that rail against The Man.
"Do You Know What I Mean" is an old funky rock classic by Lee Michaels, singing soulful vocals and playing Hammond organ, accompanied by only a drummer. Sort of like a much more 'inside' and R&B-referencing Silver Apples! The last song is "Scottish Tea" by the Amboy Dukes, which being recorded in 1968 must have Ted Nugent on guitar! It's an instrumental, and there's definitely a lot of guitar playing -- it ends being a little shrill.
Throughout the tape are the endearing time-capsule song introductions and public service announcements by Tom Donahue. (Who?) Stuff like "Donovan has a new single that a lot of people should be able to get into..." or "I wanna get to one other cut here that is in our vast collection of unreleased records...we sure do have a lot of 'em these days...record companies need to catch up!" or how about his closing statement, "And that's the way it was and that's the way it is....and it's always changing and it is always the same. How's that for psychedelic?" How indeed, Tom!
See how much fun can be derived from 29 cents (plus state sales tax) at an Alco in Nebraska City, Nebraska?
FRANK WRIGHT: Your Prayer CD (ESP/ZYX)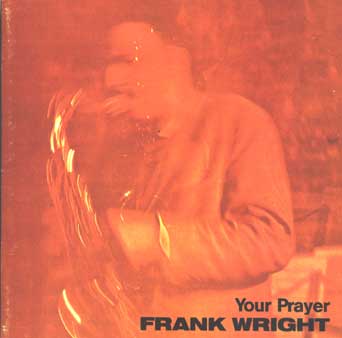 After the reissue on CD of the Frank Wright Trio (ESP-ZYX), the Center of the World reissues, and the Actuel box set which featured a 20-minute track by the Reverend, I thought I'd had enough of this guy for awhile. For some reason I still found myself buying his ESP followup, Your Prayer, when the ZYX reish turned up used at the Antiquarium (Omaha, NE). Even after getting it at home, I was saying "Man, I really don't need this, I coulda put the eight-fifty towards that Grateful Dead Anthem of the Sun album…" but then I noticed, for the first time, the presence of one Arthur Jones in the lineup, on alto sax. Jones is the guy who I was introduced to by his many incredible appearances on the Actuel box set. This guy is a first-class alto sax player who mixes an almost Lester Young-ish vibe with an ability to truly rip paint of walls (you should see the room where my stereo is). He takes the first solo on the CD, and about five notes into it I was completely satisfied with my purchase. Turns out this album was his first recorded appearance, from May 1967, and the opening track, "The Lady," is his composition. There's also ripping trumpet by Frenchman Jacques Coursil, banging drums by longtime Wright cohort Muhammad Ali (not the boxer but the brother of Rashied), and Steve Tintweiss himself is the bassist. Finally, the tenor sax style of (the Reverend) Frank Wright continues to boggle my mind. His tone goes from zero to absolutely convulsive and epileptic in much less than 2.5 seconds. He makes Pharaoh Sanders sound like Sonny Stitt and Sonny Stitt sound like Kenneth G himself. Approach with caution - at this session all the horn-players seemed to have their secret 'ass-rip' key fully depressed throughout. (The 15-minute title track closes the album and it's a small masterpiece, climaxing about 11 minutes in when the horn players after several blowing interludes over a frantic rhythm from the bass and drums all start moaning together with their voices instead of their horns…)