RECORD REVIEWS
by Larry "Fuzz-O" Dolman (except where noted)
SECRET EYE label roundup


Secret Eye is a Providence, RI-based USA record label, CD duplication service, concert promoter, and more, and they have been very busy lately, putting out a lot of CDs by brand new artists that fall roughly in the wyrd folk/new psych camp (not to mention organizing this year's Terrastock fest in April 2006). A big batch of 'em have landed on my desk over the past year, and I started with an album by Avarus, Jättiläisrotta, a co-release between Secret Eye and Finland-based Avarus-connected label Lal Lal Lal. I haven't really stopped yet with it, either, having listened to it well over 50 times and counting. I'd like to be able to tell you more about why this album rules so much, but I never know how to describe this Finland scene, because they don't really sing songs or otherwise characterize themselves, they just jam, and it just sounds good, whether it's Avarus, or Pylon, or Kemialliset Ystavat, or Anaksimandros, or Maniacs Dream, or Rauhan Orkesteri, Lauhkeat Lampaat, Paivansade, Master QSH, Paavi, Fricara Pacchu, Tomu Tonttu, and all the rest. If I had to say something specific about Jättiläisrotta, I guess I would say it leaves a real steady motorik tribe-pulse impression, heavied up by a fair amount of drony electric guitar. I really like the whole thing, but track eight is my favorite due to some ecstatic vocals that emerge about halfway through.


So Avarus was great, no-brainer there, but after that it was all new stuff -- the only band in the stack I'd even heard of before, let alone heard, was Urdog. On top was an album called Crown Your Head With Flowers, Crown Your Heart With Joy by The Big Huge. Yep, never heard of 'em, though I did recognize their name as an Incredible String Band reference. As for their sound, it's folk songs in a vein that is more C.O.B. than I.S.B., which is to say (if you haven't heard the great C.O.B. albums like Spirit of Love) that the progressions are a little simpler and the songs a little more straightforward and somber. The Big Huge are solid and have a fine sound that you could recommend to fans of Espers and whatnot, but the intensely wise and melancholic voices of C.O.B.'s Clive Palmer and Mick Bennett are a pretty tough act to pay homage to, and this album doesn't quite get out from under it.


But I like The Big Huge quite a bit compared to Long Live Death and their album Bound to the Wheel. It's pretty clear that the Long Live Death concept is to be a scary pagan Comus Wicker-Manson "death folk" "sex cult" kinda thing, but they seem just a semester or two out of art school, and I have an odd feeling that some of these people also play in either a dance-punk band, a 'funny rap' band, or an ironic karaoke act. At work we've listened to the album twice, because their song "Join Us" immediately became a hate-hit around the office, every employee singing its stridently unforgettable line "Join us . . . . . WITH BLOOD AND SEMEN MIXED!!!" out loud, several times throughout the day in our best 'scary' voice. I said "These guys wanna be Comus," and got very blank looks, so I brought in First Utterance the next day and the skeptical audience, first-timers all, were fully blown away, convinced of greatness before the first side had ended. How could anyone resist their masterpiece, "Drip Drip", coming as it does after the unbelievable 12-minute white-witch lullaby that is "The Herald"? (If they aren't completely sold/scared right away by "Diana" alone, which most people are.) So, at least Long Live Death are getting some people into Comus....


Surprisingly, Urdog's Eyelid of Moon was the third Secret Eye CD in a row where I didn't care for the vocals. They weren't 'evil' like Long Live Death's, but they were kind of 'flat dystopian android' which is pretty hard to pull off (unless you're Xex or Gary Numan). But that's a personal quibble, and vocals probably take up no more than two of Urdog's 37 minutes here. The rest is all instrumental, and the band is damn good, more krautrockin' than wyrd-folkin', a farfisa organ/guitar/drums trio combo slowly and surely navigating the noosphere. This might actually be my favorite psych organ trio since the Siloah of Sukram Gurk!


With Urdog, the Secret Eye label really got back in the saddle, and then came the disc that trotted 'em off into the sunset -- an innocuous-looking number by something called Travelling Bell. Nice brown-paper cover, adorned with nothing but the band name and four weird drawings of . . . katydid parts? Not knowing anything about the group, it took me about three months to get around to putting the thing in. Good thing I did, because I immediately liked it a lot. This is the best of the Secret Eye batch besides Avarus and Urdog, and those are both more rock-based electric bands, which makes Travelling Bell the best of the folk-based acoustic bands. Fine singing and melodies by a mysterious female, and all the little overdubbed instruments -- bells and whistles and flutes and thumb pianos and whatnot -- are really nice and not gimmicky in the slightest. So who is Travelling Bell? I had no idea until I saw this inside the CD: "All words and music by Kathleen Baird / All instruments played by Kathleen Baird / Recorded at home late 2003, spring/summer 2004". So Travelling Bell is from "home," and she's not a band, she's a solo artist, and I have since learned that home for Ms. Baird is right here in Chicago, as she is a member of the freaky Chitown witchfolk collective Spires That In The Sunset Rise. Her solo work is a much less freaked affair that I would recommend to fans and non-fans of Spires alike....

....and it took me so long to write that roundup that another three Secret Eye releases have arrived. I applaud their prolificity, dedicated to an art form in the face of ignorance and saturation. Larkin Grimm is a weird one, a lady singer who whoops and sometimes caterwauls, def. comparable to label-mates Spires That In The Sunset Rise, but with a more personal delivery, a one-woman show with freaky multitracked vocals performing songs that take surprising twists and turns. The album is called Harpoon, and this intense interview reveals that it's sort of a breakup album, and in fact the singer is harpooning a snake on the cover, and the snake is her ex-boyfriend. The music is intense too, and I've only listened to it twice. I did get a little more comfortable the second time, with tracks like the misterioso "I Am Eating Your Deadly Dream," which drones like the dawn of man and sounds like three or four people teaching each other a sung language. And then "Patch It Up" just before it has some kind of weird bounding country feel. Oh man, you're gonna have to get back to me on this one, it could be a tempestuous relationship....


From Larkin I moved on with nerd eagerness to the album by Phosphene featuring Lol Coxhill and Friends. I was rather stoked because it seemed like such an old-school concept -- electronic UK synth-prog-drone (via Phosphene) meets acoustic UK free jazz (via Mr. Coxhill and Friends). In other words, I was expecting a nice haul of genteel Canterbury meadow stylings with subtle avant-garde coloration, but this album is quite a bit more wacked-out and harsh than that, sometimes almost like that Richard Teitelbaum/Anthony Braxton duo album from the 1970s, and those guys were both American! Coxhill plays some real out shit, but then again so does this Phosphene guy, his electronics very rarely doing anything remotely pretty, and yet over the long haul a queasy hopeful prog-rock edge does linger. Weird one!


And speaking of queasy hopeful jazz-rock weirdness from Great Britain, Directing Hand is a group led by Scotland percussionist Alex Neilson. You might know him as the drummer for the first ever concert performance by that Jandek guy, but that's not all he does. For one thing, he's also the leader of this mid-size UK ecstatic jazz drone folk ensemble, and a lot of their sweet and heavy moves are on display with this CD Bells For Augustin Lesage, such as the horn freakout-into-major chorale meltdown of "Tongue of the Bell," the shimmering Actuel-vibe turbulence of "Black Herman" (dig that Dave Burrell-worthy piano playing by....somebody), and the two album closers, woozed-to-near-infinity arrangements of traditional songs "Hangman" and "Lowlands," with lots of vocals and super-stretched expansive deep-hum group-sound. Looking at the rather cryptic personnel listing, I see "I. Campbell" and "C. Carter." Whoah, Isobel from Belle & Sebastian and Christina from the Charalambides? I don't know, but believe me, it sure sounds like they could both be on there....
AND POSTSCRIPT: Folks, I am such a slow reviewer that the unstoppable Secret Eye label has sent three more discs, including brand new followup albums by both Avarus (called Vesikansi) and Travelling Bell (now recording as Kathleen Baird, album called Lullaby for Strangers). Look for reviews of these a few weeks from now as opposed to over a year from now, I promise, and in the meantime look at the Secret Eye website for details.
---
SIGHTINGS: End Times CD (FUSETRON)


JEEZ, this is the harshest album I've heard in months, as harsh as any noise (genre) album, and it's all the harsher because these guys are still wrestling all the sound out of that old-fashioned lineup of electric guitar, bass, and drums. Maybe they decided they had to take a stand after all the reviews of Arrived In Gold that used the word "dance" (mine included) and praised them for finally cleaning up their sound (mine included). With End Times they're back in the practice bunker and have officially wiped all that 'progress' out with a filthy turd -- this shit is UGLY. I could get fancy and say that this album might be the sound of every single current music critic who has used the phrase "Gang of Four" to describe a new band from New York City all at once having their laptops fed into an incinerator while they are forced to dance barefoot upon a raging bonfire made entirely out of remaindered copies of Mall, but maybe I should just keep it simple and say: end times indeed.....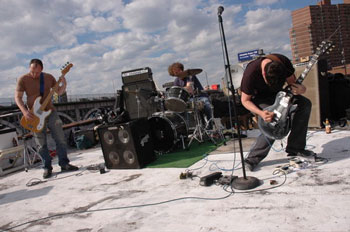 SIGHTINGS: This pic ruled so I nabbed it from their MySpace page -- hope that's cool....
SILENTIST: Chariot Swing EP CD (CELESTIAL GANG)


Extremely cold second album by Mark Evan Burden's rigorous and complex one-man drums/piano/vocals cabaret-goth-extreme-metal throwdown. Now on the previous album, the Nightingales EP, I swear there was a lot of guitar, and I swear, on the first track anyway, it was doing a killer Darkthrone style. I also recall that the EP moved steadily away from any such specific influences as the next three tracks played out, and the piano moved more into the fore of the song's arrangements. Now, on this followup EP, the guitar is completely gone, and the sound is almost completely original, unless you mention the music of Conlon Nancarrow, which some of these piano patterns actually resemble. Add techno-metal drumming and booming angst-wave vocals, but then take out all the loudness, making it empty, hollow, and reduced. Somehow it makes me think of the idea of laser surgery. In the quiet and sterile clinical conditions grows angst-metal.
SILVESTER ANFANG: Raping The Goat CDR (FOXGLOVE)


My coworker into black metal saw this sitting on my desk and was like "Care if I check this out?" He's always nabbing my metal albums, and the cover art of this one has metal imagery (not one but two upside down crosses, a skull with an army helmet on, a gothic-font band logo, the phrase "RAPING THE GOAT" scrawled on the front, the phrase "100% EVIL" scrawled on the back, and for good measure, an iron cross!). He was kind of excited, but I was like, "Dude, it might not be what you're looking for...." And it wasn't. Not the first time he's been misled by inappropriate black metal imagery, and he has NO patience for what this actually is, which is basically free folk, or "funeral folk" as it says on the cover. I have a lot more patience for some free-ass funeral folk than he does, but there isn't much about this disc that begs a relisten for either of us. Not only is it not scary, it's barely even eerie or even melancholic. It's not *bad*, of course. The second long track is better than the first long track, because it has some developing grooves and sustained intent (via drumkit), rather than the first track's drumless warmup/tuneup aimlessness.
STEVEN R. SMITH: Kohl LP (EMPEROR JONES)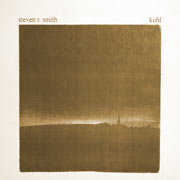 Well, I have to be honest: I wasn't too excited by the prospect of a Steven R. Smith LP. Much respect to his work in ghost-nature-improv band Thuja, but his old-world folk instrumental work as Hala Strana sounded nice but left me cold. However, this new one was on vinyl -- always a plus -- and it had a very nice silk-screened cover. Open it up, and it gets better still; the thing comes with a little art-and-words booklet that actually has a bag of dirt stapled inside it (a bag of kohl, to be exact, black and finely powdered, which means it's probably . . . . . . coal?), and a bag of seeds -- isfand seeds, to be exact, "believed to ward off the evil eye when burned." That rules . . . . . . . and then there's the music, and it just keeps getting better. Yep, unlike the band-feel overdubs of Hala Strana, this is a real chilled-out melancholy naked-solo electric guitar album. Heavy chords, zoner-strummed reverb-thought, very musical but still free-form. The kind of thing people line up in droves for, just so they can type the words "killer late-night listen" on their computer. And this time, they're absolutely right. Get it for the bags of isfand seeds and powdered kohl -- and stay for the music.
ST 37: Future Memories CD (FOUR/FOUR)


I've heard about ST 37 for a long time, and I even knew they were from Texas, but for some reason I thought they were going to be a washy shoegazy delay space-rock band. The good news is that they most certainly are NOT. ST 37 are a gnarly, fucked-up, noisy stoopid garage rock band, and I'm not saying that because their recording quality is shitty, because it's not, it's actually very good -- it's just that their sheer fuckeduppedness resides a lot deeper than just surface issues like recording quality. There's a real palpable sense of late-1980s acid-driven Reagan-damage going on (which makes sense because their first release was in 1987), with a ragged-and-scarred mid-period Butthole Surfers feel you can easily taste, something that ties together disparate influences such as Hawkwind, industrial noise, deep blues, glam rock, and sincerely much more, as killer covers of Bowie, Suckdog, and Motorhead (the latter an awesome lady-sung version of "Orgasmatron") will attest to. Just a deep odorous stew of enlightened gutter rock psychedelia -- hey, I'm impressed -- and if you're like me and have been hearing about this band for years, Future Memories (which is actually "a compilation of rare tracks" ranging from 1988 to 2002) would seem to be as fine a place to get started as anything else I can imagine....
STUCKOMETER CDR (NO LABEL/SELF-RELEASED)


Just under 10 minutes of music, on a CDR (with nice hand-drawn logo on cardboard) from somewhere in the UK. Noise jam, totally live, pretty nasty garbage sounds, almost drony but not quite. In fact there's a pretty nasty groove going on here, and by "groove" I mean like Beefheart, sure, but more so Harry Pussy, with a remarkable proclivity for the start-and-stop almost-totally-lose-it jam that really emerges towards the end. I think I'm going to go out on a (pointless, but fun for at least one person: me) limb and call them . . . . the British Pengo. The British Pengo. Got a nice ring to it. Good so far, curious where else they might go. (P.S. And I think I just heard that JOINCEY is in this band, and shit man, he was in The Coits! Not to mention Inca Eyeball and A Warm Palindrome....)
THREE LEGGED RACE: Living Order CS (TONE FILTH)


Robert Beatty of Hair Police and Eyes and Arms of Smoke playing solo is Three Legged Race, and this cassette release is a real nice further step from his Primitive Ash collab with Walter Carson. It's a C20, maybe 15 or 16 minutes of music. These Lexingtonians always keep it short and minimal and gorgeous with the releases -- could it be a White Tapes influence?? Side one offers total sci-fi weird-beds, simmering green synth swamps, yellow echo vapors, that kind of thing (yes, it sounds like the cover looks), lulling you with a lot of strange calm before slamming into a mean loop towards the end. Side two is a heavy solo organ track, warmer and even celestial, serving as more of a comedown, or maybe more accurately an ascendance, after being dragged through the quiet space-paranoia antics of side one. Excellent work, edition of 121.
UNCLE JIM: Superstars of Greenwich Meantime LP (BLACK VELVET FUCKERE)


Ladies and gentlemen, meet the spoken word album of the short 21st Century thus far. It's the debut release by long-time Sun City Girls associate Uncle Jim, and Uncle Jim is to his creator Alan Bishop as Mudbone is to Pryor, or Clifton is to Kaufman; a brilliant performer devoting an inordinate amount of time to his most, let's say, challenging character, and just when you think you can't take it anymore you realize that you're loving every minute and hanging on every word. As for this masterpiece in particular, let me only warn you that if you thought Uncle Jim was a little fired-up before, you should hear him now! He's certainly using more brutal punishment sex metaphors than ever before. "I don't even know how or why you can still get my dick up. It's a fuckin' miracle, but I still got a hard-on to fuck you maggots so far into the dirt that my prick gets raw just thinkin' about it. Yeah, but what the fuck do you know? You're too busy studyin' the shape of the odd-smelling anvil that's been shoved up your ass so you can locate a crowbar to wedge it out. Good fuckin' luck!" Yee-owtch! But really, that's just .001% of the wordage that goes on here -- you know Uncle Jim keeps you listening in circles every time he opens his mouth, which is OFTEN. But the non-verbal stuff (i.e. MUSIC) on here is pretty notable too, more overtly 'sample-based' than anything Al Bishop or the Sun City Girls have done before, thanks to the "beats/samples" assistance of Porest, Specs One, and Alvarius B himself. Also notable is the trumpet playing of Liz Allbee, and speaking of Sun City Girls, they are the backing band on three of the tracks.....
VALLEY OF ASHES: Cavehill Hunters' Attrition 3LP (BLACK VELVET FUCKERE / CONSANGUINEOUS)


Okay, this Valley of Ashes triple-LP just came in the mail, and don't expect me to summarize it for you or anything, especially when I'm this busy NODDING OUT to its six sides of epic somnolent rural rumbles. I just wanted to let you know that it's here, okay? And that it's really tucked me in. Woodbe was right, bourbon & branch water really is the new thai stick, and put on any side here and you will suddenly swear that your brain and room has been filled with a whole lot of both. I've actually been thinking -- toying with the idea, really -- that this triple LP is the closest that anyone has physically gotten to distilling drugs into music, and I don't mean "it totally sounds like they're high," or especially "you should totally listen to this when you're high," I mean simply that this music is drugs. It's funny that there are six sides to this record, because I rarely get past the very first, a 20-minute-plus number called "Yellow Fog." Why? Because I always NOD OUT before it's over. Not to say the other five sides aren't essential. The sixth side is "Yellow Smoke," which I think is "Yellow Fog" revisited, this time in a bit more of a hoedown version that really has a triumphant burn to it, while some of their very deepest tones, at least physically, are reached during side four, "Bogbody Tapas." Not to mention the heavy lope and scorch of "Bogbody Mastodon" on the side before it. And damn, that old-world fiddle just seems to lope and keen through the whole thing, all six sides. Keeps reminding me of "Requiem For The Rockets" by Crazy Horse . . . . I can't shake it . . . . I don't want to . . .
VARIOUS ARTISTS: Time And Relative Dimensions In Space (REBIS)


This deep drone stuff has really become its own kind of music, a weird ultimate combination of the spiritual, minimalist, folk, psych, industrial, and noise movements that have midwifed it from ancient times into the 21st century. I can't tell you what a beautiful thing it's becoming. These days we've got droners from the hippie/folk side, the noise/industrial side, the academic side, the record collector side, the thug side, the poet side, and more, and various combinations thereof, and this cross-pollination makes it hard to sort into any of today's neat new subgenre camps, except for DRONE. The Rebis label out of Chicago is emerging as a heavy pathway for today's deep psychedelic drone, and they have curated a fine compilation to herald this fact. A simple concept, with good graphics and overall tight presentation: five groups offer five tracks that each clock in at more or less ten minutes. The opening act is Chicago-based Rebis flagship band Number None (humble host acts always go first), and they continue to prove their heaviness with a fine low burrow that gets obliterated by sheets and sheets of unknown buzz over the course of 11 minutes. Next up are The Skaters, my second go-round with them, and they've floored me again, this time with a very focused straight-line vocal-mass loop-drone. My Cat is an Alien contribute another piece in their signature spartan, spaced-out, laconic, and extremely patient style. Jim Haynes, who I've always known only as a music writer (he reviewed every CD in the Merzbox!), contributes a very good track, some finely done urban-dystopian music that on three separate listens has made me look out the window going, "Why the hell are they doing construction work outside at 2AM on a Tuesday?" Taurpis Tula close things out with one hell of a track, getting the drone via what might be called a one-chord death-country song floating in the aether twice removed. Heather X's vocals are stunning, rising out of the surface of an extremely sparse backdrop of haunted piano plinks and barely-there guitar moans like the underwater ghost of a long-drowned opera singer rising to the surface of her haunted lake. So, really, this is a really fine comp. If you've just gotten the LVD Elegy Box and you need the perfect appetizer before you tackle it, or the perfect dessert after you finish it, by all means go for Time And Relative Dimensions In Space.
VIBRACATHEDRAL ORCHESTRA: Smash! Smash! Smash! CDR (SELF-RELEASED/NO LABEL); Tuning to the Rooster CD (IMPORTANT)


I've always loved Vibracathedral Orchestra for their concept, which is to get together with instruments and immediately dive into full-on joyous lakes of aumgn-drone, and I've liked all their albums, but I'll be damned -- Smash! Smash! Smash! is the first one I've really loved. I think it's simply because it's the first live album I've heard by them. The others I've heard, like Lino Hi and Versatile Arab Chord Chart, are classics, really (the latter album is said to have singlehandedly birthed the Finnish legends Avarus), but have been live-in-the-studio recordings, and in the studio the band sounds to me, for all the cadenza freedom, slightly boxed, smart, and reserved. In front of a rowdy pub audience, on teh other hand, they sound much more open and in their element, with more guts in the music, and it's on perfect display with Smash! Smash! Smash! The album contains three tracks, each one a single live set from the month of December 2004. First is from Dec. 3rd, in the city of Newcastle. Pretty amazing trio stuff by "Bridget, Mick, Neil." Track 2 is my favorite, the longest set on here at 32 minutes. It's from the next night, Dec. 4th, in the city of Leeds. Maybe I love this one so much just because of the great introduction by an American named "Phil" (who I assume is Phil Franklin from Sunburned Hand of the Man, who may have been touring with Vibracathedral), but I think it's mainly due to the endless holy sax interplay that takes up the bulk of the middle. Ol' Campbell isn't even on this track!


Track 3 I can't remember right now, but I do love this release, a true smash hit that knocked out enough room in my crowded heart for more love to rush in, which it did less than one serendipitous week later, when a co-worker asked me if I'd ever heard a band called . . . . . Vibracathedral Orchestra. I had to chuckle and say, "Why yes I have. I've been listening to 'em a lot just this week, in fact." He passed me a copy of their full-press CD Tuning to the Rooster (Important Records), and listening to it the next morning, it quickly became my second-favorite Vibracathedral Orchestra album. For a band that has come up through the CDR/home recording scene, Tuning to the Rooster is a very professional document, with rich colors on lovely paper, a gatefold case, and high-quality symphonic production that is immediately apparent from teh hit-the-ground-running opening, in which rolling thunderous tympanic drums crash and then settle with the other instruments into a roaring drone. (Apparently they used a 24-track studio setup for this, and it sounds like it!) By the time they're fully dug in, they seem to have boiled the verse of VU's "Waiting For The Man" from two chords down to one, removed all the lyrics, and stretched the whole thing out for over 10 minutes. And that's merely a prelude for an equally long section in which masterful piano-tinkling helps to simmer a stretched-out quietude that has got to be one of the finest pieces of music this group has ever produced. And the jam morphs onward through more peaks and valleys, 4 tracks on the CD but it sounds like one long throwdown to me, and for a lot of this I can't believe what a Parson Sound/Trad Gras vibe I'm getting -- could the VCO be the one true heir?
VIOLENT STUDENTS CD (PARTS UNKNOWN)


Killed by Pennsylvania yet again, thanks to this strange and brutal hypnotic CD. Finally, a band that just jams bass-heavy slow HC riffs forever (yes it's like Flipper) with the good sense to not just throw some 'scary' or 'intense' singer up there -- instead they trust their animal instincts and grunt through the whole album like pigs! It might even be some sort of Casio sample of pigs grunting like dudes. It's that good. Makes the riffs even heavier, and believe me, they last forever. In fact, they're still playing in my head right now, a perfect coping mechanism for shitty jobs, cheesy situations, and multiple experiences of (self?-)detention in any All-American TSZ (television subjugation zone). You know, any place where I really have to turn up the HATE..... (P.S. Cover art by Hawk Krall is a crazed vision of the streets of today -- buncha animals out there . . . . )
PHILLIP WERREN: Electronic Music (1968-1971) 2CD (CAST EXOTIC ARCHIVES)


The title says what you get pretty well: vintage electronic music. I'd like to add that it's pretty fucking incredible. Mr. Werren recorded this stuff in Canada, and then released it as a 4LP box in an edition of only 100 copies. Now, here it is again, on a double-CD release by Canadian label-to-watch Cast Exotic (of Vancouver, British Columbia). Now, I honestly don't know much about the history of this kind of university-born electronic music, the Pierres and the Ferraris, the Bessons and Cousteaus, et alia -- to me, it just always sounds like DEATH. Alienated and isolated industrial existential angst. Cold and icy and droned-out (time marches on and reality is harsh), yet filled with disorienting cuts and splices (perception is fragmented, the universe is unknowable, everything is finite). Canada is the perfect place for this kind of music to come from -- not only is it cold and isolated, it's even half-French! Most of these particular sessions come from when Werren was an artist in residence at Simon Fraser University, Burnaby, British Columbia (Vancouver area). He was heavily affected by the American upheavals of 1968, when "mind altering/expanding drugs abounded and apocalyptic demise seemed to fairly shout out at us in the rarified atmosphere of Burnaby Mountain." The major work on this double-disc is called "Phases," and it was "inspired by Yeats' obsession with the occult," specifically "the cycles of mankind and civilization, relating archetypal images to the phases of the moon, the phases of the moon to the birth and death of civilization and the birth and death of civilization to the theory of the gyres -- a double spiral, like a double helix or hour glass." This is from Werren's own 1977 composer's notes, which conclude, "If I may indulge in any personal belief anymore it would be this: the age of chaos is upon us; but, like an eclipse of the sun, it cannot last; the darkness at it's peak only increases our desire for the inevitable return to light." So, this is sorta like the Canadian electronic music version of Time of the Last Persecution, roughly the same time period, both with long hair and composer's notes... and at the same time a lot of this seriously sounds like a brand new Wolf Eyes horrorsc(r)ape, and the multiple voice tracks that close out "Phases II" are almost unlistenably intense. If it's getting to you, just stare into the cover image . . . stare into the cover image . . . . . wait, that's not helping at all . . . . . . . . . . . .
WHITE/LIGHT CD (REBIS)


Deep-drone CD rule of thumb: always check out the 28 minute track. That's the key jam on Chicago duo White/Light's self-titled debut, anyway, the third track "28:43," in which a very overloaded bass and guitar combine to break off a piece of that CHUNKY low-end stuff for SunnO))) lengths, but, unlike a SunnO))) jam that seems to appear as a fully-formed monolith, this one has a journeying quality to it, where you can really hear the duo starting out humbly, finding their way and experimenting, and eventually casting a warm soft and steady light on the black monolith until you realize that it's been towering over you all along. Not all of the six tracks are quite up to this level, like the rather gimmicky screech of fourth track "07:52", but there are other choice moments, and "28:43" is more than enough all by itself. Another strong early salvo from the Rebis label.