RECORD REVIEWS
by Larry "Fuzz-O" Dolman (except where noted)
MAGIK MARKERS: A Panegyric To The Things I Do Not Understand CD (GULCHER)


Oh MAN. You know, Blastitude first wrote about the Magik Markers back in . . . . August 2002. That was so long ago, they were merely calling themselves the Magic Markers then. Those cassettes were sweet, with silver and orange glitter covers, and long sub-basement no-mind drone anthems, but the band was just so brand new, new to their instruments, to singing, barely recording themselves in a basement, let alone releasing records . . . . . and I always wanted to hear more, though for unknown reasons, I've barely heard 'em since, other than one tuff-assed live show at the Empty Bottle in November 2003, opening for a Don Caballero 'reunion' (one original member!) and leaving the audience stuped. That show confirmed to me that they were ascendant, but while watching their 'rise' in all the 'major' media outlets, I've only heard one comp track and maybe one mp3. Mostly I've seen a lot of pictures, and checked out a few of the many live clips from ecstaticpeace.com, and from that evidence, 'frontperson' Elisa Ambrogio has come a long way from those early cassettes (and such charming and relatively genteel antics as belting out an a capella version of "I Think We're Alone Now" by Tommy James and/or Tiffany, or beeping her way through the song "Beep Beep").
Now, I did not hear nor even see the sold-out LP on Ecstatic Peace, but, courtesy Gulcher Records, here is a new CD called A Panegyric To The Things I Do Not Understand, some very recent Magik Markers music, recorded at two different live events in May and August of 2005. The band has clearly ALL really come a long way, right along with Ms. Ambrogio -- they have fucking honed it. Lots of high-stakes touring will do that. And don't you dare call it the second coming of American Hardcore, or No Wave, or Harry Pussy -- this is nothing old. This is a new rock music where all the songs are twenty minutes long and the guitars aren't played so much as they just rumble like small giants breathing, and sometimes breeding, or at least brewing, spitting electricity back and forth. Meanwhile the vocals come and go, constantly blooming out a totally brand-new poetic sexy jive mystery (hell yeah it's like Patti Smith but with far less words and much more raw vocal sound), while the drums connect the whole thing to the deeper essences of the earth, via a flowing hardcore hardrock primordial rumble. The Magik Markers aren't the second coming of anything, they are quite simply the first coming of Fuck You. Perhaps you will hate this record, but this record hated you first. (And lest . . . yea, lest ye think, understandably, that this record review is just another exmp. of zine-world dime-a-dozen first-listen hash-flash crit-crush, know that I have already listened to this album 15 times in one-thrice as many moons, and the magik, yes, of course I say the magik, why, it has not let up one bit....)
MANIACS DREAM: Die, Learn, No Way LP (HP CYCLE)


Thanks to the hook-up from HP Cycle, Maniacs Dream are now on vinyl with great artwork -- nice. Maniacs Dream are one of those new psychedelic freak-noisy Finland bands that come out of the humongus 'Avarus etc.' camp. They're one of my favorites from the whole scene because I feel like they use the most distorto electric guitar, and they use it in 'the most rock way', with a special proclivity for wild-ass wah-pedal chomping. Good old electric guitar never gets old, and Maniacs Dream do throw down heavy and weird jams for this LP. Like most Finland records, the first couple times I listen it just blows over my head like a bunch of one-time jams that even they don't remember, but in ten years time I'm gonna lay out all 35 Finland releases I own back to back on the floor, and then listen to 'em one after the other, and I'm pretty sure it will be one long stream of beautiful music. Like a not-necessarily-wise man once said, "There'll be time enough for counting.....when the dealing's done."
MUDBOY: Mudboy IV: This Is Folk Music CDR (BREAKING WORLD); Mudboy IV: This Is Folk Music CD (LAST VISIBLE DOG)


Dude, how do you expect me to keep up with all the good music out there? With the Blastitude Record Reviews column, I'm mainly just looking at one little micro-genre, the tiniest, which is basically psych-noise-folk art-school dropout, and even way down here I can't even come close to keeping up. I'm barely even looking at people who write songs yet, mostly just those who play primordial musical/noisical essence jams. Believe me, I'm interested in good songwriting and arrangements, and I want to cover all that too, but I can't even keep up with all the really good primordial ooze bands, y'know? For example, Mudboy. I got one Mudboy CD sent to me months ago, one of a double-digit barrage of CDs from the Last Visible Dog (see above), and I promptly lost it. Which kinda bummed me out after hearing his contribution to the Elegy Box compilation (see above), because I wanted to hear more.
And, as luck would have it, another Mudboy disc arrived in the mail, this time a CDR rather carelessly strapped to a goofy sci-fi drawing of an alien jamming on an organ, from the Breaking World Records label of Easthampton, Massachusets. This time, I played it right away and damn -- it's good! As far as I can say, Mudboy is a solo dude from Providence, RI whose thing is simply to play the organ. And oh what playing -- dusted 70s hardcore progrock-scapes, pulsing rhythmic motifs, totally psychedelic, like Richard Wright just showed up in your living room with his Farfisa to jam out some Astral Social Club covers he's been working on. I'm telling you, the electric organ is one of the greatest of all instruments, and it's always been a key transition point with which liberated souls can take religion back, out of the church and back to the earth, home of rock'n'roll and ecstatic music. Mudboy knows this intuitively, and this is his music. Folk music definitely, a travelling electric folk music. Unfortunately, maybe due to the goofy packaging, or maybe just due to me being a mean mistreater (of CDRs), a few tracks on here skip uncontrollably. I hope I can dig up that Last Visible Dog CD . . . I want more Mudboy . . .


And here it is a couple days later and I have found that Last Visible Dog CD, which ends up being another issue (I hesitate to say re-) of the very same album, This Is Folk Music, now in a jewel case and with completely different artwork, even though the Breaking World edition appears to still be in print. The LVD artwork isn't as memorable, but the edition is a very good thing regardless, because now I can listen to the album all the way through. I'm realizing that it kind of veers off into weird no-spaces at times, and I forget that it's on the stereo, and when I remember again, it sounds like industrial music to me, and I don't mean like Skinny Puppy, I mean like a broken refrigeration unit. This aspect of Mudboy music is interesting, and will be investigated further, but it's the early extended post-Riley church-raga peaks on here that I'm digging the most.
MWM/Maryfist: CS (LAL LAL LAL)


Here's another odd new Lal Lal Lal release . . . . . No idea what this is all about or what it's going to sound like . . . . . . . [pushes play] . . . . hmm, some real clumsy Butthole Surfers fandom with grinding stumbling fuzz bass, clattering drumming, and ranting vocals . . . . Maryfist is kind of a harsh name, and indeed, this is one of the more 'aggro' acts on the Lal Lal Lal label. Aggro, but kind of funny. Kind of bad, actually. Ah, and now I'm on the Lal Lal Lal website, putting the pieces together: this is a split cassette, and side A, which I'm listening to, is by a band called Married With Misanthropy, a/k/a MWM. It was recorded 7 years ago (1998), and two of the band members went on to be in Avarus. As the website says, "First side is a bit embarrassing.... Here's a tape that can be way too much for you. [MWM] serve six songs full of angst, passion and Nine Inch Nails influences." Yeah, Nine Inch Nails might be the intent, but the unintentional reality is played more like a sober nervous teenage Butthole Surfers with a young Marilyn Manson fan singing, and the overall recording quality is so BAD that I can see why Lal Lal Lal put this out -- for a jolt of honesty and candor, some much-needed forest-mystique dispelling, and because the vocals and playing may be bad but they are a riot!
Side two is Maryfist, which is a solo project by the singer of MWM. (I'm guessing he's the Marilyn Manson-looking dude in the picture but I could be wrong.) Like a lot of solo/side projects that come from punk industrial bands, this is scary soundtrack soundscape stuff that is influenced by horror movies like Se7en. (I think that's the first time I've ever typed that title out, it looks kinda goofy. Very 1995.) It's a quiet recording and it takes a while to get going. In fact, it never even really gets going at all, it just kind of sits there and stays creepy. This is a precursor to an album like Hair Police's Drawn Dead, but the HP album perfects the form by about 100 times. Which isn't to say the terrible recording and goofy atmosphere of Maryfist isn't deliciously creepy in its own right. Shit, I love this tape.
NIELLERADE FALLIBILISTHORSTAR: Hålrum CD (SNSE)


(review by B. Edwards) When I first heard of this release, the name had me tongue tied. Once I heard the disc, I switched to jaw drop. First, this disc revels in sound elements I enjoy (machines running and/or breaking down, piece of metal clanging, object colliding, the sound of whistling tones reflecting off a long stretch of empty, buckled side street in the too-late hours). The raw elements got me to 40% of "this is lovely." How the sounds were assembled handed me the remaining 60%. The finished product is like being in your favorite abandoned all concrete rehab/medical center. You know, the one located next to the manufacturing plant fabricating automotive springs for off road vehicles 22 hours a day…the one behind that last freeway exit next to the middle of nowhere, where the exit is taken only out due to miscalculated desperation to find a u-turn (which doesn't exist for many, many long miles.) Animals lurk amid the dying grass, toxic waters, and scraps of the mechanized world. Gray skies and blue/back clouds offer no consolation from above. Power lines to the manufacturing plant hum and buzz, as does the intermittent sounds of mechanical labors. The breath of the civilized world is being smothered, and Hålrum documents the death throes nicely. Although I prefer not resorting to the facile "sounds like a combination of X Y and Z," elements of this CD bring to mind six artists whose work I greatly enjoy, so I hope you'll forgive this summary: Z'EV is rehearsing in a kitchen co-owned by Steve Stapleton and Eric Lunde; upstairs, Chop Shop is rewiring some uncertain hulk of rusted metal and telephone wire. In the back yard (a flat of cement and rusty water), Vivenza tunes up his chainwheel wheat thresher as the Hafler Trio retranslates broken frequencies on the collapsing porch. This is a beautiful release that SNSE should unequivocally consider a laurel to rest upon.
NUMBER NONE: Urmerica CD (REBIS)


Some pretty harsh deep drone stuff from here in Chicago. Definite noise aspect to it -- maybe even, dare I say it, industrial? I swear I can hear the ghosts of Neubauten teasing through the din, with a depressing dystopian factory vibe throughout, audio scenes from inside an empty scorched urban industrial park. Not the most free-flowing gush -- maybe a little stiff -- but powerful, suitable, detailed, and the stiffness may be intentional. And then the shuffle takes me back for a re-listen to track one, "Suggestion for a New National Anthem," and damn, this sounds like some lost ultra-heavy prog instrumental. It can at least be my new anthem for the city of Chicago -- this noisy, busy, ultra-flat city seems like the right petri dish for growing this kind of sound. Plus, it's very hot today in Chicago, for like the 35th day in a row, a real climate-change kind of summer evening, so I have my windows wide open. It's rush hour in the city, and I live across the street from CTA el tracks, so there have been noisy commuter trains going by almost constantly for an hour now. I don't think there's one going by right now, but I swear I can hear one . . . . . . . . . . . . . . so it must be coming out of the speakers, the same train-sound exactly. I think Number None might've recorded the el train that goes by their apartment and put it on the album, so I'm having a real Chicago moment here . . . maybe the same train they recorded is still in use and going by my apartment right now.....
NUMBER NONE: Nervous Climates 3" CDR (NEW AMERICAN FOLK HERO)


Holy shit, Number None have really delivered on all the promise of their fine Urmerica album with this short and sweet mini-masterpiece. 4 tracks and 18 minutes and it's really just about perfect. Super-ghostly deep-brood stuff with strange and welcome hints of melody spun throughout. Plus, the CDR is spraypainted. Spraypaint always rules!
PAAVI LP (LAL LAL LAL)


With its latest batch of releases, preeminent Finland record label Lal Lal Lal seems to be moving away, in several different directions at once, from the communal forest whiff it's been handed. Such as: teenage industrial punk and dark ambient (the MWM/Maryfist split cassette), techno-kitsch (the Kompleksi 7-inch), and killer solo works like the Fricara Pacchu cassette and this vinyl LP, from a member of Munuaissymposium 1960 (split 7-inch with Maniacs Dream ruled) and The Puke Eaters (that's an act I haven't heard yet), known here only as Paavi. The graphics on here are typical Finland-style head-scratchers, such as the paste-on cover photo of two suburban 90s girls wearing goofy masks and sweatshirts (one of which says "Hockey Club Original Sportswear"!), and on the insert a super-glossy color photo of a topless mama and her baby (turns out she's the artist's sister). As for the center labels on the record itself, one features an extreme close-up on the bikini-clad ass of a person of unverifiable gender, and the other says "FUCK THE COPZ" in gothic writing! The music, on the other hand, is pure serious solo-thought mind-stream zone-out drone, and it's all played on an acoustic piano. Two side-long tracks, just like in the old days. You could bring up Charlemagne Palestine, because this is indeed "strumming music" played on pianoforte, but this is slower and weirder. The first side-long actually strikes me like Jandek recording speed-metal demos, the way its one note goes from walking to jogging to sprinting and back down again. The second side drone-out is more lush but still has a pretty rich dark edge. Top ten of '05......?
PEEESSEYE: oo-ee-oo (burnt offerings) CDR (EVOLVING EAR)


This band put out a fine CD last year and this is a very good followup. Last year's Artifically Retarded Soul Care Operators was a weird and somehow starkly original dose of harsh improv, taking cues from AMM and making it younger, youthier, stranger, skatier. They were called PSI then, or psi, but now they're called peeesseye, or Peeesseye, or PeeEssEye, maybe because too many people were pronouncing their name "Psi." (As in "Main Entry: psi, Pronunciation: 'sI, Function: adjective, relating to, concerned with, or being parapsychological psychic events or powers <psi phenomena> <psi capacity>," from dictionary.com.) I like the new spelling, it makes me think of Peace Eye Bookstore, and after all there is an Ed Sanders reference in the title of this album (see The Family). The music this time seems more acoustic and it's one 31-minute song. Yes, it is a song. It has singing. There was no singing on the previous album. They are a disorienting band. I'm writing short sentences now. And "oo-ee-oo (burnt offerings)" is being very quiet now but occasionally squeaking. And drumming. Someone on the CDR is playing drums. My typing is louder. Very sparse shit. Totally spaced-out. The cover of this CDR is hand-made and pretty spooky, like it's packaged in a piece of a 1970s J.C. Penney catalog (lifestyle section), but with the addition of a Led Zep Presence style-move (hand-drawn), a cryptic inflection of the arcane. And the music just might be a deep black/bleak folk ritual, with the good sense to not call itself by some "adjective folk" genre name.
CARLY PTAK: Both CD/DVD/PRINT (HERESEE)


Damn, this one has been sitting by the stereo for awhile and I'm just now getting my head around it. As regular Blastitude readers should know (she was on the cover of #11), Carly Ptak is part of the not so new, truly weird, and definitely American group known as Nautical Almanac. Originally part of the early Hanson Records etc. scene in Michigan, they have since escaped the Midwest for the fertile/feral/fecund climes of Baltimore, where they run all sorts of daring enterprises from their not-completely-secret above-ground lair. (Go to the Heresee website for a glimpse, and remember, confusion is next.) There seems to be something unique about every Heresee release, and Both, for example, is a CD & DVD & print set. (Yes, the cover art is a removable foldout print that looks and feels like a nice densely-colored painting. People say "suitable for framing" a lot when hyping up album cover art, but if I had another copy of this, I really would frame it. Right now it's working too well as the cover art!)
The music on the CD is initially notable because it consists entirely of vocals, with lots of overdubs and weird post-production. The transmutation and reapplication of the human voice has been an ongoing area of investigation for a lot of the Michigan crew, with Wolf Eyes getting their Henri Chopin on here and there for some time now, and Both (along with the earlier Quinta Essentia spoken-word compilation on Heresee) seems to be an apex of this area of investigation. This collection of jarring and super-weird speaking-in-tongue voicescapes is some pretty severe stuff, but get in the right mood, lay down, and listen close, and you will enter an entire universe of sound, surprise, and incantation. A lot of people these days are chasing after anyone with an acoustic guitar and a cracking voice so that they can dub it "freak folk," but maybe they should be looking at something like this instead.
I also have to mention that interspersed throughout the voice pieces are several excerpts from Ms. Ptak's appearance on the Art Damage Radio Show on WAIF in Cincinnati, Ohio. A male caller is talking on air, sounding older, lonely, intelligent, friendly enough, only slightly creepy. Slightly creepier is Ptak, as she calmly responds to his queries and conjectures by dispensing wisdom and confusion in equal measures, with a voice that sounds paranormally treated like something out of Mothman Prophecies. I thought she had run her voice through some FX, but it turns out the phasing and distortion were just naturally there on her recording of the broadcast.
And wait, there's still a whole DVD in here . . . it features four medium-length experimental films, and jeez, here I thought the CD was weird . . . . last night I sat down and watched all four of these in a row and I still don't quite feel like I'm back on Earth yet. The first one Foci Coincide is a fairly traditional concept, in which moving images from machines and nature are stitched together via superimposition, given an aggressive and futuristic twist by things like extreme close-ups of chemical pollution floating in water, the insectoid branches of a dandelion, the spokes of a bicycle, and more, with music at least as harsh as Mick Jagger's score for Invocation of my Demon Brother. The second one Secret Mist is just nuts, like afternoon public-access self-affirmation TV meets Zardoz, with a cheap-video transparency of the face of Ptak, or somebody, superimposed over shots of nature and etcetera. She addresses the viewer directly, making eye contact, with more of those unknown mantras, closing her eyes and breathing deep in between words. Third film is called Dark Fare and it's a rather kinky and disgusting Sadean piece involving decadence, costumery, and lots of food and wine. And the last film, Pronoia, is a slowly changing series of Ptak's extremely distinctive and, yes, pretty goddamn creepy (and beautiful, don't get me wrong!) photographic prints. The soundtrack to this film is another radio routine with a caller -- she's really very mesmerizing when she does this wise/confused talk-radio guru thing. She even sounds like a hypnotist. In fact, I'm feeling kind of hypnotized right now. Have I ever show you how I can bark like a duck?
RITUAL ALL 770: The Songs CD (FIRE MUSEUM)


This just in: a label from San Francisco called Fire Museum Records has put out a CD reissue of the debut album by Alan Sondheim's classic Providence-based Ritual All 770 band. The album is called The Songs, was recorded in March 1967, was self-released in enough of an edition for the name "All 770" to end up on the NWW list, and is a must-hear for fans of the group's two subsequent albums on ESP-Disk (Ritual All 770, also from 1967, and T'Other Little Tune, from 1968). In fact, it's my favorite of the three. Gorgeous but constantly challenging improv mystery-movement with femme-chorale vocals. Sondheim is credited with a super-whopping 19 different instruments (including his slippery weird electric blues guitar leads that you will remember from the ESP releases), and is joined by others on a basic core lineup of bass, trumpet, cornet, "jazz drums," and tabla (with many other instruments filling out the ensemble). Again, the two women on vocals are awesome (Ruth Ann Hutchinson and June Fellows). Also check this wild interview with Mr. Sondheim, and there's always the strange and deep asondheim.org.
ROXANNE JEAN POLISE: Nice Hands CS (APOP RECORDS)


Here's a noise guy from the Flint area of Southeast Michigan whose work has maybe been a little overshadowed by the all the great shit coming out of the Ann Arbor/Ypsi area of Southeast Michigan. Not fair, because this is a real good tape of heavy noise textures and movements. Starts with a 'hooky' rhythmic metal-on-metal thing submerged in huge echo, which gives way to a large wall of obliterative sci-fi noise. The next track is a slow builder, an electronic storm moving in from the next valley until everything is black. I don't know, these scenarios have all been metaphored to death by noise music, but this time it just sounds good, and that's all that matters. Side two is labelled "szzidee go to sleep" and that's about right -- more deep-drone texture, slightly but only slightly prog-melodic, super-quiet and chilled-out. Nice Hands? Nice tape!
SALA-ARHIMO CD (LAST VISIBLE DOG)


Is it too late to nominate another album for this issue's Popol Vuh award? Who the hell are these people, Sala-Arhimo? What kind of name is that? And how did they make one of the finer psychedelic krautrock-style albums of the 2000s? (Judging from the song titles this is a Finnish group, which pretty much answers all my questions.) Woodwinds, sci-fi hum, arpeggios, trances, melodic vocals -- I'm telling you, if this was on vinyl it would completely destroy me. Luckily it's on CD and I'm still able to write these words. And as to the "who" question, Last Visible Dog website says "Solo release from frequent guest player with Islaja." So, this is from Finland, and it's only one guy, and hey, I saw Islaja here in (Chi)town last year -- was that him?
SAPAT CDR (BLACK VELVET FUCKERE); NO-NECK BLUES BAND: Qvaris CD (5 RUE CHRISTINE)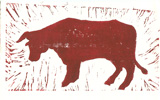 HOLY COW, and I'm not just making a joke about the cover art. I did not expect full-on tunes on this new album by Sapat. I did expect some jams, in fact some of the very best in wasted and improvised long-form rock-and-folk chanting and moaning available today, but certainly no songs with words, verses, and choruses. But I'll be damned, there are a few on here, like the very first one, a lurching acid monster stooperfuzz bad-vibe blowout circa 1972, with vocals supplying psyched-out lyrics and a couple of the best rock screams I've heard in the last five years at least. In fact, they're literally quoting Amon Duul 2 in there somewhere, and speaking of krautrock, track three (no titles that I can find) sounds like one of those little Damo-sung 3-minute glories on Ege Bamyasi. (I know, I know, the name of Can gets dropped a lot, like every time some new space-noise band manages to put out a CDR and has a drummer who is able to play in time, but this here is really the real Damo-deal.) Track five has singing and words too, this time not like krautrock at all, more like great Sapat rock, with some kind of blues-mumble going on. And I haven't even mentioned the more Sapat-traditional all-instrumental jams, which are as good as ever, especially a lovely little bluegrass spinner in which backporch fingerpicking hovers comfortably above a black hole of space-sound.


If you aren't familiar with Sapat, they're a large ensemble with morphing personnel, more or less based in Louisville, Kentucky, connected closely to such other scuzz-folk ensembles as The Virgin Eye Blood Brothers and The Valley of Ashes. I've always kinda thought of Sapat as a Midsouth mirror held up to the decade-old No-Neck Blues Band (NNCK) visage, and indeed I do have this new Sapat album in the changer at the same time as NNCK's very strong new album Qvaris, and the side-by-side gives me a vision of Sapat as the adventurous younger band trying new moves with vigor, surging ahead of their mentors, who are sagely waving them onward.
NNCK do new moves on Qvaris, but it's more like subtle new ways of framing old moves. They're a little more coy about it -- they are after all the old men of the mountain. (First releases were over ten years ago!) High no-mind electro-synth-squiggle duets and trios still fall into shambling Beefheartian full-band no-chord animal-vamps, but this time it only takes 2 minutes ("Qvaris Theme") instead of 22, and the remaining 20 minutes are divided into three or four shorter pieces, smaller chunks of different serpentine fires. They've always been subdued, slithering, creeping on the downlow, and there are not a lot of vocals and almost never any words -- these tough guys still ain't talkin'. (Not that it makes the vocals on "Lugnagall" any less sublime.) This is something like their fifteenth full-length album, and to still be keeping it so low-key and song-free, it's almost like they've set up camp inside their own bunker and they do not want to leave, not even to go to the store. On the inside, they've become a sinuous and sinister lean-and-mean true-blues machine that stomps and shuffles and ambles forever down dark corridors. It's pretty intense, and always rewards investigation -- some assistance can be gleaned from this interview -- but lately around here on these lovely fall days it's been the wild and loose and somewhat less clandestine ventures of this new Sapat disc that I've been coming back to more. (And look for a new Sapat full-length on back-for-the-attack Siltbreeze Records sometime this year....)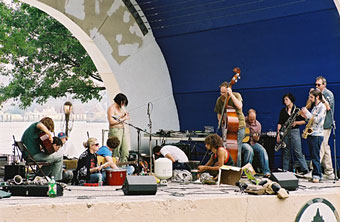 SAPAT: "...a large ensemble with morphing personnel..."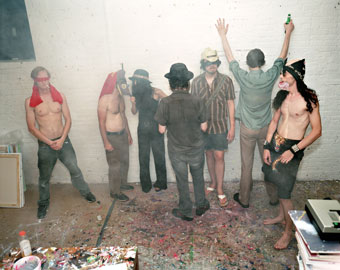 NO-NECK BLUES BAND: Hell yeah. (Photo by Bryan Leitgeb.)