The Big Store:
South by Southwest for Scroungers
by Charles Lieurance
"I like going shopping / Shopping in the big store / Shopping in the large store / Or any store that's big / In the big store / It's the biggest store in town…" -- Stephen Duffy/Nikki Sudden
Part One – This Band Could Be Your Next
This year's SXSW goal was to see all I could, eat and drink all I could … for free. I mean, it's something to hang a story on, right? I know it's slightly childish. At my age, I should be stomping this big fairground with a platinum badge, and howling on and on about how Neil Young hopped onstage to play "Cowgirl in the Sand" with Franz Ferdinand at 2 a.m., instead of limping around the periphery in broad daylight with a star map and a dream, right?
In my defense, I didn't freeload those magical four days because I felt some god-given sense that I was entitled to see a hundred bands (all it's humanly possible to actually absorb in four days, I think) & drink & eat without foraging for a single penny, but because I didn't want anyone to get the wrong idea about SXSW, especially red-centless youngsters who can't cough up the completely reasonable $180 for wristbands, which sell out quickly anyway. I've missed out on seeing a lot of friends because of the economic realities of this, the most economically unrealistic of rock festivals. So I'd like to prove it is possible to come to Austin & wallow in the music & comestibles with nothing but gas money & a place to crash.
Recently, a friend of mine served some time for a misdemeanor, and when I picked him up after his 10-day stint at the Del Valle Correctional Complex, he whispered to me frantically: "It isn't working, this justice thing. It just isn't working. It'll collapse in two years." He related how every day hundred upon hundreds of perps are bussed downtown to the courthouse and paraded through the system with little to no regard for their individuality and humanity, and scarce regard for the actual nature of their crimes. A man who beat his wife senseless with the butt of a shotgun got probation and left the courtroom a relatively free man, while a man with a second DWI (a marquee crime in Texas) was sentenced to 120 days and was quickly bussed back to jail to serve his time. Convicts were toying with the baroque sentencing laws, breaking probation to serve small amounts of county time, playing one sentence against the other, etc. People were purposefully being arrested to plea bargain one infraction against the other, which actually worked in the glutted system. "We're just going to have to find some level of illegality we can live with, some infractions that don't warrant punishment, or we're doomed," My friend prophesied. "There are just too fucking many criminals…"
Likewise, there are just too fucking many bands. And that's why, to some, South by Southwest is NOT working. Most critics point out that the festival began as a place to showcase "unsigned" bands. But once you start getting into these musico-political conversations, you're almost immediately in over your head. "Unsigned," "indie," "alternative," "big label," "corporate" – these are all slippery slopes, and just when you think you've got it nailed down, a smoke bomb will go off and once the plumes clear, the whole vista will have changed. The truth is, a lot of the bands early on were "signed" bands. In other words, they'd released something on CD or vinyl. Most of these were actual labels, though small and panicky, and some of these became actual corporations once "indie" rock began to flourish on the internet. I'm not going to put quote marks around any of these tenuous adjectives anymore, because it's annoying and I'm, for the most part, preaching to either the converted, or to those so set and jaded that the concepts are a fucking joke anyway. Now, if there's any quality or innovation to your music at all, someone will probably distribute it for you. You may not become wealthy, or break even, but you can probably still get into SXSW. So yes, many of the bands at the festival are signed bands, but one couldn't possibly accuse Wooden Wand, Brokedown, Faceless Werewolves, or Sound Team of being shills for the corporate machine - unless, of course, you're the type who just does that to be a trouble-maker. In which case, God bless you.
These free day parties are especially fine for seeing a panorama of legitimate, sacred failures, who – like the Scottish midge – will barely pluck the surface of the cultural/corporate pond, but will grab the attention of anyone with a little adventure and pity in his soul. These are unmistakably underground bands, and there are a thousand of them playing this festival. Which brings me back to sheer numbers. No one is going to tell anyone they have to forego starting a band until three or four others break up; at least not on my watch, but the thought does cross your mind after viewing a schedule of events, and then again after seeing three or four bands in a row who seem to be plowing the same turf. Sadly, it's turf already plowed into ash and dust around 1982. Still, with this kind of volume, it's pretty hard to say the festival organizers, and the various bars and clubs and restaurants aren't doing their level best. While some hip Austinites vehemently accuse these organizers of cultural war crimes, of pissing on the very essence of South by Southwest, I just don't see it. If you're in a band of any note, you'll be able to play this festival, and, if you think you're of note but weren't invited, you either aren't really of note at all, or you'll be invited next year when you're twice as noteworthy. So stay together one more year, if you have it in you. If not, it's one more thing I won't have to try to see next year. There really are too many of you anyway.
And after awhile, one band seems as good as another, anyway, and you just sit tight at one venue, thinking you'll either witness a miracle or be stunned by the death throes of rock. Either way, it'll be an experience. And SXSW works best in passive mode, I think, just letting the music within earshot wash over you, instead of running from venue to venue like a panting pilgrim. Because, odds are, you're just as likely to be stunned one place as another, by some new find from the hinterlands, as by someone you know to be great. In fact, wouldn't you rather be pleasantly surprised than woefully disappointed? This isn't to say I sat still, as the following journal makes clear. There were things I HAD to see – Andre Williams, No Things, The Gris Gris, Mazarin, Mendoza Line, Cheater Slicks, Morning After Girls…la la la – but, whenever I could rationalize it even a wee bit, I let my essential laziness hold sway.
A couple of notes before I plunge into the details. One, I made certain choices about bands that may seem weak to some, but hey, my rock stars need not be your rock stars. For every Dengue Fever I felt compelled to see, you could have seen Elf Power. For every Andre Williams, there was a Thurston Moore or Billy Bragg, and so on. Two, as you'll see, not everything worked out. I had to purchase a beer or drink or barbecue sandwich here and there, and in the interests of full disclosure, I spent $65 in four days. But I have a drinking and barbecue problem. I'm sure you can do better. The idea is to stick with the infinite free daytime possibilities and then RSVP online for as many private night parties as you can, or simply be content to see bands all day, and then do something constructive, like change the oil in your RV, during the cool evening hours.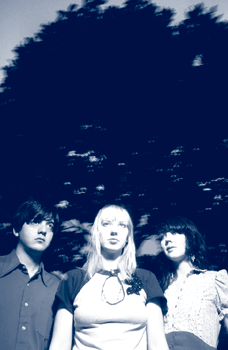 FACELESS WEREWOLVES, for example
So, I began my SXSW For Free schtick Wednesday, March 15, 2006, at noon. I started at my favorite bar in Austin, Red Eyed Fly, which promised free PBR & Bloody Marys & some bands I was marginally interested in seeing. It wasn't really the bands that drew me in, but the free PBR & Bloody Marys & the absolute beauty of the bar. My favorite thing about Red Eyed Fly is all the flaws it's hiding. When you walk in, it's a shabby chic warehouse kind of space, with red velvet couches and curtains floated dumb over concrete and bare structure. There's a stage in this room where stupid shit happens. Hippies do their folk bongo nonsense and arm wrestlers compete for drinks. It has an open, big-space Austin feel, but it's nothing compared to the band room out back. Oh, with the free drink places, always ask for three or four drinks, as if you're getting drinks for a gaggle of grandmothers who just needed to get off their feet. I asked for two bloody marys and two PBRs & headed out back. This back room is amazing. There's a big stage, still hung with banners from concerts long gone by, looking for all the world like a House of Blues barely hanging on after a fire-bombing. One side of the room is open-air, but is sometimes draped with dingy curtains to divide the musicians and their friends from the rabble. The open-air part of the band room feels like you've entered some kind of Telluride festival place where nature and music flow together. The trees are thick and everything is stony and rugged and you can hear and see water dribbling off rocks into a stream. Just don't look at it all too closely. The stream through the trees is some kind of sewage ditch. But there's no reason for any tourist to know how artificial all the beauty is. Like I said, just don't look too closely at Red Eyed Fly, it's meant to give you a sensational impression of Austin. I've lived here for two years and I'm still falling for it.
So I get my fistful of drinks, assuming there's a limited supply, and head back to the picnic area. Already I love Austin. It just feels right outside on this patio, and somehow they've made it feel like the side area is reserved for rock stars, even though it never is. So it feels great to find a seat back there and listen to the water & watch the sun fight through the prehistoric trees. It gives you a jungly colonial feeling that is most certainly the best Austin has to offer.
The first band is The Brokedown (thebrokedown.com) from LA. The guitar player has George Harrison down, and the singer sounds, alarmingly, like Jeff Tweedy. This is the beginning of my new criticism of indie rock, and no, it's not how derivative the bands are. In rock'n'roll/pop music, that's not necessarily a bad thing. Bands either pay off their sonic debts (Sonic Youth, Spacemen 3, Dream Syndicate) or they don't (The Killers are a young band, but I'm guessing they're not gonna pony up). There was a time when I thought there weren't enough evident hooks in alt/indie/underground rock, but now that every kid's spent some time with Pet Sounds & Muswell Hillbillies & Odyssey and Oracle, etc. there are almost too many pop flourishes, so one has to look for the extreme emotion. Some things have all the tricky melodicism of Elvis Costello or Joe Jackson, but I longed for vehemence, vitriol...something to pull me into these cathedrals of melody. None of the vocalists bit me with their words, so I had to appreciate the art of melodic construction. My first problems with this started with Brokedown. Because, while they were gifted & could find their way around a random lyric & a chorus, they sounded way too much like Wilco. I think it was brave to go for George Harrison's "Wah-Wah" as the second song of their set, considering they had 30 minutes to tell us what they were all about, but they pulled it off like champs. There was a gorgeous, sprawling song towards the end that was ruined by the vocalist's supreme debt to Tweedy. Gifted, lovely patio music.
When I told my friend that the next band was described as "experimental folk," he wanted the fuck out of the room. Being pretty square he had an odd idea of what that might mean. To me, I'm just grateful it's not called "folk." When I think of experimental folk, I guess Sparklehorse & Songs:Ohia & Joanna Newsome & Howe Gelb come to mind and when I described that to my friend he said, "Oh, like Timbuk 3..." and I had to admit that genre owed a strange debt to them, but it was simply square to say so. It's a case of swimming face down or up in the swimming pool. Timbuk 3 face down. They drown upon arrival. I think Sparklehorse is the pioneer, floating there in the inner tube, waiting to be read.
The Old Weird Americana combo was Castanets (myspace.com/castanets). They started out with an amazing acoustic dub version of Bob Dylan's "New Pony," all dark, dirty corners & flopsweat flourishes. After that they tinkered & creaked through a Devendra Banhart meets Califone flake-blues that made it okay that, halfway through the show, my favorite bartenders erased the chalkboard & made PBR tallboys $4.
Well, the real reason I'm here is up next -- Dengue Fever (denguefevermusic.com), The Pogues of colonial Asian music. Get a massage, see a girl peel a banana with her nethers. But it's also a band full of LA session losers, so it's even more decadent. The idea behind this band is so suspect that it's hard not to write it off. I mean, it's a bunch of dead-in-the-water Cali scenesters (Kim Fowley types) who cuddled up to those Thai & Cambodian 60s & 70s comps (Morricone, Dick Dale & a hint of green tea). But it also works. I got tired of all the instrumental round robins, which don't really heat up in the 3:50 context of Ceylon pop, but I can see how they'd light up a North Hollywood dance floor. This band feels desperate, shouldn't last another day, and felt great with a Bloody Mary and an inscrutable ascot.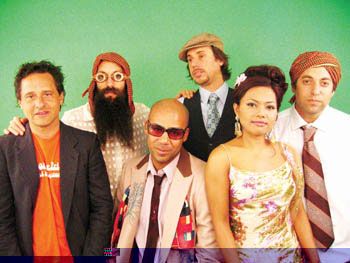 DENGUE FEVER, exotic as you or me
On, to Emo's. Outdoor Stage. I'm looking for one of my favorite Chicago bands, The Ponys (theponys.com), but it's early. The bathrooms are so evil at Emo's that the door guys are actually excited that the Emo's Annex porto-potties are right across the street. It's great to watch people file out the door between sets to use them. The band that hits the stage is Sound Team (soundteam.net), I think an Austin band. And they are a fantastic bit of Talking Heads-ish/Franz Ferdinand pop. Big, funky sprawl, no fashion attitude, great songwriting. I had the horrible feeling that some record company would try to dress them up to look moodier. But they were just Texas high wire all the way. Everything about them says NEXT BIG THING, if life were, you know, fair. But I can already tell how they'd have to be altered to fit. As they stand now, it was like seeing Talking Heads on the Remain in Light tour, only with a little more sad humor in play. The bass player using the carpeted pillar on stage as an e-bow didn't hurt.
The Ponys did a weird daytime set. Normally, The Ponys are all new wave twitch & Dick Hell tension, but for this free afternoon show, they decided to play just the tempo changers, the moody (for them) downers. You got the "Time," without the "New Pleasures." I loved watching it, but I truly hoped it would draw the "right" kinda people to what must be a more frenetic nighttime show.
When The Ponys were finished, we trekked down Sixth Street to Mother Egan's to see some old friends, The Silos (thesilos.net), and Stan Ridgway (stanridgway.com) from Wall of Voodoo. Critics have been real compassionate with Ridgway's solo career, and I took it mostly as a form of pity. Stan copped some musicians from other bands playing that day and went through a wobbly set of life-on-the-street vignettes that were alarmingly out of touch and embraced cliché the way French writers embrace shit that isn't theirs. The beer here was most assuredly NOT free. This is the yuppie end of Sixth Street and they're not giving shit away. Well, except the music. But it's Stan Ridgway, so…
I got Drew from The Silos to spot me a few of his free beers and settled in for a lazy set by this seminal alt. Folk band. Lazy by intention, mind you. They were after a lilting hippie vibe and that caught the setting sun just right. Perfect for a pleasant Texas evening, but blatantly inconsequential for a band that's often quite consequential.
Thursday, March 16th.
So Wednesday started out with me being a spoiled scenester & then being thankful for the ridiculous bounty bestowed upon me. I was pretty excited to be invited to both days of the Vice Magazine Day Party, even though I find their whole aesthetic to be creeping up on fascism. They're the frat boys who think anything they don't know is not worth knowing and have the fucking trust funds to back it up. But the simple, late-period capitalist strategy on which they've built their empire -- If you make something seem elite, kids'll flock to it -- isn't completely lost on me. I'm not made of steel after all. It didn't hurt that their roster of bands quivered nervously on the edge of everyone's Bands to Watch list. Vice had taken over two venues in East Austin, a poor but lively neighborhood smack dab in the middle of a gentrification skirmish. One is this great barbecue restaurant live-music dive called Victory Grill, where Ike & Tina and B.B. King played in the late 60s/early 70s. It's a beautiful place, all flaccid strings of Christmas lights, saddle-sunk red booths & 9 or 10 shades of darkness. When a side-door opens and lets in a machete of brazen Texas sun, you expect some high drama that never comes. Next to Victory Grill, Vice had rented a big empty lot for outdoor shows & it was pretty big & empty & had some of the best shows. Vice also commandeered the Longbranch Inn across the street, a perfect bar I can't believe I hadn't encountered before. Two dollar Schlitz, Rollergirl or Rollergirl wannabes behind the bar, a proletarian floor-level stage & a long thin open-endedness that just honks Texas chic. So I get up to the gate and expect the handle-bar mustache frat boys to scan through a clipboard for my name & then use their radio headphones to reserve me a stein of Glenlivet, but fuck, everybody's getting in. They slap on a pink wristband to show I'm old enough to drink, magic marker a "v" on my hand & that's that.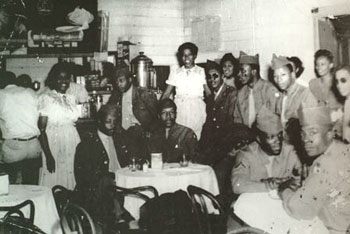 Victory Grill in the Old Days
Anyway, it turns out this party is just plain free. To everyone. I'm not in the elite post-rave cadre. I could say, "Fuck them, I don't like them anyhoo," but I did feel a little hurt. They'd just called it a private party to get past baroque Austin liquor laws that only a little Hitler with an MBA could possibly comprehend. But maybe the drinks are free inside. No. The beer is $3/$4 for imports. HOWEVER, there's a tent to the side with all the free whiskey (Phillips Union flavored fucking whiskeys, with the slogan "Whiskey Curious?"), PBR & some kind of loser Vodka. So things went like this (consider this indicative of two days worth of drinking): I walk into the outside concert area behind a band guy, a woman with a box of beer says, "Hey Lyle, have a beer," while I'm standing right next to him. He says, "Sure" and so do I, and she narrows her eyes at me. "A friend of Lyle's?" She asks. Now, Lyle's still standing right there & I don't dare look at him. "Of course," I say, and she hands me a beer. Lyle and I move along and finally I apologize, but he's laughing & thinks it's pretty funny. We shake hands, become friends & I'm pretty much in free beer & vanilla flavored whiskey (who does that to whiskey?) for two days. By the way, if I'd invented Lyle, I wouldn't have named him Lyle.
Oh, yeah, and there were bands. I walked in on Norway's Serena Maneesh (serena-maneesh.com) using the sides of the stage to rip their guitars apart & it was a splendid racket. Three types of rock -- metal & noise & garage -- are simply one-upsmanship. If you can't get louder & more ferocious & more distorted, don't even play the game. These genres progress only by how much power the band is capable of driving. Too many bands get behind the wheel of a Ferrari & hit the ditch with the first press of the gas pedal. The great metal/noise/garage bands work out the logistics of monitors & microphones & other sonic falderal & make you forget past champions (Lightning Bolt/Boris/Sonic Youth/Chrome Cranks). Serena Maneesh were hitting that zone, majestic crazy tar-rattling noise that drove earthworms from the ground (I'm not kidding). I have no idea what their songs were like, although I'd guess they fell short of Thurston & Kim's meld of pop & freakout, but the control & sonics were impressive. I mean, it helps to write a good song, but unless you've got it going on under the hood, you may as well be Foghat.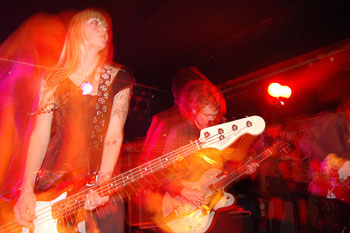 SERENA MANEESH, Hindoo Noise Godz from Norway

Next up: The Black Angels (theblackangels.com). I used to manage The Black Angels. I love them dearly. When I met them they couldn't score a gig & were bitter about Austin institutions like The Chronicle and Emo's. Now, people are begging them to come drone their sexy drone. This has zero to do with me, but I love how happy they seem & how shocked they are by the attention being ladled on them. They'd added a guitarist since I saw them last & I'm not sure if he adds much, but it does allow Nate (normally a guitarist) to anchor their swirl as a bass player here and there. I wish they weren't so obvious about their influences. They still seem frighteningly innocent about the nature of rock, and it makes me hold my breath. For instance, they covered "All Tomorrow's Parties" and Alex (I wish I were kidding) sang it just like Nico. I mean, he really imitated Nico's vocals. Pointless. Amateur. They're still a really unsure band & I want them to be more wily than they are. I hope they can become a great band, but I think they are still tied too much to the bands they worship -- Brian Jonestown Massacre, VU, etc. and they think too much about what those bands would do, not what THEY would do. Or what Jesus would do. Because it's important to get that straight.
Now we hit the difficult portion of the day. Art Brut (artbrut.org.uk). My. A band so fucking indescribably charismatic that you almost don't notice their complete lack of fresh ideas (a song about the superficiality of LA? Wow, that is soooooo on target!). This is one of England's next big things & they were the nicest guys on the planet. They're doing the usual selling out of post-punk, grabbing a little from The Fall, a little from Gang of Four....blah blah blah, but they are so ingratiating it's fucking hard to pelt them with refuse. Lead singer, Eddie Argos, IS Steve Coogan -- a wild, eccentric, self-deprecating comedian masquerading as a rock musician. They kicksarted their set with AC/DC's "Back in Black" and finished up with name-checking every band playing the Vice party ("CROM, Top of the Pops; Knife Skills, Top of the Pops...") and then...get this...they just sat there in the grass & watched EVERY goddamn band that played thereafter. I finally just went over and sat next to the front man – that's right, me and NME's next big thing – and got him to go get me a raspberry flavored whiskey drink. He's really just a character actor waiting to happen. The music is humorous, as you probably know, but there is not an ounce of staying power in this band. All that charm & none of it has shit to do with the music.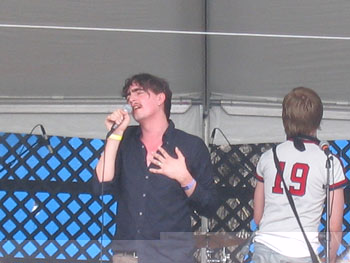 ART BRUT panders
Now, the songs I've heard by Afrirampo (afrirampo.com) have always had some control, a tinge of Martin Denny exotica even, but that's not Afrirampo. My roommate has a mildly psychotic fetish for Asian girls and, good lord, what Afrirampo did to him. It's two Japanese girls who speak the secret language of twins. One, the drummer, has a real facility with bird calls & insisted we all be very quiet and listen to the birds at one point, only to launch into the most dada skreel known to man just after. The other girl did the typical angular unresolved guitar patterns. They both seemed nearly mad and, in a parallel universe, would be hauled off to whistle their days away in the Austin State Hospital, like characters from Wisconsin Death Trip. But it's Japrock so we'll just have to wait for them to jump off an overpass in Osaka with their red-robed disciples behind them.
I started to get antsy because maybe there was a big horse trough full of free Johnnie Walker in one of the other Vice venues, so I hit Longbranch Inn & a stumbled across a happy accident, Islands (myspace.com/islandsareforever). From Montreal, and featuring members of Unicorns, they are slithering around the Top Five bands I saw at the festival. I resisted them at first, thinking they were just some local fucking joke, a band that would play intricate indie pop with a calypso beat & hope that gimmick got 'em in Magnet. But that wasn't "it" at all. The group was huge and the "stage" (remember it's just a floor-level area) quite small. Two Asian guys with white shirts & black bow ties, fresh from Suzuki method classes, played brilliantly propulsive parts while a bari sax bumped the beautiful, ecstatic pop songs along. The drummer was one of those guys who meet every eye in the room, asking non-verbal questions ("Hey, this is cool right?""What's going on later?""How fun is this, Hoss?")and kicks up a storm of long forgotten rhythms while the pop songs build to great big Shangri-Las of ecstasy. So much so, and I can't believe this happened, that two Canadian rappers joined in & took everything to heaven. Yeah, that's right. It didn't fuck up a damn thing. I'm still stunned. The Islands had a raggedness & openness that is still giving me chills. I can still hear that bari sax blurting underneath two grinning Japanese fiddlers, while the drummer wordlessly taught me to samba & the lead singer reeled out Mott & Pet Sounds & The Band.
Oh, and here's where I found out that if I went to Longbranch, I could drink more cheaply. I think I saw a bit of a band called Everloving Lightningheart & didn't care.
Onward and upward. Victory Grill. I walk back into this dark tunnel, past the barbecue counter & I'm in my element -- red & shadow flung together with lurid grace. It's where you plan a murder. I have no idea what's coming up here but I go up next to the stage & the tall mutant from the dream sequences in Twin Peaks stands right next to me. Now, I'm tall so I'm always amazed by people taller than I am, and I anxiously befriend them for reasons only psychoanalysis will explain. I'm watching the next band piece their crap together on stage and I'm pretty fucking intrigued. They both look like bikers, garage mechanics, old school hessians, and not in any effete way. I mean these guys are broad-shouldered, scruffy sans pretense. I'm trying to figure out what they could possibly sound like. The skinny guy has a bank of keyboards wired up to every kind of pedal imaginable and none of the keyboards nor pedals have any brand names, just duct tape. In fact, I've never seen so much duct tape. The big guy, with wallopsome muscles, he's on the drums and they look like toys because he's so, um, broad. So I'm trying to figure out what they'll sound like. Hm. I don't get it, but I should have. I turn to the guy from Twin Peaks and ask, "What's this band?" and feel the warm hand of good fortune wrap around my shoulders.
"They are Dutch, is called...." I have to stop here because he told me all the ways this band's name is pronounced and none of it made a bit of sense. Something about an "underscore" came up at some point. Finally he showed me the back of his badge and ran his finger across three Zs. The band was called ZZZ (soundofzzz.nl), at least here, but I had a feeling it was different in the Netherlands. It was all coming together. The very tall Dutch man seemed to think that me asking about the band allowed me into some inner circle, so he shoved me to the stage and made me shake hands with the drummer & the keyboard player, then he went outside and brought me some flavored whiskey, introduced me to several people who didn't speak English (at one point I was sure I was being married off to one of the band members...), and kept his hand locked on my shoulder while the band launched into.....I got it now. They're Can & Silver Apples. They might be the smartest band I've seen so far. Huge walls of twirping, gelatinous fuckswirl, gurgles of throb. They blew out power in the Victory Grill twice & threw up their hands in triumph both times. Just great. Fantastic minimalist Krautrock. The guy with the Z(underscore)Z badge brought me four Whiskey Curious drinks during the set. I think he thought I had something to offer that band, but thankfully the language difficulties kept the question from actually arising.
So I'm thinking, hey, are there any fucking bad bands at SXSW this year? Have I just gone soft? Maybe I've grown into one of those guys who just likes all music. Look at those boys playing their hearts out, how can you hate it?
Back to the Vice Lot. All the worms have been driven from the ground, so it's a pretty good setting. I grab a few more PBRs on Lyle's dime & sit down to see the GO-TO show: Witch (teepeerecords.com/bands/witch), J.Mascis' new band. Admittedly I didn't read much about this, but I love Dinosaur, Jr (wow, surprise), so I settled in & Jesus, what's up with this? Stage front is Mascis, behind a drum kit, a jowly sadsack fronting a deeply lame metal band that isn't even cool enough to enter New Metal cliques. It was so fucking sad I had to escape to Auditorium Shores to see Spoon open for Echo & The Bunnymen.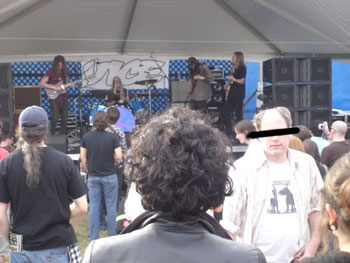 Me, not liking WITCH
Okay, I'm 43 years old. So I was there (or here) for Echo & the Bunnymen. It wasn't my favorite music, but I appreciated the decadence they were trying for, loved the ringing guitars, nodded at the wry Liverpudlian wit, enjoyed their somewhat misguided takes on American psychedelia, and la la la. I just remember that the record store fags really went for this so I made fun of it whenever I could, and I just couldn't bear their pronunciation of "tortoise" in "Seven Seas," though now I think it's kinda cool. "Villier's Terrace" was always my favorite song of theirs. My friends the Lampshades, from Lincoln, used to cover "Bring on the Dancing Horses," which has always hit my in the chest just like "Unguarded Moment" by The Church (I think they're distant twins), but otherwise I was lukewarm about the Bunnymen. I'll just admit it, Donnie Darko rehabilitated them for me. When I heard that sitar/guitar temple chime from "Killing Moon" come out of that fucking Dolby speaker at a theatre in Chicago, I revisited the whole Echo & the Bunnymen catalogue, rethought it all. Now I see the Velvet Underground influence, the popcraft, the way Ian won't distinguish lyrically/vocally between irony & sentiment.
I'd been thinking all week about how it would look, "Killing Moon" starting while the sun set & the Austin cityscape twinkled to life. I expected the deeply intimate moment I had the year before, when Alejandro Escovedo opened for Ian Hunter. Really, is there anything in the world more beautiful than standing outside under stormy skies, watching a city light up, and hearing "I Wish I Was Your Mother" by Ian Hunter in a crowd of worshipful true believers? I forgot Spoon was being played on The O.C. & Everwood & any other TV show that would have them. I forgot they were darlings now. The Shores were packed. Well, I thought so. Oh, this show was free, by the way. I walked in and hit a wall immediately. I stood stupidly far away and watched Spoon, a band I basically admire. It was a moody, weird set though, and didn't fidget with the barely contained anxiety that I normally love from Spoon. It did call attention to the great late-period Beatles keyboard parts that animate all of their more recent songs. I love how the songs swirl around these Beatle-esque piano loops. I was so far away that I can't say I got much more out of it than that. Then, I thought, hey, what if people are just stupid as fuck? Between the front gate and the stage, there's a rolling little stone wall & sometimes people forget they can go beyond it. So I walked around the crowd and sure enough, you could cuddle right up to the stage.
Those Bunnymen come on & you notice right off, hey, Will Sergeant & Ian McCulloch can't fucking stand one another. Will's standing about fifty paces to the north of Ian & not giving a quarter. He never looks at, relates to, or recognizes Ian. For the length of the show. So he's become the sound effect guy, doing all the cool flourishes, while Ian plays with this band of young turks and kicks ass. It was an incredible show and the lights of Austin sparkled with lush abandon during "Killing Moon," and the weird, condensed asides to "Walk on the Wild Side" & "Coney Island Baby" (easily the most ignored Lou Reed song and, next to "Street Hassle," his best).
In the crowd I lost all my rides and felt that beautiful walk over the river into the gleaming city courage, so I headed to one of two private invite-only parties, mostly to feel special. Remember, so far, aside from a few beers, this has all been free. I felt betrayed by the Vice party thing, so I needed to get some ego boost. There was a terribly hip party sponsored by Addvice that I could've gone to, but it was pretty far away. It did promise free Rolling Rock & Sparks (more about Sparks tomorrow) & it was in an East Austin warehouse space, but the only two bands I cared about were The Arm (one of Austin's best -- they rump like The Fall) (thearmtheband.com), who I see regularly & Whirlwind Heat. I chose the Diesel party at Sagarruende Hall, a Teutonic meeting lodge, because it was close. I already figured it would be like the Vice party, where I'd have to pay for everything & I'd have to slag along with the riff-raff.
Nope. They looked up my name on a clipboard, treated me like a retarded millionaire & plied me with Bacardi & Red Stripe. I walked up to the bar and pretended I was shopping for six, asked for three rum & cokes, a vodka & coke (Coke was the only mixer they had) & a Red Stripe. I ran into some industry types I knew who were licking their coyote jowls over an Austin band called Voxtrot (voxtrot.net). Listening to them, I have no idea why I don't love every breath they take. It's perfect pop, but the mechanics of that perfection seemed to get in the way of me actually disappearing inside the music. Those kids and their Pet Sounds again. This has got to be JUST ME, cuz there's no reason in the world why Voxtrot shouldn't be big label hotshot do-gooder rock stars, but I couldn't get a handle on the songs because of how constructed they were. There were just too many hooks, and I never thought I'd say that.
A few more trips to the bar, then home.
Part Two – Urban Outfitters of Montreal
The first South by Southwest was held in 1987, and was initially designed to introduce industry professionals to emerging young bands, and to introduce the industry to Austin, which has the disadvantage of being a reasonably lush and sophisticated college town stranded in the middle of Texas. As everyone with even a passing acquaintance with music knows, the festival has exploded over the years. Even the notoriously up-to-date Wikipedia says that the festival is held in "dozens" of venues all over town. Well, that may be true for the festival proper, but in reality there are bands playing in hundreds of locations - anywhere you can set up an amp, really. There are bands playing in clothing boutiques, record stores, grocery stores, and in innumerable parking lots. The dozens of official venues even have more than one stage going at a time, and sometimes a tented annex stage in whatever empty lot they're able to commandeer.
To show the level of near-panic the city reaches for four days in March, here's a longish excerpt from the Austin Chronicle TCB section (by Christopher Gray), post-festival:
The grumbling that SXSW is spiraling out of control was louder than ever this year, but [SXSW Managing Director] Roland Swenson isn't buying it. "I don't think so," he says. "There's built-in limits. There's only so many hotel rooms or seats on airplanes. Next year, there'll be 400 more hotel rooms right by the convention center."
"People said SXSW was too big ten years ago," smiles Swenson. Since then it's only gotten bigger, thanks in large part to the corporate-sponsored day-parties – some, like Red Bull and Levi's, rented vacant venues for the entire week – that have proliferated like so many mushrooms after one of our all-too-frequent Central Texas showers. Dozens of Austin bars and other businesses have responded by hosting their own non-SXSW shindigs.
"That's an issue for us," Swenson admits. "We recognize that parties are a big part of the attraction. It's not like we want them to stop, but I wish they wouldn't start so early. There's not a whole lot we can do. All we can really do is make the programming compelling enough that people will want to go."
This may work itself out naturally: […] lines for day parties this year were much longer than for all but a few SXSW showcases, like the Flaming Lips' "secret" Eternal show Thursday and Aussie diva Sia at the Parish Saturday.
The good news is, most of these day parties are free and open to anyone, or someone with just a few very minor connections and some internet savvy, like myself. The better news is, they're often sponsored by a beer or liquor of some sort, and the drinks are either complimentary or they're guarded in a most lackluster fashion. Most of the retail outlets that hold shows have iced buckets of free beer to offer folks who choose that route.
The bad news is, if the powers that be at the festival think all these free, "private" day affairs are cutting into their action, we might see a slightly more restrictive daytime roster in the next few years. I should have known, really. It isn't often I get this beautiful pinprick chill down my spine for four days running. You begin to feel you're doing something morally wrong after two days of free music, food and drink, and anything this decadent and transporting surely cannot last.
Friday, March 17th.
Day three began at Urban Outfitters on Guadalupe, a short stop to catch Of Montreal (ofmontreal.net), a survivor from the much-loved Elephant Six collective. Most of these Elephant Six bands have the kind of impact miniature goats and donkeys have at fairground petting zoos, but Of Montreal, and compatriots Elf Power, have dragged their presence and sound from endearing to pertinent with defiant aplomb. Instead of having the sound of tinkly toys wound up to elate the child in all of us, they seem to have embraced their inner rock gods. Good for them. Although there was free beer somewhere in the congested store, I didn't try to plow through. I have a hard enough time bracing for a trip to Urban Outfitters as is. I was glad when select Ace Hardware stores began carrying the very same cocktail gear.
The plan, after this, was to head over to North Loop's Block Party, which promised Elf Power, Black Heart Procession, The Cuts, Magnolia Electric, Vietnam, and dozens of other name acts, but I let laziness take over here, and wound up back at the Vice Party triangle, mostly compelled by the promise of Deadboy & The Elephantmen, a late afternoon performance by Roky Erickson, and the triangle's proximity to Mrs. Bea's where The nO Things were playing midday.
I stopped by the Longbranch first to exhaust a couple of bottles of High Life, and then headed over to the outdoor stage to take in the Beefheartian carnival rants of Philadelphia's Man Man (wearemanman.com). Though it was around noon – not the ideal time for this sort of knotty insanity – Man Man created a perfect false midnight bacchanalia. The songs from their second full-length, Six Demon Bag, are slightly catchier than the ADD racket of their debut, but the rollercoaster ride is just as raw and potent. Now it's listenable to boot.
UK's Mystery Jets (mysteryjets.com) kept up the slightly nutso Mardi Gras vibe. They're a percussive, tribal version of The Soft Boys, eccentric and puzzling but still essentially a pop band. If you stripped away the bells and whistles, you might just have a whacky Coldplay here, but I didn't want to over-think the ecstatic rhythms this early in the day, so I welcomed the colorful wrapping paper and saved the actual gift for pondering at a later date.
Guillemots (guillemots.com) bounced onto the stage next, disguised as gypsies, or the cast of a slipshod production of Pippin. They played perfectly lovely, dime-a-dozen Brit pop, enlivened somewhat by quirky noisemakers (including a manual typewriter), a giddy lead singer, and a vixen giantess on the stand-up bass.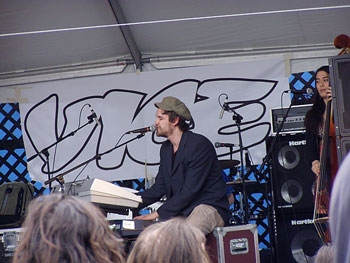 GUILLEMOTS: Gentlefolk amongst the Pervo-fascists
Things were running late and I was afraid -- though the shows were officially staggered for my benefit – that Morning After Girls on the outside stage, and Deadboy in Victory Grill, would overlap, causing me some measure of distress. I decided to stake out a spot in the welcoming whale's belly of the Grill, just in case Deadboy were red hot and packed the small band room. Between you, me and the flyspecked wallpaper, I was also hoping to see the very tall Dutch man again, hoping he'd reprise the previous day's generosity. No such luck. Instead I found three or four bands sprawled out in the most shadowy booths, getting some much-needed sleep. Serenading them, and a smattering of what looked to be band girlfriends, was enfant terrible Micah P. Hinson (micahphinson.com), a notoriously troubled young Texas songwriter who'd served jail time and been a major drug addict all before he was fucking 20. Like James Taylor, who had a similar tale of drug-addled woe, Hinson writes ponderously dull songs that aspire to Will Oldham (or maybe Jens Lekman), but don't come close. You'd think wild living would get up a good head of songwriting steam, but that's not always the case, apparently. Hinson just released a CD on Jade Tree Records, so somebody likes his dishwater blond electric folk.
Deadboy & The Elephantmen (deadboyandtheelephantment.com) are a duo. There's a pretty girl playing drums and a shaggy guitar prodigy up front. You'd be excused for thinking what I was thinking before I heard the music. Just when it looks like they're about to begin convincing us they're not a White Stripes tribute band, an earth-rattling roar, iced with crackling electricity and an almost inaudible high-end squeal, starts coming from amps, monitors, the paneling. I've been in and around bands for over 20 years now, and I've never, ever heard a sound so brazenly designed to physically harm people. I figured anything so horrible would have to have a quickly identifiable source (like someone put a plugged-in distortion pedal inside a microwave, somehow managed to start it up, and aimed 12 Shure PG-48s at the resulting cacophony), so I remained in the room while everyone else raced for the exits. Well, that's not quite true. The sound guys looked like someone had grabbed their balls and rotated them like a pecan twist. The drummer, Tessie Brunet, ducked and covered behind her kit. The man behind the beverage counter looked bored as hell and didn't even reach for his ears. Dax Riggs, the guitar hero, froze and went pale. So, this was really mucking up my schedule. It looked as if Morning After Girls, Deadboy & The Elephantmen, and The nO Things would all be playing simultaneously. I spent the next half an hour running back and forth between the outdoor stage and the Grill, hoping for something to give. Finally, Australia's The Morning After Girls (themorningaftergirls.com) came on, but I was almost too worried about what was going on with Deadboy to enjoy their swaggering space buzz properly. They're like Black Angels with more confidence and rock star insolence. Oh, and a vocalist who can go from junkie mumble to Bon Scott's ballsy shriek in the thump of a floor tom. But what was happening with Deadboy?
Well, now some TV or radio signal had added a mid-range to the intermittent roar, and the sound guys were switching out monitors like ball bearings. Riggs and Brunet ('70s cop show?) were slumped into a booth, heads in hands. I went over to Longbranch to have a beer, for some reason choosing to drink and fret instead of watching the end of Morning After Girls' set. When I finished the High Life, I returned to Victory Grill and, by God, Deadboy was mid-song, and altogether unlike the White Stripes. Deadboy is snagglier and more indebted to the tempo change-ups, dynamics, and orchestral movements of early acid rock than to the blues angle. They're tougher than Jack and Meg, a fortunate middle ground between the steely sex-raunch of The Kills and the longtime married couple trying to spice up their relationship with zipper masks and dildos on Friday night (but cuddling later) that White Stripes have become. After another completely cool (nothing at all like WS) song, the Victory Grill's power blew again, and Riggs snapped a string. He smashed his guitar neck into the mic stand, knocking it over, tossed his guitar on the stage, took a breath, apologized to the sound guy for the microphone, and hunched off into the shadows. Brunet followed sheepishly. I had to go see The nO Things.
It was six blocks to Mrs. Bea's and the most adventurous four-day bill at the festival. If I'd had an ounce of real courage, I'd just have camped out behind the humble little Mexican bar and been astonished by act after act. The shindig was sponsored by The Rambler, a 1980 Chevy Box Van from San Francisco. The van transforms into a soundstage with a PA and all the amenities. The van is from San Francisco but it apparently drove itself to Austin and rented out the back lot of this very authentic Eastside cantina. I've seen the band Friends Forever utilize this means of touring. In fact, maybe they were friends of this van. I never asked. This are two stages of Animal Collectivey/Brut Proggy/Load Recordsy/Tard Metallic mayhem, and from a block away it sounds like one guy is spastically hitting the real audio samples on Rahsaan Roland Kirk's Allmusic page while his friend plays Donkey Kong for the Hearing Impaired. Out front, bar regulars – mostly old Mexican men in straw cowboy hats seemingly oblivious to the tuneless madness going on in back – have brought crock pots of Mexican food to sell to the mathy enclave of hipsters who are shifting, almost imperceptibly, from stage to stage, for hours at a time.
When I arrived, nO Things' pals, Knife Skills (knife-skills.com), were charging through a more severely analytical version of whatever it was Babes in Toyland went broke doing in the early '90s. Instead of raw id, though, this machine runs on tightly wound anxiety. Now, two members of nO Things (no-things.com) are good friends of mine, so you can take whatever I say about them with some caution, even though I've been known to tell close friends to their faces that their bands aren't worth a piss and a shake. nO Things feature Pat Noecker (Nature) and Ron Albertson, who were unceremoniously ousted from the notorious NYC-by-way-of-LA-and-Australia band, Liars. I made a point of telling them I'd read in a free copy of Vice Magazine that the new Liars CD was named worst record of the year, and it's only fucking March. High fives all around. I really love what Pat and Ron are up to now. nO Things songwriter / vocalist / guitarist, Christian Dautresme, writes lean Lautremont-style lyrics that wiggle and squirm from syllable to syllable, taking you through urban hellscapes into fleshier infernos with dazzling skill. While Dautresme played edgy, condensed versions of Television's staticky guitar filigree, slashing here and there for emphasis, Pat absolutely reinvented bass pyrotechnics, savaging the instrument, but in a highly melodic fashion, like the dubby skeletons on early Liars material, but way more interesting. And Ron trapped this tense, vaulting buzz into rock songs. I have to admit I thought Dautresme was a trespasser when I first saw him pacing around the Rambler, figured he was looking for a free beer tub. He looked like a grad student fallen on hard times, maybe even an elder statesman frat boy. He's a stark and pretty damn fascinating contrast to the Birthday Party-era Nick Cave braggadocio of Liars' Angus Andrews. In the "Who can out-No Wave the Original No Wavers?" office pool, I'll take nO Things.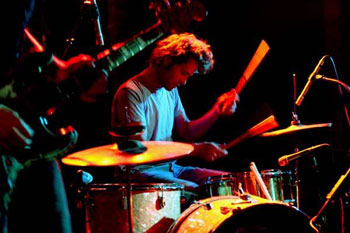 Ron Albertson of nO Things
I spent most of Drums and Tuba (drumsandtuba.com) catching up with Ron and Pat, but tuned in momentarily to note what an uninteresting sound they were making with such eccentric instruments, something I'd also noticed on their CDs.
Roky Erickson was about to start back at the Vice stage, so I couldn't see all I wanted of New Zealand's Cortina (myspace.com/cortinanz), a description of which would sound incoherent to almost anyone – Motorhead splattered with X-Ray Spex, maybe? Or Blondie tied to Def Leppard with a feather boa? See, I told you. But there it is, regardless.
Loyal fans of Texas rock were already clogging up the east end of Sixth Street for the free appearance by America's Syd Barrett, Roky Erickson (rokyerickson.net). Even local politicos had come out for his introduction by our state's next governor, Kinky Friedman. Now, ten years ago, Roky was in a very bad way. His mother had been giving him herbs and organic whatnots for his mental illness and he was becoming less lucid by the year. Recently, however, Roky's brother has taken control of his treatment, making sure he got the pharmaceuticals he so desperately required. Well Roky's a new man, to say the least. While he still looks like he might jump off the stage into the underbrush every now and again, his recent sets have been gripping. In an unlikely moment of cognitive dissonance, Roky's brother, Sumner, sang the "Star Spangled Banner" at a University of Texas vs. Kansas basketball game, and Roky himself sang his "Starry Eyes" at half-time, with the Longhorn band as back-up. If I were making this up, I wouldn't have chosen "Starry Eyes." Roky's back to being a Texas cultural institution again, instead of a brokedown cult figure. Maybe the new documentary, The Devil and Daniel Johnston, will do the same for DJ. On the other hand, I still don't see a Jandek statue next to Stevie Ray Vaughn's down on the river front.
Before braving the crowds at the outdoor stage, I stopped into the Longbranch, had a few more cheap beers and a shot of howdy-do, and watched some of that New Metal all the kids are raving over, The Saviours (thesaviours.com), and a bit of CROM. CROM (myspace.com/crom1) were a slogging heavy Sabbath; Saviours an inventive, more agitated Sabbath with some glam bite. I heard from the doorman that this band who'd been wandering around all day dressed like Clockwork Orange characters, Towers of London, had gotten into a truly violent altercation with fans earlier. I walked by them on my way in to see Roky, though, and they seemed ruffled, but otherwise unscathed. I couldn't imagine them actually fighting in those get-ups, seemed humiliating for everyone involved.
Roky performed the kind of greatest hits set one would expect from a slightly wobbly elder statesman and, if the lyrics weren't borderline psychotic, I might have mistaken him for any number of other Texas roots rock icons. If they weren't all dead 'cept for him. Stage right were a few politicians in baggy suits, Kinky Friedman, and the omnipresent Beatle Bob, who did a very convincing back-forth dance of the undead during "I Walked with a Zombie." Beatle Bob is everywhere. In fact, like Kurt Vonnegut, I'm going to do an aside in this already interminable story and include a short interview with Beatle Bob from the Austin Chronicle:
Insider: This is your eighth year at SXSW. When did people start paying attention to you?
BB: It started the first year. There are a lot of bands I've seen at home in St. Louis and at festivals that would mention me onstage or have me up to dance with them. People knew from that, so when they started seeing me at SXSW and wondered who I was, someone near them would say, "That's Beatle Bob. He dances."
Insider: What's the secret to the dance?
BB: It's a hodgepodge of Sixties dances I'd seen in Shindig! and Hullabaloo. My friends Dash Rip Rock wrote a song about it that will be on the next CD. It's called "Do the Beatle Bob." It explains everything, but my signature move is to get your hands to look like you're throwing dice and then kick your leg back like a bowling move. When Dash brought me onstage last year to debut the song, the whole crowd implemented it. It looked like an aerobic instructional video -- a sea of Beatle Bobs.
Insider: It's been said that if you see Beatle Bob at a show, it's the right show. What's the criteria?
BB: Sometimes I do too much research. It looks like a big racing form; I'm circling things keeping in mind what's before and after, which clubs are close together, and which clubs are small enough that I'd need to be there an hour early. You can't be everywhere at once; you're always missing something good at this festival. You have to forget about what you're missing and focus on what you're seeing at that time.
Insider: You're at parties all day and showcases all night. How do you do it?
BB: It's leading an un-rock & roll lifestyle. I don't drink alcohol, don't smoke, and I'm a vegetarian. It's tough to find veggie food at a Texas party. But I'm not complaining. I can get by on four hours sleep and get going after a big healthy breakfast. I always tell people that no matter how tired you are, drag yourself into the venue. The bands will do the rest for you -- they'll pick you up.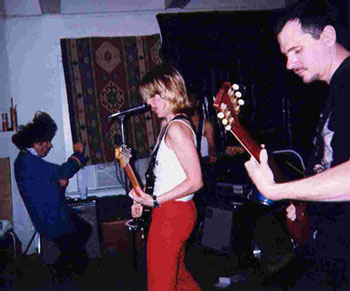 BEATLE BOB (far left) takes it to the streets.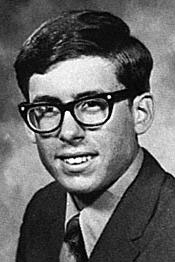 BEATLE BOB's 1971 high school yearbook photograph
When Roky left the stage, one of the handlebar mustached leatherboys from Vice thanked us, and East Austin, for making their two-day "private" party a roaring success, and introduced a band from the Vice Records roster, Favourite Sons (favouritesons.com), whose name is spelled wrong and who sound like everything from Franz Ferdinand to Futureheads to Keane, depending which way you bend your head, but have all the stage charm of an empty sandwich board leaning against a storefront on a blazing Texas afternoon. I know what you're thinking: Hey, by that token (the xenophobic idiot token), The Saviours spelled their name wrong as well. Well, fuck you, don't you know better than to tangle with a xenophobic idiot? On the upside, suddenly all the extra booze in the VIP tent was free – fruit-flavored whiskies, beer, and…Sparks. I drank as much as possible of each of the former until they ran out, and then decided to try some Sparks, a "charged-up beer," as it was described to me. It's like a grainier Tang with just a half-jigger of rubbing alcohol. I guess the kids like it for getting drunk while they study for final exams.
I think I've got one more band in me if you do. I headed back to Mrs. Bea's to catch Brooklyn's Wooden Wand (woodenwand.net) (without his usual accompaniment, The Vanishing Voice, tonight, I believe), an outfit that's basically one man, James Toth (I think), and a revolving collective of like-minded freak folkers in the Devendra Banhart/Animal Collective vein. On recordings they/he can sound like chicken bones tied to a chain link fence, ticking in the breeze unless you crank the volume, and then you begin to make out the interplay of voices, sometimes warbling Joanna Newsom-style, sometimes relaying a fairly listenable Dylanesque melody line, but always submerged under some primordial muck one can only assume is the mossy loam of Middle Earth. Live, though, Toth is a really perceptive, engaging writer of folkish songs that could, fairly easily, be great rock songs, if he were to dismount the mushroom and float that direction.
"Can you hear the vocals okay?" Toth (I think) asked the crowd.
We nodded, shrugged, pushed our glasses up our noses.
"Good, cuz that's kinda what we're known for."
I didn't want to laugh, he was that good. I was really impressed, as I'd come sorta hoping for a drum circle to ridicule. After the set, I headed to the side of the small stage (which made Wooden Wand look, for all the world, like a nativity display) to tell Toth and his nymph how much I'd enjoyed the show and ran smack into Thurston Moore. I mean, slammed into him. My hand, reaching out to shake with someone in Wand, damn near cupped the man's balls instead. And speaking of privates, there were a few private parties I could've ventured to later, but I figured it was time to call it a day.
Part Three – The Happy Tent
Saturday, March 18th.
Although I'd printed out 30 pages of free SXSW day-parties, I decided not to even look at what I'd missed on Friday, and just picked out a select few pages for Saturday. I knew I wanted to see Andre Williams, for instance, in the afternoon at Continental Club, followed by my friends Head of Femur at Mother Egan's, and The Gris Gris at the French Legation Arthur magazine party in the early evening, but beyond that I was pretty willing to be swept along. My cohort and roommate, Chris, had his sights set on seeing Billy Bragg for free at Yard Dog, but I hoped we could avoid half an hour of the cockney Bolshevik preaching the standard cant of Dubya cretinism to an audience of the converted. We decided to start out at the French Legation party.
The French Legation is located in a bucolic, lush alcove of downtown Austin and was built in 1840 as the home of the charge d'affaires from France in the Republic of Texas. It's an almost wintry, drizzly morning as we walk through the stone gate and see the genteel white tent set up on the lawn, as if for a wedding. At first it looks like another party where my RSVP was merely a formality. Everyone is welcome and, except for a horse trough of PBR on ice, the drinks are overpriced, the burgers not free. There are, however, hefty sacks full of booty – free compilation CDs, Altoids, posters, postcards, stickers, etc. It was the perfect environment in which to see Lavender Diamond (myspace.com/lavenderdiamond), up first. From the Judee Sill/Margo Guryan/Vashti Bunyan school of singer/songwriters, Diamond singer, Becky Stark, made some flaky comments about the weather – referring to the fog and drizzle – being an intelligence, about peace on earth being inside every one of us, and insisted we respond to her as if we knew what the flying hell she was talking about. But somehow I didn't mind a minute of it, because her singing, and the loping, eccentric wild hairs her band followed gracefully, combined with the foggy view of the city below, the patter of the rain, and the two little tots in dinosaur sweaters who crawled around in the grass eating from tins of tangerine Altoids, conspired to make this goddamn perfect. It doesn't hurt that she's excruciatingly beautiful, in that unsullied by the world's bitter gravy sort of way.
Still, I haven't gone completely squishy, because as she sings about weather brains or some such thing, I notice that a woman sitting in front of me is being given a red wristband on the sly. It occurs to me that maybe there are some special favors in store for those who are actually on the guest list, so I swallow my dignity entirely and confront the wristband lady.
"So does being on the guest list, y'know, get me anything special, or…"
She looks around slyly, sighs, and – without saying a word – begins putting a red band around my wrist. Then she walks away. I'm still not sure what this allows me to do, but I notice that the woman who was banded before me has proceeded into an adjacent canopy, under which sits a nearly catatonic J. Mascis. So I forge ahead, brace myself for a few seconds of rain, and present my wrist to a Chris Cornell look-alike who's guarding the sanctuary. He nods and that's pretty much the beginning and the end of my day, because under this tent is paradise. Get this: free Converse Chuck Taylors, ten bottles of pour-it-yourself Skyy vodka, three kegs of relatively high-end beer, and some mixers I'm not all that excited about. Oh, and J. Mascis. Since Mascis and I have a friend in common, I decide to approach him, even thought the only thing on my mind is how wretched Witch is, so I decide to make it short and sweet. I mention our mutual pal and he acts as though the name is only marginally meaningful to him, even though I'm absolutely sure they're very close friends. Instantly, I'm struck by the limpness of Mascis' handshake. It's like a big, slightly moist wad of bread dough. I wanted to give out a little scream, but held back. I didn't pursue any further communion with my idol.
I made myself a very hefty bloody mary & hobnobbed with the friendly, privileged scenesters in the tent, trying not to look over at Mascis, slumping like a wet dog against a wall of the "VIP tent." My roommate is out watching the woefully-named Archie Bronson Outfit (archiebronsonoutfit.net), a British band who reminded me, for some reason, of the old Bristol band, Blue Aeroplanes. They're playing a jazzier, more angular version of the Velvet Underground churn, but there are also evident touches of Krautrock. I would've sworn they were Germans or Dutch, but soon my roommate was swatting me in the face with the band's bio and I surrendered. I'd really just come out of vodka heaven to brag about my new sneakers and the stoutness of my drink anyway. I went back to the special Happy Tent, spent some time trying desperately not to be cynical about everything coming out of Lavender Diamond's mouth, and then had to make my way downtown to see Mendoza Line at Red-Eyed Fly.
From this point on, I become a slightly unreliable narrator. Since I finally found that exclusive grotto of minor celebrity and free alcohol, I pretty much decided to make a day of it, if you know what I mean. I didn't really care anymore that the Red-Eyed Fly was charging $4 for a Lone Star tallboy. I forked it over happily. Probably, to most of you, Mendoza Line (mendozaline.com) is just another indie pop band, but I've always missed out on seeing them and I've been buying up their records with fever. "Baby, I Know What You're Thinking" is one of the greatest break-up songs I've ever heard, and there's a world full of great break-up songs out there. What do I love about ML? Well, it doesn't hurt that they have three vocalists, so the songs go from Dylan-style epics, to Yo La Tengo-ish cuddle-fuzz, to Mekons-rough country rock in the course of one CD. The variety is key. The songwriting is always intriguing, always head-above-water, even when awash in melancholy. They write hooks without calculators, and I appreciate that. The unfortunate thing about the free afternoon shows is that many of the bands just perform teaser sets, saving more filling shows for the night crowds with their wristbands, tiara's, and fancy badges. Now, this isn't to say Mendoza Line didn't bring out their A-game. On the contrary, it was a majestically confident set from a pop band at the height of its power, but the set belonged entirely to Shannon McArdle, so many of my favorite ML songs were omitted. Her voice, demeanor and songs are clever and sexy, though, so I got over it quickly.
Here's where things get muddy, because I've been buying drinks now indiscriminately, trying to follow-through on the boozy promise of the French Legation. My roommate decided I was in no shape to handle downtown Austin without a wingman, so we missed Billy Bragg at Yard Dog art gallery and boutique in the slightly-too-trendy South Congress (SoCo) neighborhood. I'm pretty sure that there were free drinks being handed out. I'm told we heard one song by whatever folky nonentities followed Bragg onstage, but that memory has been mercifully erased. As we stumble down South Congress to the next venue we walk by the Drive-By Truckers playing at a burger joint's outdoor courtyard.
But the next moment is an IT moment for me – Andre Williams (intheredrecords.com/pages/andre.html). You can scan my opinion of his sleazy, crazed resume elsewhere on Blastitude. Back when black jukeboxes were black, and white jukeboxes were white, he roamed the bronze quarters like a dinosaur. He was the red-shag-carpet-on-the-walls Wurlitzer party you could have without a single white person knowing such a thing ever existed. In the mid-'90s, after nearly spending himself with drug addict and perpetual reprobate, Ike Turner, Andre made the most unlikely of comebacks, resurfacing with Mick Collins from The Gories, Blacktop, and The Dirtbombs. Collins was the king of Detroit lo-fi, garage-blues skronk, and he delivered Williams to a whole new audience of lip-licking hipsters. Williams is an American treasure, the sort of thing they just wouldn't grasp in downtown Mosul, and I've been waiting to see him for the better part of a decade.
The show is at Continental Club, the R & B/Blues/Roots headquarters of Austin. Hell, upstairs there's an Ed "Big Daddy" Roth exhibit that I won't have nearly enough clarity to witness. We walk in on the band preceding Williams, but again my memory has been erased. All of my willpower is focused on mustering enough processing power to retain some sort of impression of Andre's show. Any stray bits left over are busy spotting rock stars in the crowd. In the midst of the gauzy, alcohol-fueled momentum, I had a great stage-side conversation with Jello Biafra about a show the DK's had in Omaha in the early '80s, opened by Power of the Spoken Word, one of the best punk/metal bands in the Midwest. We talked about the death of PSW's lead singer, Jake Ryan, a good friend of mine. Then Mojo Nixon and Jon Langford from the Mekons (a man I once frightened so badly at Delilah's in Chicago that he handed me a fistful of Johnny Cash 45s), joined the conversation and I wish to God I remembered all of the talk. I loved that Jello went on so much about Jake, because I'd no idea they'd kept in touch..
Andre, introduced by Mojo Nixon, took the stage with two Burly-Q girls from Kansas City, He was dressed like Luc Sante's idea of a Storyville pimp & proclaimed himself immediately a "Baaaaaad Motherfucker!" Just like the Bar-Kays did for Son of Shaft. He sipped his rum and nipped, and yelped, and hollered his way through a bottomless back-catalogue, while the girls spun their tassels and made googly eyes as he took them back in time with him, to a dark, red spot at the rear of Victory Grill where any damn thing can happen, where sequins fly off into blazing shafts of sunlight and little shrieks of delight barely infiltrate the holy groove. It was a sleazy riot act, everything I hoped it would be, and more. I wish I recalled more the starry social interaction, but the music kicked a wild hole in my spanking red musical barn door. When it's over, all I want is to return to the Legation and stand on the hillside over Austin, drink vodka with crazy, inventive young musicians, and tell them the story of Andre Williams. But I have to go see my friends in Head of Femur first.
The minute I leave the Continental, I realize how many bands I'm missing right now. I can feel it, feel it happening without me all over town – Phosphorescent, Shearwater, Great Lake Swimmers, Bob Pollard, Centro-Matic, Mazarin, Essex Green, Band of Horses, the comedy stylings of David Cross & Patton Oswalt…My skin is crawling a little as I feel all these missed opportunities, but I must not think bad thoughts. We head back to the fussy end of Sixth Street, to Mother Egan's, to see Head of Femur (headoffemur.com), a band that's gone from 20-piece Brian Wilson tribute band to THE Band, from Four Freshman sweaters to scruffy all-American fellow travelers. Apparently, all the event times are shifting today, so I'm watching Femur's set nervously, sweating I might not get back to the Legation in time for Gris Gris, sweating that I'm missing hundreds of bands right now. I can feel them, almost hear them if I crane my neck. It sounded as if Femur (headoffemur.com) had whittled their sound down to a rustic, brainwave-grained toy duck & sent it bobbing down a river where the Muswell Hillbillies live across the whitewater from Reuben Remus, Tiny Montgomery, and the Mighty Quinn. This in mind, I make myself still inside, like a Shaker. It's a gift to be simple.
Once back at the Legation, there's a ghost-white winter fog over the city and I head for the Happy Tent. I take a seat in a circle comprised of Ariel Pink, some members of Mazarin, and The Gris Gris, a band I met a few years back in Omaha. They're the reason I'm here, although there's a really bombastic garage soul outfit on stage, The Noisettes (thenoisettes.com) flickering somewhere between The Plasmatics, Detroit Cobras, and The Bellrays. The singer is a 12-foot tall force of nature named Shingai Shoniwa, who stalks the stage like a tiger prowling for infants. I'm in the middle of a pop/dada pow-wow, drinking free vodka, and whittled down to a bobbing duck. The Gris- Gris start setting up, and I'm eagerly anticipating their creaky, wild blend of ancient Pink Floyd, Pretty Things and Memphis swamp-soul. They get a tribal groove started and the power goes out. All of it. I sit there in the dark for awhile and wait for encouraging signs, but there are none.
I'm sitting there in the dark, in a folding chair in the Happy Tent, a cup of nearly straight vodka in my lap, thinking about the bands I'll see tomorrow at the big Sunday Beer Bash & Barbecue sponsored by New York Night Train. Jesus, look at the line-up – Kid "Congo" Powers, American Death Ray, The Dazzling King Solomon Quartet … all for free. But, like clockwork, I sleep in & miss the whole damn thing.
"Well I ain't no fun time Davy/No fun time Paul or Simon/I'm just fun time Stevie/And I'm no fun at all/I like going shopping/Shopping in the big store/Shopping in the large store/or any store that's big…"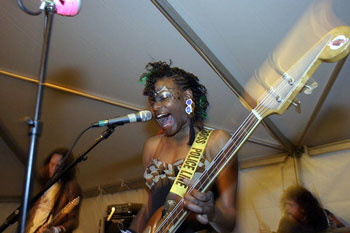 There's a new Wendy O. Williams in Town: THE NOISETTES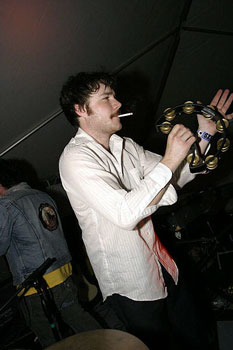 GRIS GRIS at the Legation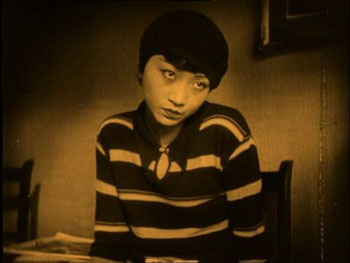 ANNA MAY WONG, Just Because I Think About Her Almost Constantly