VARIOUS ARTISTS: MP3 Mix Made At Mark's (NO LABEL)


Got this friend named Mark Wolberg. He's not the rapper/actor, but you know what: he's certainly a celebrity to me. I've known him for 9 years. We've been neighbors a couple different times. Musician, good guy.
I bring Mark up because of this compilation I'm reviewing; it was made entirely of songs he'd downloaded from Audiogalaxy. One time I was over at his place and he sat me down at the computer, gave me a blank CDR, and told me to fill it up. I just started double-clicking on shit, songs here and there that sounded interesting. When the disc was filled and burned and all done, I realized the songs were more or less in exact alphabetical order, and that I had run out of space after only making it to F. Maybe in the next issue, there'll be a review of a special new CDR called Mark MP3 Mix Part Two (G-Z). (Actually, there probably won't be, because he just moved back to Lincoln.)
Here's what I got for part one: Alex Chilton "Train Kept A Rollin'." I know all about Chilton's piss-take of a post-Big Star career, but believe it or not this is the first time I've actually heard it. I thought it might kinda good in that sluggishly ironic/decadent/playful Dylan Self Portrait kind of way, but it's like a half-ass soundcheck version, neither ironic nor good. I'd much rather hear Aerosmith do it. Is the infamous Like Flies On Sherbet inconsequential like this?
Andre Williams "Soul Party A Go Go." I was expecting some of that ultra-raunchy 1990s shit he did in Detroit with Mick Collins and Danny Doll Rod, but this is a rock 'n' soul instrumental from the other time Williams had a music career, back in the fifties. It's a good party song.
The Rolling Stones "Waiting on a Friend." As heard on Tattoo You. Maybe I still have my $1 vinyl copy of Tattoo You – lemme check the stacks – I do! Jeez, haven't even thought about the album in years, but when this song was on top 40 radio, I was an 11 year old blue-eyed soul aficionado and I thought it was genius. Remember the video, with Mick hanging out on an NYC stoop lip-syncing while Keith and Woody (not playing instruments) walk by and say hey? I loved to sing along with the echo-y falsetto "ooh-ooh-ooh-ooh-ooh-ooh-aah-ooh--uh-ooh.....yeah, yeah, yeah" doo-wop tag that Mick does at the beginning and in a couple other places. Ah, but heard now, the production does drag a bit – there is a chink in their disco-ballad armor – and, Tattoo You is really not that hot. With it, the roots of late-model 'health club' Stones (Steel Wheels etc.) are definitely starting to take hold. (See Between the Buttons review for more on the chronology.) (But back on the videos for Tattoo You....there was also one for "Start Me Up"....wasn't it odd that in the 80s, the richest rock stars in the world were shooting music videos on cheap analog videotape? Somehow the Stones, until Steel Wheels, always managed to stay tacky...)
Black Dahlias "Cat Eye Mears." A version of their ballad about stock car racing. This band is no more, but MP3 Mark was the guitarist and, when if someone makes you a mix and they play music, it's always cool if they throw some of their own stuff on there. This is recorded at practice, and does sound a little throwaway and, as a ballad, marred by some microphone feedback, but it is not without that Tonight's the Night template for dark bleary/melancholy/
blowsy/boozy/bluesy soul.
Cab Calloway "Kickin' the Gong Around." Always liked Cab, although putting this song in seems a little too campy/kitschy, like I'm being all 90s indie eclectic on your ass. This song's scat section (obligatory, of course) is really good, though.
Chris Rock "Minimum Wage." Awesome. Putting three minutes of really hot standup comedy on a mix, on the other hand, is a GREAT example of 90s indie eclectic. I can't think of a better standup in the 90s than Chris Rock. Bill Hicks comes close, but Rock is just devastating. "Bus boy? That means you take the bus home." "You know what it means when they pay you minimum wage? It means they don't give a fuck about you.....You know what it means when you make minimum wage? You know what they're tryin' to tell you? It's like, 'Hey, if I could pay you less, I would. But it's against the law.' "
Clinic "Sunlight Bathes Our Home." Its got the melodica that was all over Internal Wrangler stuff, but the song is doomier, the slowest thing they've done. More good music from one of the better hype-rock bands in a while. Too bad their live show is so mediocre.
The Clash "Straight to Hell." Always loved this one, whatever the hell it is Joe Strummer is talking about. Maybe some kind of William Gibson thing about the urban phenomenon of immigrated Eastern culture merging with the underground outlaw society of the West, I don't know. Maybe it's about Vietnam. Doesn't matter, its atmosphere is what I've always liked. I actually just got up and marched around to the beat just like Mick Jones did, in these like bright red coveralls, when they played a wasted version of it on Saturday Night Live way back then. (Man, the song came out in 1982. That was 20 years ago.)
Comet Gain "I Close My Eyes To Think Of God." This is in the record library of WHPK and I play it every time I do a show. Where did this band come from? They're some arty British underground rock explosion of boy-and-girl-group soul, with all reverb knobs on 11. It's like Huggy Bear started getting into both The Band and Phil Spector as they got older (you know, like 28).
Common featuring D'Angelo. "Ghetto Heaven." Common is like the only rapper, since the beginning of rap, to make it out of Chicago, and that was when he moved to Brooklyn. You know, I've tried, but I've never gotten into a single Common track. I gave him another chance with this one – it's okay, not bad, but verges on pop, without being especially memorable. In fact, I can only vaguely remember it right now.
Danielson Famile. Two songs: "Rallying the Dominoes" and "We Don't Say Shut Up." Awesome! This is just what they were doing when I saw 'em live at the Fireside Bowl like 18 months ago. Crazy yelps and theatrical chants. Cute girls in nurse outfits with all kinds of athletic brothers and husbands in hospital scrubs, kicking out crazy yelps and theatrical chants while the band kicks out nervy taut punk-soul grooves!
Dirtbombs "Encrypted." I've got to admit I can't remember this song at all. Maybe I was in the other room the whole time. On second listen: Holy shit, I did hear this one and I wondered who the hell it was because it sounded like Lenny Kravitz or some other 101.9 The Edge modern rock (s)hit. Now that I know who it is, yeah, some of that lead guitar is kinda raunchy and OTT, but then again so was Vernon Reid, and the song overall is a disappointment of near-Kravitz proportions.
Electric Eels "Spin Age Blasters." They're the best. The best punk rock band other than the Stooges. Period. (Runners up: Motörhead, Ramones, Sex Pistols, Black Flag, Clash, Buzzcocks, your favorite punk rock band other than the Stooges.)
Erykah Badu "Southern Girl." A year and a few days ago, at Mark and Trixie's 5th Annual New Year's Morning Eggs Benedict Breakfast For All Their Friends, they were playing a whole CD by Erykah Badu. I had to ask Mark who it was, the way it was stretching out kind of lushly, with a somewhat surprising Astral Weeks / early Tim Buckley vibe. He told me, and I said, "Erykah Badu? Why, that's Andre 3000's baby-momma!" I got this song "Southern Girl," which is slow, but it's more funk than lush, with a slow groove that is actually a litte bit, well, stanky. As is the way she sings the title for the chorus....
Ex Models "Love Japanese Style." In a way the same kind of tricky yelp-punk that Danielsen Famile do, but they're more about hedonism and it's cranked up much faster so that it's much more fragmented. Pretty amazing band, and good live, though a little can go a long way.
Flaming Lips "Feeling Yourself Disintegrate." A nice new stripped-down take on a beautiful song, recorded for the BBC. The ultra-produced-by-Dave Fridmann version on The Soft Bulletin is still the most wondrous way to hear it, but tracks like these are why file sharing is great. It's just an outtake floating around out there in the ether, and if someone happens to access it on their computer, no one's losing any money because the performance was never really for sale.
Flaming Lips "Riding to Work in the Year 2025." I'm kind of sorry I downloaded one of these full-mixed versions of the Zaireeka songs. It's pretty cool, but I don't ever want to listen to it again unless it's on some combination of the 4-disc set, which reminds me that I need to buy that before the repressing sells out.
Freestanding Music "Gospel Me." Oh shit, this is Mark himself doing a little solo demo. I heard him play live on KRNU once back in Lincoln, and I still remember songs he did that night, like one dark rockabillier that went, "You've got a head full of leprous intent." I say "oh shit" because, like Erykah Badu and the Dirtbombs, I wasn't really listening while his song was playing, although I do remember thinking "I wonder who this is?", and that it did indeed have that same lo-fi Tonight's the (late) Night sound that the Black Dahlias have/had.
And folks, that's all that fit on the CDR!
VARIOUS ARTISTS: Radio Action I, free103point9 Audio Dispatch 08 (FREE103POINT9)


Audio Dispatches 06 (Sightings) and 07 (Matt Bua + Matt Mikas + Tom Roe) were both already reviewed this ish, and now here's 08 too (looks like they're putting out dispatches more often than I am!). On this one they're back to their old various artists mega-mix tricks, this time with a theme: "Sound works with and about radio." A lot of the in-house Free 103 names appear, like Seth Price, Matt Mikas, and Transmaniacon MC, but there's also some 'ringers' on here, like Monotract, Dymaxion, the SB, Japanther, and the Laundry Room Squelchers. Of course, I just listened to Monotract's track and I have no idea what I even heard. Just sounded like atmospheric static. Just listened to it again, louder: sounded like the Pagu LP! (Reviewed in this ish also!) The SB track is totally zoned-out but there's this one weird sound that convinces me someone's practicing stand-up jazz bass in a neighboring apartment. Other bands do songs that don't use radio, but are just about radio, such as Neptune with "Marconi's Belief," which isn't bad music-wise (neo-Magic Band-ish) but vocally and lyrically sends me the shocking message that John S. Hall apparently still has some influence on the New York scene. Another song in the 'about' category is Tantrums with "108.1," and they sound pretty good with a girl singer, a good one-minute No Wave song. They'll probably never be huge like the Yeah Yeah Yeahs, but everything is fair when you're livin' in the city. Scattered throughout the comp are nice little soundbite interludes, like 30 second snippet "from a panel on 'pirate radio' at a conference of conglomerates." There is also a "Kids Discover Radio" snippet recorded in East Harlem that sounds great coming right after the Monotract.
VARIOUS ARTISTS: Soothing Sounds For Collector Scum 2xC60 (SEAGULL TAPES)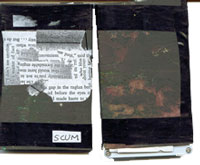 My await for this release was long. When it was finally handed to me by L.E. Methe himself, I learned that the two tapes came separately. Damn, I was expecting one of those double tape boxes, like Slayer's Decade Of Aggression came in, but of course not, this is the underground, so they come separately, both tightly wrapped in cardboard by big pieces of duct tape. Behind the duct tape, the surface of the cardboard has been painted on, or rubbed in dirt, or both. On the interior side, the cardboard looks moldy. After tape one spun in my tape deck for about two weeks, I tried to return it to its 'case', but it simply didn't fit anymore. The duct tape is starting to rot and shrink. I eventually forced it most of the way back in, but now can't get it back out to save my life. (Note the image, it's the one on the right.) Every track I listened to before it got stuck was pretty great because they were all pretty short. It's impossible to keep track of which artist you're listening to, especially when the track listings are switched like they were in mine. As for tape two, even though I can maybe still get it out, I haven't even listened to it yet, and I've even got a track on tape two. Y'know? Here's the track list, you figure it out: 1. Edward Ruchalski, 2. Carlos Giffoni, 3. Cheyntara, 4. Arnoux, 5. New Faggot Cunts, 6. Anders Ostberg, 7. Das Moustacheprojekt, 8. Lev Zhurbin, 9. Ernesto Diaz-Infante, 10. Industria Masoquista, 11. Sistrum, 12. Noumena, 13. Loki, 14. Ed Rooney, 15. Brian Poloncic, 16. Fantazius Mallare, 17. The SB, 18. Naturaliste, 19. Honeymuzzle, 20. Gefahrliches Madchen, 21. Sistrum, 22. The Nether-Carols, 23. FSLUX, 24. SMNA, 25. Magwheels, 26. Phil Niblock [sic], 27. MCMS, 28. Buttercream, 29. Twill, 30. Toni Dimitrov, 31. Rose For Bodhan, 32. Mammal, 33. Ashrae Fax, 34. Abscess Opulent, 35. Arnoux, 36. Das Torpedoes.
VARIOUS ARTISTS: Surefire Exclusive Label Sampler Spring/Summer 2001 CD (SUREFIRE DISTRIBUTION)


The first few songs are basically what I don't listen to in indie music. Is this what they call laptopica? Basically its MOR folk-rock, expecting to be redeemed by its 'creative' electronic/digital enhancements. Now, as I pointed out back in the Sightings review, I'm not one of these tough-guys who thinks rock is exclusively about danger. But at a rock show, I'll take danger over laptopica. I just will. The problem with laptop folk-rock isn't the laptop either, its more that a cadre of alleged singer/songwriters are all using the same squiggly computer sounds to cover for the fact that they haven't done an amount of songwriting (i.e. memorable lyrics or melody lines) commensurate to their ego. Message to cadre: Go play your standing-room-only opening-for-Grandaddy SXSW showcases and leave me alone.
Thing is, I cannot dis the Surefire Distro Co., because they're also representing Bulb Records, which is why I have this sampler in the first place, and which means that this sampler has choice cuts from Temple of Bon Matin and Wolf Eyes (where's the Suaves?). They also represent whoever's doing the Bullwackie's reissues, which means a couple great reggae tracks, one a great shaky mellow jam by Horace Andy that is seriously one of the best reggae tracks I've ever heard. There's also one of them there "mash-up" mixes. (Is that really what they call 'em?) Surefire is trying to be the "all things different" of the indie world, and it's okay with me, and in fact a lot better than just being all CRUSHING RULES or DANGER SHREDS or whatever. Fuck those guys. Not that I want to hear Dan Fogelberg music with squiggly electronics either….help…
VARIOUS ARTISTS: Uno-A-Go-Go CD (ROCTOBER)


One of the great treasures of the city of Chicago is Jake Austen's Roctober empire, which brings us the wonderful magazine of the same name and Chic-A-Go-Go, which is probably the best cable access dance party show I've ever seen. This CD was available for free at Uno-A-Go-Go, a weekend-long Chicago festival for one-man bands that Austen put on this summer, about the same time he published the the 32nd issue of Roctober, a "One Man Band Encyclopedia." It has hundreds of entries that, in great fanzine fashion, use their ostensibly restrictive theme to touch somehow on just about everything ever done under the lucky old sun.
I'll need to get out the encyclopedia to find out anything about the one-man bands on the disc -- I don't even recall many of these names from the Uno-A-Go-Go listings. The CD kicks off with a song called "Superman" by one Admiral James T. Somehow he manages to sound like a four-piece band -- too bad it's a bland rock band.
Gentlemen John Battles picks things up quite a bit with the second track, throwing reverb all over the place, carried by sped-up Sheb Wooley samples and his own psychobilly wolfman singing voice. His performance is much more 'in the tradition.' [i.e. quasi-demented, Adkins-ish, sounding like one man.] Roctober records themselves are releasing the album.
Bloodshot Bill is in the tradition as well, with an in-the-red psychobilly number that breaks in and out as it overloads its recorder. He's a fine singer, too, reminding me of Dylan's Basement Tapes persona gone even more laconically offbeat (i.e. quasi-demented] while the music has gotten even lower-fi. You could also draw a line from the main groove of the song and the haunted vocal style to Springsteen's "State Trooper" but I'd really rather not right now. This is good shit!
B.O.M.B. the One Man Band turns in some punkoid guitar scrape, and plays some sort of sock-cymbal/snare pattern with his feet to make it a song. So far the drums and guitar and vocals set-up seems to be the most popular....that may sound like the singer/songwriter aesthetic that Austen did not include in his criteria for the encyclopedia, but these groups tend to howl and rave it up with few 'writerly' things like, say, lyrics getting in the way....for example, B.O.M.B.'s nervy punkoid tune becomes a ballsy bedroom surf instrumental.
Cooterfinger sounds like a band, too...Reverend Horton Heat, to be exact. (A little more laid back, though.) Overdubs kind of take away from the 'one-man band' concept for me. I'm disappointed when one-man bands don't actually try to sound like one-man bands.
DM Bob is next, but its over by now and I wasn't writing while it was playing....I kinda remember it being again kinda Crampsy...Austen definitely seems to have a thing for the psychobilly-style one-man bands. Where's the one-man black metal bands that were well represented in the encyclopedia? (The interview with Mortiis is a highlight of the issue!)
Wow, with my heater on, The G-Man's "Slide/Slam/Go!" sounds like a combination of MC Trachiotomy and some kind of Berlin techno. Actually, it's not quite as good when the heater's not on. The vocals bug me a little bit.
Gary Pig Gold is almost completely lost with my heater on. Too bad, it's awesome, a nice little change-up from psychobilly. A disarming little power popper recorded "down in his parent's basement during the long-lost Spring of 1980." I get great visions of a shy 16 year old singing away in some corner of the house while his parents can't even hear him upstairs. The refrain of "Cake On My Pants, Baby" may be a little too much sweets, but the verses seal it.
Next is Goy. Sort of a metal one-man band, but more of a no wave one-man band (and no wave is basically metal after college). I think all no wave is terrific, for three minutes, which is just how long this track is, and Goy gets pretty freakin' out-there.
Next is the name you've been waiting for, ladies and gentlemen....Guitar Fucker! Singing, god bless 'im, his hit song....."Guitar Fucker." Don't scoff, this song is amazing smiling ghost train blues that I loved well before I found out who was doing it and what it was called.
Hungry Ghost was kind of dark pop....not exactly the Crampsy tard-outs happening on most of the disc...I have to admit, I barely remember Hungry Ghost and for the next tracks, by Keen, The Keith Walsh Experience, and King Louie, I totally lost track. Mayor MCCA got my attention back, but only because it was kind of annoying, yet another sub-Cramps yowler. And hey, there's no WAY that's a one-man band playing the guitars and the drums at the same time. Goddamit, are we allowing overdubs again?
Ski-Mask and The Bucket Men "Synthesize Her," on the other hand, is one of the most incredible songs I've heard in years. It's not a Prince cover, but it's a better Prince tribute than that entire Dump album. Even though he doesn't sing it anything like Prince....hmmm...
Then, Buh Zombie ends it with New Zealand-style guitar noise plurging, the only Handful of Dust-style or Gate-style one-man band on this disc. Actually he's the guitarist for Chicago's The Goblins, and his signature as Buh Zombie "is suspending an amplifier from the ceiling and swinging it for feedback." Right on!
VEHICULOS DE OCCASION: Winter Smog II CDR (HUMBUG)


Straight-up NZ free-drone. (Except it's from Norway.) Sawing away at those guitars forever. "Duo guitar improvisations, recorded 23.03.01…" Pretty ribald and rambunctious, gets into some no-wave imagery with a obscene wah pedal sound and retarded drum pounding (the drum is a guitar). When the wah gets going it always makes the tape crackle. I like the way a hard-folk guitar figure emerges after 15 minutes. I also like how it is completely abandoned after just one minute and the guitar sounds go back to a bunch of swirling nothing. Refreshingly short release at around 22 minutes.
VELVET CACTUS SOCIETY: 8 Songs CD (SHIMMY BOOT)

An avant-folk duo in the goofy cerebral avant-folk tradition of Bongwater and King Missile, featuring DAVE on guitar, vocals, trumpet, percussion, background vocals, and KYLE on sax, clarinet, e flat clarinet, vocals. (And, KRAMER himself plays bass on three tracks.) This record came out in 1993, which is quite a while ago. I don't know what else the singer/songwriter DAVE has been up to, but KYLE is Kyle Lapidus, who has gone on to be in Malta, Ortho, and the traveling husband/wife performance duo LoVid. His reed-work is pretty accomplished, adding a nice airy quality to what the band does, which is essentially Dave's quasi-surreal & neurotic coffeehouse poem recitations set to ironic folk duo music. Sped-up voices and overdubbed background vocals & instrumental weirdness create a nice psychedelic variety for what is a pretty cloying style of music. (New Bohemian Quirk Folk!) King Missile comparisons are easy but apt. (I think DAVE even talks about his penis in one song.) In an e-mail, Kyle kind of dismissed Velvet Cactus Society as a "joke band." Yeah, me too, I guess. (But I thought he said he played bass in the joke band…hmm…)
VIKI: Perfect Strangers 7-inch (SCRATCH aNd SNIFF)


Wow, I've seen and dug a couple Viki shows and it's very nice to have something on wax. From the very first electronic drumbeats I like this better than all the fashion-show neo-electro bullshit I hear, and I'm not sure why. Maybe cuz I've seen Viki put on a couple good shows, and she's not about some fashion show bullshit. She's from a small town in the wilds of Michigan, man, she probably hasn't even read the word "electroclash." Jeez, lucky her. Side two is actually even doper, being a remix or something by "Lil' Riki." His vocals are just as lost and disarmingly 'normal' sounding as Viki's are on side one. Why do I enjoy this record so much more than the whole Adult. Resuscitation CD? I mean, they're from Michigan too.
VIOLENT RAMP 7-inch (FREEDOM FROM)


MichAGAIN! What's up with the Mitten State? Violent Ramp actually includes Aaron Dilloway and John Olson of Wolf Eyes, who you can read about just a few inches below, but this is a whole different thing. Y'see, these guys aren't really the avant-noise superstars you might think they are, because they're actually skater dudes. Violent Ramp is a thrash band that only plays if they can set up a half-pipe in front of the drums so people can skate while they're playing. (I haven't been fortunate enough to skate it personally but I did go to a show where they cancelled once.) I mean, sure it's now a rule that if you were into avant/psych/improv music a few years ago, you have to act like you hate it now because you're too busy rocking out, but these guys are just that way. And the music is a blast. Intros by Olson are hilarious and get you almost as riled at home as they seem to get the audience at the show. Dilloway knows his way all around hardcore super-chords and harmolodic freak-soloing (you can't tell from Wolf Eyes), and his vocals are a mad cackle. Olson and Mike make a killer rhythm section -- these guys are not a joke band. But nonetheless, VR will surely put a smile on your face if you like skating or just letting loose.
VOLVOX: Bad Earth CD (FREEDOM FROM)


Heard of Lucas Abela? He's the guy behind Dual Plover, that label/pressing plant from Australia. Remember that Kombi "Music To Drive By" thing that was featured in Bananafish mag a couple years ago? That was him. Anyway, he's clearly kind of a genius/renaissance man. This is a weird-ass CD of in-the-red unintelligible muttering over noise/synth loops/weird-ass weirdness. Which means you love it, right? It actually reminds me of the Sun City Girls in its combination of gibberish and improv weirdness, except Target Earth! is quite a bit more.....challenging...
TRAVIS WAMMACK: Scratchy Guitar CDR Bootleg (CHICAGO MEDICAL SOCIETY)


I can't reveal the name of the man behind the CMS label, an extremely limited CDR bootlegger based on the far Northwest Side of Chicago, but he's got an interesting little obsession with the music of guitarist Travis Wammack. From Memphis, Wammack was notable for being only 12 when he cut his first record and having a big regional hit by the time he was 17. At the All Music Guide, you can read this review of this stuff by Cub Koda: "Wammack's best instrumental and vocal sides, 1964-1967. Simply incredible." This is decent soul/party music, but I don't know if I'd call it "Simply incredible." Apparently Wammack was regarded as one of the fastest players ever when he came on the scene, but his youth might've had a lot to do with that. On here, his licks can be pretty hot but he's kind of got an on-the-cheap big-fish-in-a-small-pond sound, playing quick instrumental versions/interpretations of pop hits such as "Louie Louie" and "Memphis, Tennessee," and novelty songs like "There's A UFO Up There." The result is like the dime-store missing link between Booker T. & the M.G.s and Black Oak Arkansas. Ironically, the most abusive passage comes during a song called "Umm How Sweet It Is." Mostly fairly straight, but for a few seconds on the solo Wammack builds into a frenzy of out-there string bends. Still no Sonny Sharrock.
WOLF EYES: Dead Hills 12-inch Picture Disk (TROUBLEMAN UNLIMITED)


Perhaps this, Wolf Eyes' first real release outside of the shadowy Bulb/Hanson/American cartel, will gain them a new audience made up of all those Champagne Kiss and Rogers Sisters fans. If so, I hope the newcomers listen to both sides, because side two contains tracks two and three, "Dead Hills 2" and "Rotten Tropics," both incredible 5 or 6 minute songs, hardcore like "Burn Your House Down" taken to new levels. I definitely recognize "Rotten Tropics" from seeing 'em live, and if you've seen 'em live, you will too. (It's the one where they get the weird horns blowin'.) "Dead Hills 2" features Nate Young's most heroic vocal performance ever, in which, about three minutes in, he turns suddenly into a thrashed-vocal monster. The side is decorated with a photograph of this very metamorphosis, so you can look at it while you listen to it.
As for "Dead Hills," which takes up all of side one (decorated with "skull/bird art" by "NY" on the LP, pictured), who knows what newcomers will think of it, especially if they're expecting something a little more, er, rock-oriented. I just know they'll say "It sounds like the soundtrack to a horror film," but I say that "Dead Hills" is a horror film. It starts with quiet but foreboding shuffling ooze/basement creak, some of their best sounds yet, which grows into a screaming shrieking flock-of-bats beast that quiets back down again just in the nick of time. (There's even a horror-movie 'montage' sound that happens once in the middle and is repeated once again at the end.) Reminds me of the solo set Aaron Dilloway did at the Empty Bottle last summer; maybe he had a big hand in this track. Anyway, I've been thinking that Dead Hills is actually better than Dread....this is a GREAT release.


BLASTITUDE #14

one more page.............
It might take a long time to load, but so what?