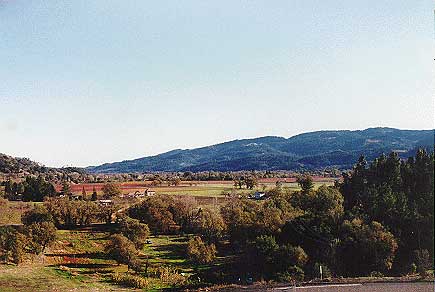 Letter from Napa

by Jack Jackson


            Although the popular phrase and appellation here in general is "Sunny California," I must admit with minor chagrin that much of it is foggy, wet, and somewhat chilly.  This is still a marked improvement upon the January climes of greater Nebraska, where I often find all parts of my body to be chapped by the dry sub-zero temperatures which seem to find harbor in my barely cosmopolitan hometown of Lincoln.
            As a side note, I would like to express a subtle dismay at the stunning fact that Abraham Lincoln was never mayor, nor even city-councilman of the fine state capital, which we nonetheless named after him.  It seems to me in this day and age that a body should earn their place in history with some sort of great deed, and not some simple eponymous act.
            But today, the fifth day of my vacation here to visit the great man, J. Becker, I have finally found myself becoming a tourist in the highest degree.  You see, the first day was spent recovering from the traveling, the second spent recovering from the recovery, the third spent watching the great alma mater flounder at the hands of the wily Hurricanes in Pasadena, the fourth recovering from the floundering, and now the fifth in actual pursuit of what makes Napa NAPA.
            And although I believed I was in the simple pursuit of becoming intoxicated freely, it turns out that a vast majority of the residents and tourists alike are in the great American pursuit of arrogance.  I feel comfortable in writing this because I am quaffing the champagne of beers currently, which has a fine glassy finish and a skunky bouquet.
            If you feel you are of a certain low lineage or could not rise above your station, I would invite you to come to NAPA, put on your friend's Abercrombie and Fitch sweater, enter a tasting room, and comment on a zinfandel's subtle, yet complex bouquet.  The character who poured the glass will tell you you have an excellent sense of taste and smell, in addition to offering a whole case at a substantial 10% discount.
            What is the great tragedy of NAPA is that the economics surrounding the valley prevent an average citizen from enjoying their fine wines.  And when I refer to fine wines, I refer to the wonderful bottles I tasted today.  The problem is that they are selling a product for what they can receive.  If they were selling the wines for what they were worth, Americans as a whole could broaden their tastes.  There are simply too many people in America willing to pay inflated prices because they have the disposable income to do so.
            But I sense I am kvetching too much when my day was more than pleasant.
            The day started correctly with a bold and celeritous visit to the crapper.  It was a rare occasion that I beat J. Becker to consciousness at 6:00am.  This is mostly due to his stout and heroic driving up Interstate 5 from the City of Angels after witnessing E. Crouch lose his dreams of a National Championship.  I must admit that the driving itself was not too complex, save a few patches of thick fog (through which we decelerated slightly), but for the last several hours we were both somewhat concerned about the loud crunching noises emanating from what little was left of his brake pads.  It was this that caused J. to become agitated and pissy for the final hour.  He did not respond favorably to my jokes, as he usually is prone to do.
            And when we arrived back at our home room, so to speak, as he rents a room from a bright and engaging couple here, I declared it to be nap time (for that is the only time which the body eats cancer) and slept for two hours.  J. took the initiative to drive his car to Pep Boys and have the brake pads replaced, which later increased to the addition of new rotors, no doubt an effect from the loud grinding of metal upon metal which we heard (and I felt) during our 70mph jaunt up the Golden State.
            It was the car at the shop which allowed me and my body to continue its war on cancer from the hours of 7:00am to 9:00am the next day.  For this my body is thankful, and although I think J. would benefit from such naps, he insists on going to the gymnasium and running around for awhile instead.
            As though fate were thrusting her hand down upon me and J., he arrived at home room precisely when my body had finished its latest skirmish with cancer.  This was followed by a general session of jibery, all of which was aimed at my napping, to which I lightly responded was an outcome of my Podunk Nebraska upbringing.  Little do they know, my body was gaining the upper hand in the war on cancer, which I don't really find to be a laughing matter.
            The other thing I find in home room is that it is quite chilly if the space heater is not running.  It seems that the landlord here chooses to avoid nearing pleasant temperatures by bypassing the use of the greatest invention known to mankind: central heating.  I have found that if I keep the door shut, the space heater on, and pop lots of PEZ, I can eventually feel my own toes.  I'm not sure how the great J. deals with it, but I think he finds warmth in DVD pornography.  He has a keen interest in a Miss Jameson, Vivid Video, and a series of shows called "Blondage."  Well, you know what they say about people with cold hands.
            It was 9:30am when I left home room to indulge myself in J.'s concoction of Arabaca coffee and watch televised cooking.  Although I was hungry and not desirous of coffee (for I have licked the caffeine habit) I nonetheless refused J's cereal and drank a cup of black Joe.  It was enough to keep my body from battling cancer for the remainder of the day.
            Shortly thereafter, E. Jackson, a pleasant and engaging landlord, left his home for Fresno to watch the Great White Shark's Bulldogs whip up Bill Self's ex-Tulsa.  It was E.'s wife, S., who joined myself and J. for two hours of televised cookery and then more hours of free wine tasting at five NAPA wineries.
            S. drove myself and J. to Pep Boys at noon to retrieve his black Protégé from their clutching maws.  There was a heavy downpour then, as seemingly always here, and we got wet.  The inside of Pep Boys is reminiscent of a concrete slab with a metallic roof.  As you check out, one must restrain oneself from tacking on a purchase of professional wrestling key chains or automobile stickers depicting skeletal figures on fire eating tires and what-not.
            J. and I successfully disembarked without purchasing any extraneous knick-knacks and retrieved S. from home.  It was then on to lunch, and NAPA is not short of excellent eateries.  My meal, tortilla soup, grilled turkey and havarti sambo, and mashed potatoes, was excellent.  I felt slightly Podunk for not ordering a bottle of wine, but I knew that that was to come.  To boot, I have never really enjoyed alcoholic beverages with lunch.  I believe they interfere with the body's ability to fight cancer in the afternoon napping period.
            I could tell J. did not wish to drive across the street to visit Niebaum-Coppola, for he is a wine aficionado and has little or no respect for their mediocre wines.  I knew they had little character and flavor, but it was a miniscule chance that I might rendezvous with a Mr. Francis Ford Coppola there that curried my favor.  That, and a great photo op for the desk from the "Godfather" movies.
            It has suddenly come to my attention, and by that I mean the barking and scratching, that I have forgotten to mention the man-eating dog, Bilis.  I understand that "Bilis" is Italian for "bile."  That is very understandable.  When I asked of the dog's origin, the only known fact is that it is from Guam.  It appears to weigh some 80 pounds and be friendly.  I have been warned numerous times by J. and E. that Bilis is friendly only to "lure you in" to its trap.  J. has confirmed this with his story of torn pants and bloodied legs, and that is enough for me.  And although he has punched the thing in the face frequently, it seems to recognize him and not bite at his scrotum when he comes home.  I can only pray for such a relationship to establish itself in the short time I am here.
            Once at Niebaum-Coppola, it became very clear very quickly that I and S. would be enjoying a preferential treatment wherever we went because J. works at another winery.  Through his influence, we were about to enjoy a large amount of NAPA wine at no expense to ourselves.  And that is what I call preferential treatment.
            After our tasting of four wines, we went upstairs to see memorabilia from the "Godfather," "Tucker," "Apocalypse Now," and "Dracula."  Although I am not sentimental and do not become weepy over material objects, I must admit something came over me when I saw the bamboo cage once used to contain Martin Sheen.  On our way out, I pitched a quarter into a fountain and wished for world peace.
            From there it was on to Opus One, and they are so called because they make only one wine.  I suppose that is a good thing because the second wine we tasted there was by and large shitty.  However, they let us drink it for free and skip the tour, which I found copasetic, for it allowed for a quicker departure for another vineyard/winery and more free wine.
            And thus we came to Silver Oak, and this was a cabernet I had once enjoyed long ago with J. back in Lincoln.  The wine we were given was from Sonoma valley and lackluster, but then, because of J.'s influence, we were allowed to drink their 1997 NAPA cabernet in a room towards the back, separate from the tourists who had paid for the Sonoma cabernet.  This NAPA cabernet was much more pleasant and engaging, and then we were offered their novelty port, which I liked, most likely due to its high alcohol content.  It was shortly after the port that S. needed help doing the most basic of tasks, such as walking, and began clutching my elbow for support.  She did so in a most pleasant and kindly way, and I was glad to be of assistance.
            From there we cruised over to the Miner Family Vineyards, where J. once worked during crush season.  It was here where lots of preferential treatment was had, and by that I mean lots of free wine.  Better still, we were allowed to tour the grounds with J. as our leader, and did not have to listen to some boorish hack talk about this and that and the other thing.
            As we drank, and I suppose I should suggest that "as we drank" should be assumed for all of our endeavors that day, we witnessed the huge steel fermenting vats, which J. had the pleasure of pumping.  Then we entered the cellar, dug into a hillside, and lined with curvy, light olive walls, which J. explained to be gunite.  I know a woman, J. Dunekackee who lives in an entire house made of gunite, and it is in a dome shape which we call the Dune-a-dome.  While I have only been there once, I was able to scratch up my back in several places by leaning against the iron rods to which the gunite sticks when it is sprayed on.
            For the most part, a gunite structure is very reminiscent of Yoda's house on the swamp planet of Dagobah.  It was with great success that I did my Yoda imitation for S. and J. as we walked deeper and deeper into the cellar.  The echo effect did nothing to decrease the comedic value of my impersonation.
            Unfortunately, a cellar is a cellar, and there really wasn't much to see except for a large number of oaken barrels sitting around.  Thankfully, J. as our tour guide, did not hem-and-yaw as a regular tour guide might about the barrels and their contents.  Instead, we moved on in pursuit of more wine.
            I think now is a good time to explain that we were being driven around by a completely sober J.  He is one of the fancy-pants wine snobs who don't swallow.  To me it is a shame, because he probably spit out a sum total of two bottles into silver spittoons which could've easily found a more accepting home in my stomach, or the stomach of S.  Come to think of it, it is good that S. had no more wine than she did because she promptly passed out upon our arrival home.
            From Miner we were off again to Sinsky, J.'s current place of employment.  There again we were given copious amounts of preferential treatment, and by that I mean free wine, and food, for there is a chef on premises who makes meat and cheese trays to help wash the wine down with.
            There, too, did we enter a Yoda-like cellar, but this time our journey deep was rewarded with a trip to the library, which had no books, but lots of bottles of wine.  Wine lines the walls and even arcs overhead along the curvy gunite walls, sometimes in magnum and double-magnum sizes.  I wished part of our tour would've included the taking down and passing around of one of the double magnums, but I guessed that this would be frowned upon by the management as overstepping the accepted bounds of preferential treatment.
            The other thing about the library worth noting is the long oak table running down its center, as well as the custom mirrored-glass doors which decorate it as a special area of the cellar.  The doors caused some trouble to S. as we approached with me supporting her, for she saw our reflection in the doors and became afraid that some other pair of individuals was charging at us drunkenly.
            From there we gathered all the ingredients for Taco Fest 2002 from the local grocery store, and S.'s brother, R. joined in on the eating.  S. herself, as previously stated, passed out upon arrival and did not make an appearance at Taco Fest 2002.  It is my express hope that she will be able to appear at Grill Fest 2002 tonight when I make my famous mashed potatoes.
Next Day
            My body had been battling cancer for several hours past J., since he had awakened early to go run around and work.  I awoke to a pleasant spaghetti made by S. and more watching of televised cookery.  To my surprise, J. called and announced he was coming home early so that we could "do something."  It turned out that that something was drink more wine, which I was glad to do.
            We only had time to visit two vineyards, and the first was a smaller one, Turnbull.  I enjoyed preferential treatment once again, and by that I mean free wine.  The Turnbull tasting room is marked by large photographs of famous people, which I guess add to the experience, if that sort of thing floats your boat.  J. and I were more interested in wine, so we left for Sterling.
            J. did not want initially to take me to Sterling because of its touristy attraction and sub-par wines.  But, when in Rome, as they say.  Plus, through his influence, we would be able to once again skip the tour, thus skipping the crappy wines, and head straight for the reserve room.
            The gimmick of Sterling is that they have a tram ride up the hill.  This is fine if it floats your boat, but to me it seemed like just an extra occasion for death to appear.  It did give the vineyard that certain James-Bond-super-villain feel, but who really wants to be reminded of being stabbed in the eyes by Grace Jones, or thrust into Blofeld's shark tank, when all that is sought after is a simple glass of wine?
            Although greeted with a crappy, sweet, and still overpriced white wine, we skipped the rest of their lower flight and went straight to the reserve room.  It was from there that J.'s influence took us to the Club Room, where we were "treated" to their special wines.  These, by and large, were overpriced and unremarkable, which is the general theme of NAPA.  Our resilience in drinking did not go un-rewarded, though, as we were given a tram ride back down the hillside and then we ate at Travigne, to which we took a French wine from the Southern Rhone to give our tongues a rest.
            And it is here where I might tell you that Travigne had the best soup I've ever tasted, the best short ribs I've ever tasted, and the best pear tart I've ever tasted, but I wish not to make you jealous.
                                                            --Jack Jackson, January 7, 2002

Letter from Napa, White Trash Translation
            Oh, yah we drank the wine they pour it out for you.  Man, gotta good deal man with J. bein' tight with it.  Sometime it taste good, an' then sometime it's not so good.  I don't care much cuz they pour it and we drink it.
            Lotta crazy stuff all over, you know, lotta vines.  No grapes on 'em, since it's not summer, but the vines are all over.  Some right up along the road.  You could reach out an' pick 'em, I reckon.  I heard they got dogs that attack if'n you try.  Grapeyard dogs.  Don' wanna mess with that.
            First thing they say they say blah-blah wine and blah-blah valley.  Then it's blah-blah vintage and blah-blah uh-huh and blah-blah white or blah-blah red.  I say blah-blah pour, bi-atch, and blah-blah my Johnson.
            They do have a lotta choose from.  It's not like the liquor store.  But maybe it is.  They like the Boone's wines.  Lotta flavors, lotta choices.  Somehow they mostly taste the same, though.
            Well, we gotta go an' get our grub on an' walk the dog around 'fore football come on.
                                                            Roland Jessep—January 8, 2002
Next issue:
Jack Jackson's "Confessions of a Social Alcoholic"

Visit:
Jack Jackson's Dirty Pictures 2000!