More reviews of
THE FREEDOM FROM label
this page: vinyl

JASON LESCALLEET: Another example of Parkinson's Law 7-inch (FREEDOM FROM)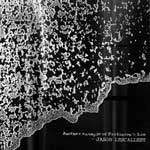 Out of all the 'electro-acoustic' type shit I've reviewed for this issue -- Pimmon, Drumm, etc. -- this might just stand as the quietest and most subtle, as well as the most effectively brief and concise. Since the unplanned but emerging themes from this issue of Blastitude seem to be, one, "I have too many electro-acoustic improv-type noise records" and two, "Most records, especially noise records, are often too long," this is really a nice cup of tea to be served so late in the game. Maybe all improv-type noise artists should only be allowed to release 7-inches from now on. At least for a couple years.

SIGHTINGS 7-inch (FREEDOM FROM)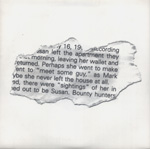 The catalog on the Freedom From website lists so many raving press testimonials for this record, I almost feel like I should write an intentional dis of it in order to maintain my individuality. But I can't, because this is maybe one of the better noise-rock records I've heard in ten years. It's even as good as Lightning Bolt! Right now SO many people are trying to 'make noise ROCK again' that hearing people try to do it has become no more exciting than hearing noise itself. And the thing is, people think they're bringing rock back into noise, when really all they're bringing back into it is rock posturing. Noise is still noise no matter what kind of costume you dress it up in. Well, the Sightings very successfully bring rock back to noise, and by the sounds of this 7-inch no costumes or drama routines are necessary. Not that they can't posture too; when you kick this much ass, you can wear all the costumes you want, or khaki pants and Abercrombie & Fitch baseball caps. Some bands just earn it.

THE VIBRACATHEDRAL STRING BAND/THE VIBRACATHEDRAL DRUM TROUPE 7-inch (FREEDOM FROM)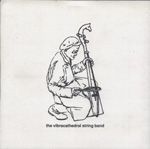 Y'know, I like Neil Campbell and the Vibracathedral Orchestra, but I've always felt his release schedule was a little overbooked. I mean, I'd be glad to own a couple records by the guy, maybe even three, but 30? 40? If you add up all of his/their CD-R's, cassettes, lathe-cuts, and comp appearances to the regular LP's and CD's, he/they have probably released more records than Reynols. These Premises Are No Longer Bugged, now that's a great LP. But Lino Hi, strangely enough, barely made a ripple on my consciousness, even when I put it on repeatedly, with the express intent of 'getting rippled.' Versatile Arab Chord Chart sounded great when a friend played it on my radio show, but then I bought my own and it never sounded quite the same at home. I did dig the Neil Campbell half of a split CD-R with Universal Indians I lucked onto a couple years ago. Hmm, maybe that's it -- I like Neil Campbell solo, piling on thick layers of fuzz-caked overdubs, but (and I realize I'm pretty much alone in this opinion) I'm not so into the cleaner, brighter group version Vibracathedral offers.
But, as suggested above, the 7-inch is seeming like a better and better format for improv-type drone-type noise-type music, and I like what I've got here. The gimmick of having side one be a jam for strings (gtr, violin, etc.) and side two a jam for percussion (cymbals, bells, drums) works very nicely. Thing is, side one's dense cloud of super-burrowing super-layered hum ends very abruptly, and ironically, would've sounded good at 20 minutes. This record would've made as good of a 12-inch as a 7-inch, one of the few records this ish I've wanted to be longer instead of shorter.
BIRCHVILLE CAT MOTEL: Jewelled Wings LP (FREEDOM FROM)


About a year ago while hosting a radio show I played a track from a co-host's copy of Richard Youngs's House Music, a CD recorded entirely at home, without any electricity-based sounds at all. Bowed oven trays, rubbed wine glasses, that sort of thing. This Birchville Cat Motel LP features the same methodology, recorded at home with "no electric instruments, no effects, and no overdubs!" it says on the Birchville website. The funny thing is, the track I heard by Youngs left me cold, while this Birchville LP is pretty frickin' hot. In fact, with winter coming, I plan to play this record in lieu of having a fireplace in my living room; it's got this glowing-ember sound to it that I find quite cozy.
Side one features a hum that glows while epic crinkle happens in the other room. A whistle, or maybe a string instrument, or maybe something else entirely, starts harmonizing with the glow-hum and lovely bells start slowly chiming. It's calm and beautiful. Side two mines a similar vein, although to somewhat eerier effect. Either way, the website calls it "gospel music" and it certainly works that way for me. A nation of couch potatoes would be justified if they reclined to this instead of Seinfeld. And dig that cover art...gives me Brakhage flashbacks...